Buongiorno and welcome to Stefano's RomeCabs, Rome's top-dated tour company for private Rome Tours and Shore Excursions from Civitavecchia.
While Rome's timeless beauty endures, the way it's explored has changed in recent years. Travelers and cruisers are now in search of more meaningful and unique experiences, moving beyond the grueling tourist attractions like the Vatican, Colosseum, and Pantheon that unfortunately became victims of over-tourism and hit-and-run tourists with bucket lists.
Let's kick things off by reevaluating your "bucket list" for your Shore Excursion from Civitavecchia and exploring some compelling reasons why you might consider veering away from the massively crowded tourist destinations that attract hordes of visitors.
In 2024 reimagine your "bucket list" on your Shore Excursion from Civitavecchia
In 2024 Reimagine your "bucket list" on your next Shore Excursion from Civitavecchia and SKIP the overwhelmingly crowded Vatican and Colosseum in Rome for more meaningful shore experiences.
With soaring demand from both land travelers and cruisers, previously accessible attractions such as the Vatican, Colosseum, and Pantheon have transformed into super crowded ticket-scarce sites, often marred by potential crowd delays and lengthy slow-moving security lines.


The Vatican Museums often witness tourists fainting due to extreme heat and overcrowding, with daily visitor numbers reaching 40,000. Despite housing treasures like Michelangelo's Sistine Chapel ceiling, the experience can be unpleasant, especially for those who are claustrophobic, fatigued, or feel anxious in super crowded settings.
Obtaining tickets for these attractions has also become increasingly challenging. Since around 2019, Vatican and Colosseum tickets began selling out within minutes of becoming available, typically 30-60 days in advance, also as a result of online ticket resellers that purchase substantial quantities of tickets for resale at significantly inflated prices. This situation has worsened since travel resumed after COVID-19 travel restrictions.
The overwhelming crowds at the Vatican Museums and the Colosseum are major concerns as tourists and cruisers force themselves through the same few congested tourist attractions missing out on so much of Rome's grandeur. Visitors frequently depart these crowded attractions feeling drained, frustrated, and disappointed, which can mar their overall Rome excursion.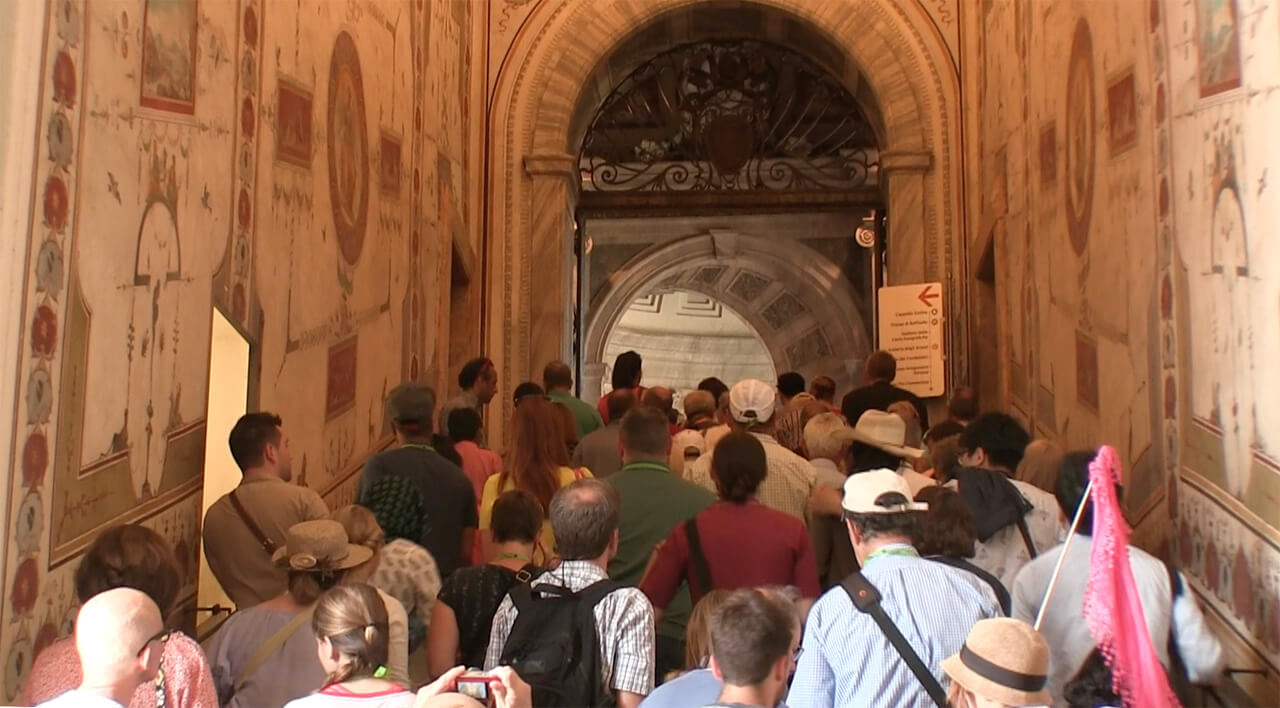 Consider that it takes about one hour of walking - or swept by the sea of crowds - through the lengthy, crowded, and sweltering half-mile hallways of the Vatican Museum to reach the Sistine Chapel at the farthest end. Once you arrive at the coveted chapel, instead of hearing divine voices, you'll be greeted by impatient security guards constantly shouting "Silenzio!" (Silence!) over the packed crowds to maintain silence in the chapel.
You'll have only had a fleeting encounter with magnificent art before rushing out for some relief from the crowds. At the end of the day, your Rome shore excursion might end up feeling more like an ordeal than a vacation.
While the Colosseum is a remarkable engineering marvel when viewed from the outside, in all honesty, its skeletal interior is considered by many to be underwhelming.
Furthermore, the location experiences perpetual crowding and unpredictably long security lines, and during scorching summer days with temperatures soaring up to 100 degrees, the Colosseum's stone structure can turn the interior into an oven-like environment.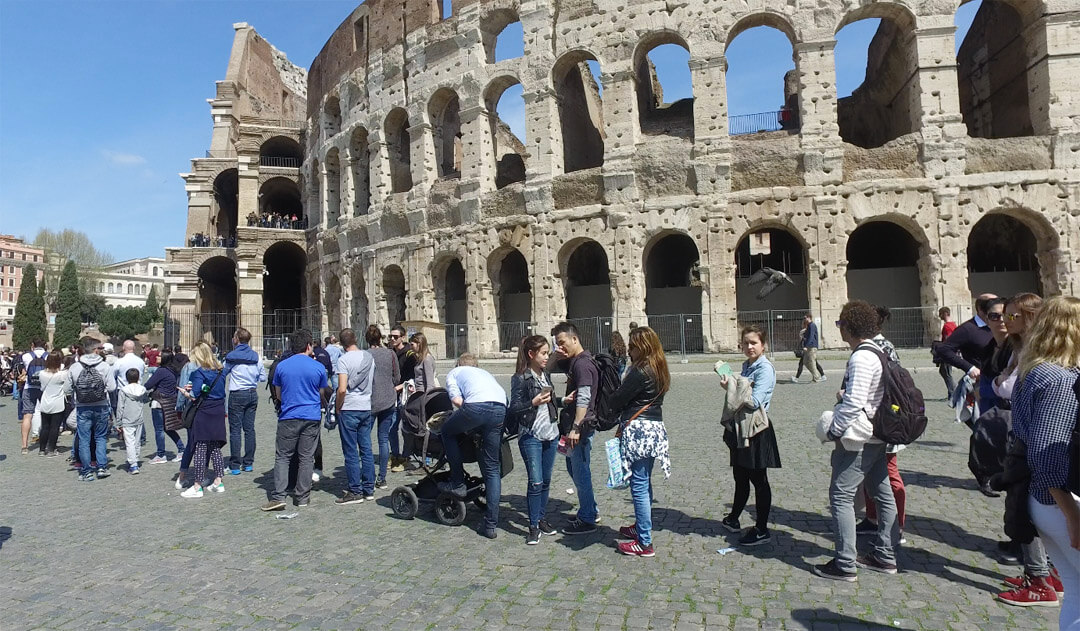 Now Pantheon charges admission tickets and the long ticket lines snake around the square. Sure, visitors could book time slot tickets in advance, but the official Pantheon ticket website still does not accept foreign credit cards, leaving foreign tourists and cruisers unable to book advance tickets (we hope they will fix this glitch soon, but of the time of publishing this blog the credit card issue has not been addressed).
Why dedicate your limited shore excursion time in Rome to contend with the challenges of securing tickets, battling crushing crowds at the Vatican, enduring security queues at the Colosseum, facing unpredictable delays, and waiting in long lines at the Pantheon leaving little opportunity for more meaningful exploration? Your shore excursion should be a source of relaxation, not exhaustion, and a joyful experience, not a stressful day.


Save the Vatican and Colosseum visits for a longer land trip to Rome with more available time


Cruisers with time constraints during their Civitavecchia shore excursion might wish to consider Vatican and Colosseum visits during a longer stay in Rome on future trips to Italy (preferably off-season) when with ample time to dedicate to these challenging and time-consuming attractions (without being rushed on account of having a ship to catch).
Instead, maximize your limited shore excursion time and create treasured memories by discovering more of Rome's unique locations, exploring its unique environs, experiencing the picturesque history-rich Italian countryside, or even indulging in a delightful wine-tasting excursion from Civitavecchia.
Here are the 9 best shore excursions from Civitavecchia for 2024 for a more enriching experience in Italy!
9 Best Shore Excursions from Civitavecchia for 2024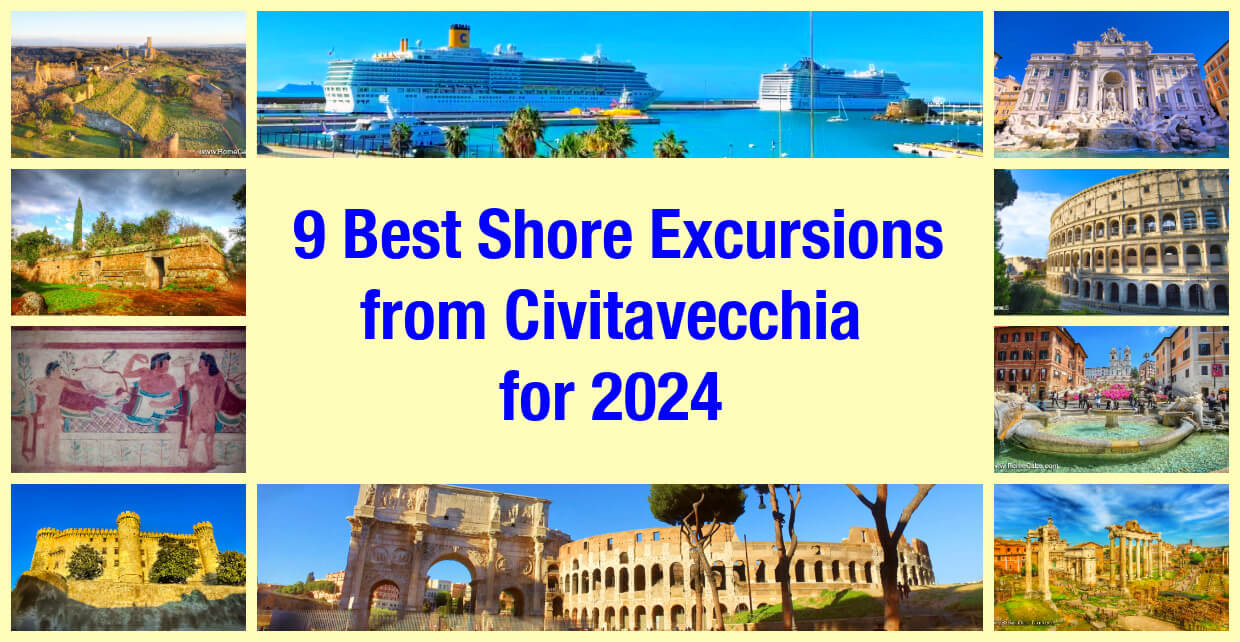 In this travel blog, we included the 9 Best Shore Excursions from Civitavecchia for 2024, offering cruisers a diverse array of captivating sightseeing adventures beyond the Colosseum and the Vatican, ensuring an unforgettable exploration of Rome, the enchanting Italian countryside, and more!


Panoramic Rome for Cruisers

Tour Rome as Romans Do

Medieval Magic - Rome Countryside Tour

Rome Town & Country

Along Rome's Empire Roads Tour

Countryside Splendor Tour

Mysterious Etruscans Countryside Tour

Ancient World Tour - Ostia Antica and Cerveteri

Orvieto Wine Tasting Tour from Civitavecchia
PANORAMIC ROME FOR CRUISERS
Our Panoramic Rome Tour for Cruisers is tailored to maximize your time ashore in Rome without the hassle of lengthy lines and restricted attractions.
From the moment you disembark, an English-speaking RomeCabs driver will accompany you, guiding you through an enchanting journey across Rome's iconic landmarks and hidden gems. Experience Ancient Rome, historic sites, tranquil churches, and ancient monuments with minimal walking.
Indulge in local coffee, gelato, and a delightful lunch. Please note that this tour does not include crowded attractions like the Vatican Museums, Colosseum, or Pantheon, ensuring a seamless and enjoyable experience focused on Rome's essence and charm.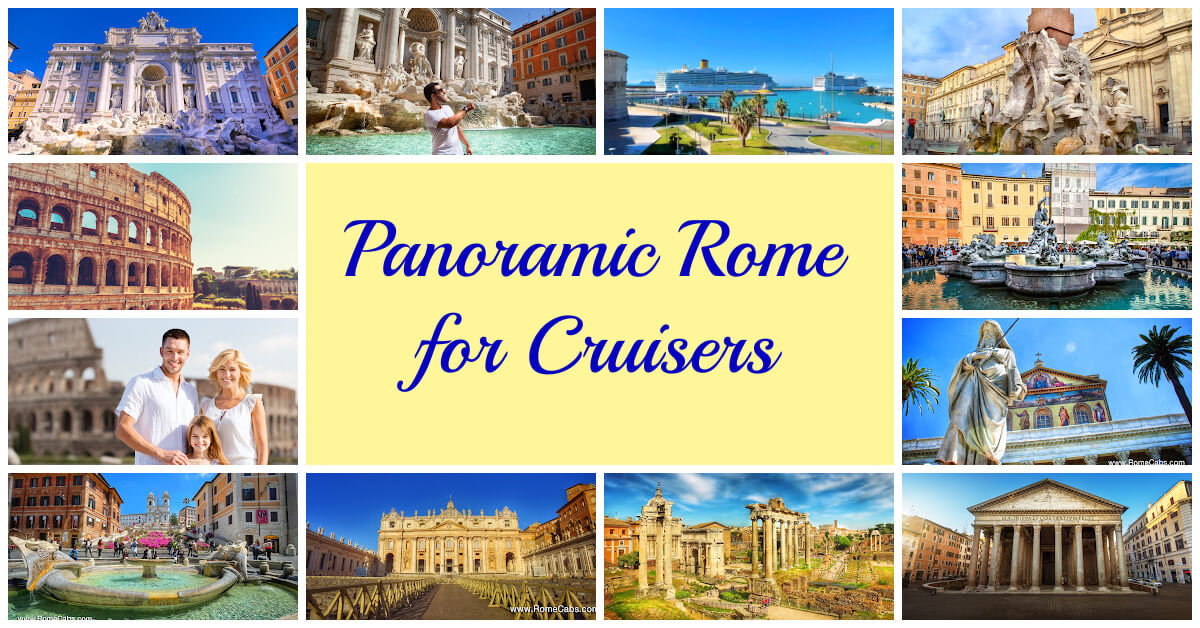 Here's a glimpse of what you'll encounter during this tour:


Piazza della Rotonda (outside view of the Pantheon)
Trevi Fountain
Spanish Steps
Piazza Navona
St Peter's Square
Capitoline Hill with view of the Roman Forum
Colosseum Square with outside view of the Colosseum, Arch of Constantine
Brief stop to see Circus Maximus
Basilica of Saint Paul Outside the Walls


Piazza della Rotonda:


Enter the vibrant Piazza della Rotonda, home to the Pantheon and a splendid baroque fountain with a towering Egyptian obelisk. The Pantheon, an architectural marvel, dominates the square and evokes a profound sense of wonder. Sure, the square will be crowded, especially with the long lines to enter the Pantheon, but the historic streets that radiate from Piazza della Rotonda are charming to explore.
Behind the Pantheon is the unassuming church of Santa Maria Sopra Minerva whose front is dominated by Bernini's sculpture of an elephant carrying a tall obelisk. Inside, the church is truly a magnificent wonder, more splendid than even the interior of the Pantheon (and without the long ticket lines and wait times)!
Meander around the square, explore local shops for treasured gifts and perfect keepsakes, and savor a gelato from the nearby gelateria "Cremeria Monteforte" next to the Pantheon across from the taxi rank.
Coffee lovers can dash to Caffe Tazza D'Oro or Caffe Sant'Eustachio for some of the best espresso coffee (or coffee drinks) in Rome! In the summer, try the classic iced coffee: shakerato.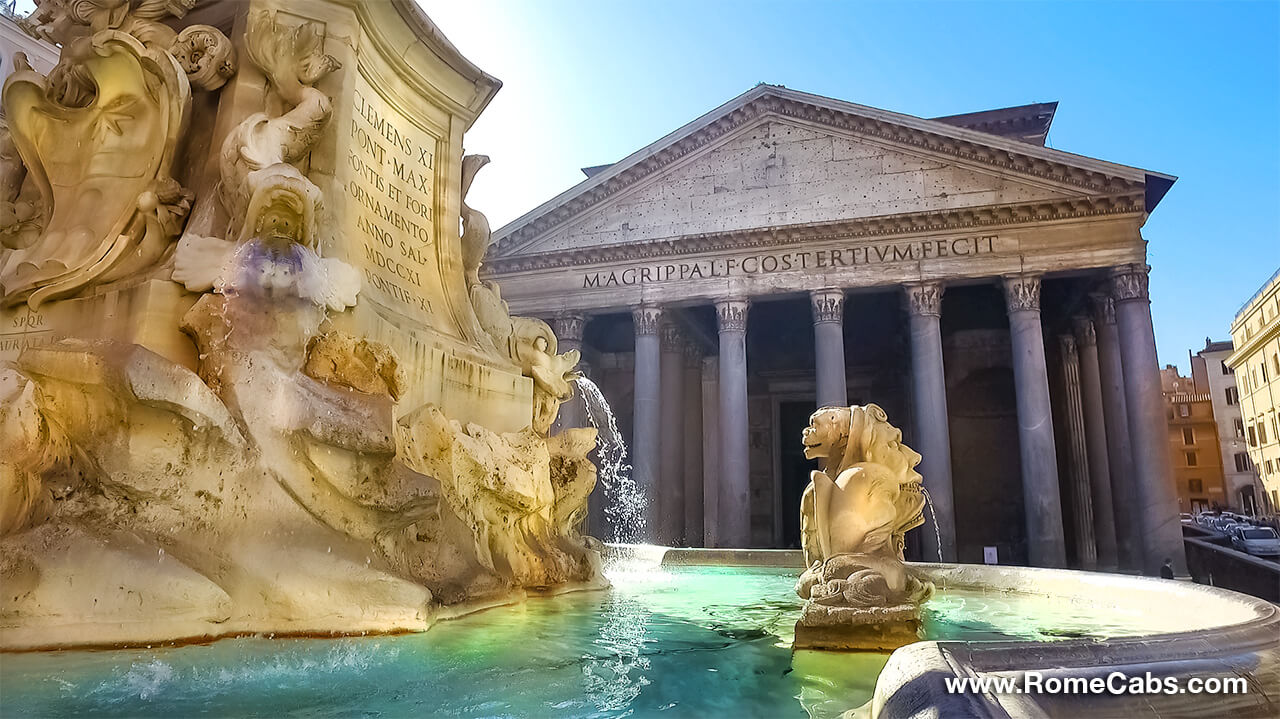 Piazza Navona:
Stroll through the lively Piazza Navona, built upon the remains of an ancient sports stadium. The Fountain of Four Rivers, a 17th-century masterpiece by Gian Lorenzo Bernini, takes center stage, representing the major rivers of the known continents. Surrounding historic buildings, colorful paintings, and street performers create a vibrant atmosphere.
Trevi Fountain:
Approach the timeless Trevi Fountain, where cascading water beckons you closer. This 18th-century architectural gem boasts grand statues symbolizing Rome's connection to the sea.
Follow the tradition of tossing a coin into the Trevi Fountain over your left shoulder with your right hand to ensure your return to the Eternal City, participating in a delightful tradition immortalized in cinema. Yes, the fountain will be packed with tourists, but can you blame them? The fountain is truly a sight to behold!
Spanish Steps:
The famous Spanish Steps is an elegant 18th-century stairway leading to the French church of Trinita dei Monti. Discover the "Fontana della Barcaccio" at the base, and pay homage to poets John Keats and Percy Bysshe Shelley at the Keats-Shelley Memorial House.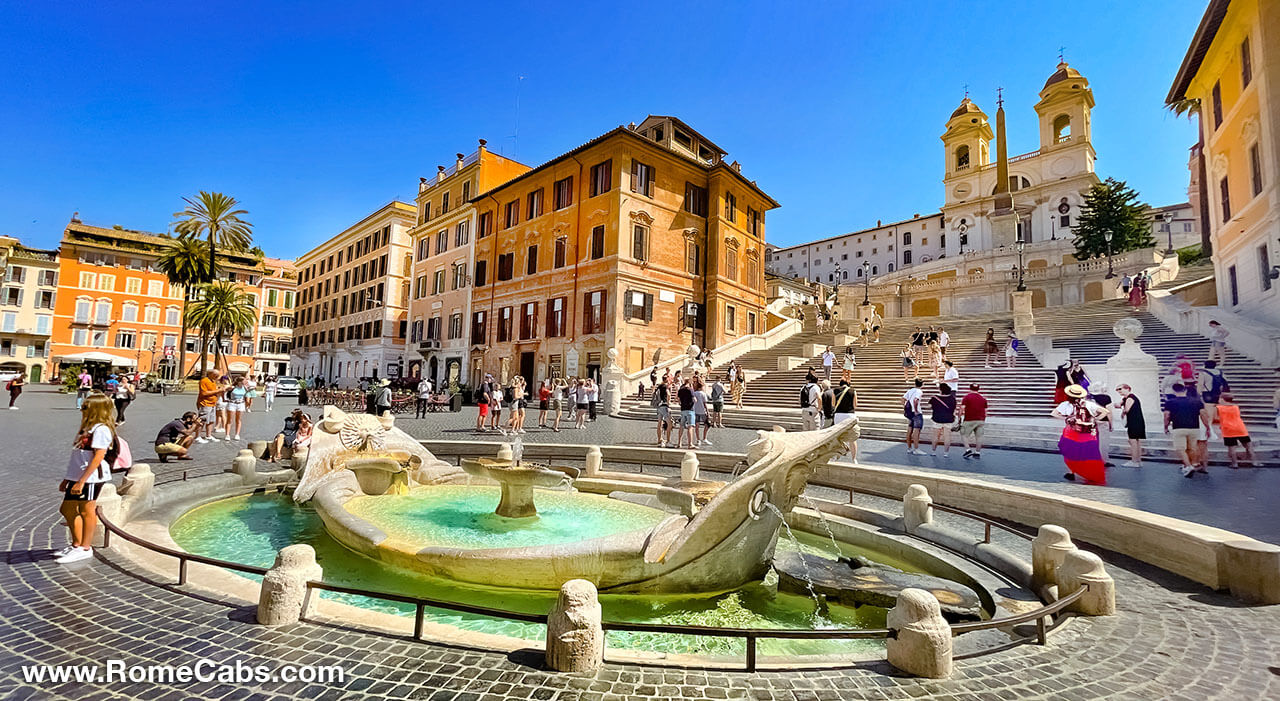 Saint Peter's Square:
Step into the embrace of the magnificent colonnades surrounding St. Peter's Square, designed to accommodate throngs of visitors for the Pope's blessings. Marvel at St. Peter's Basilica, a masterpiece by Michelangelo, which serves as the final resting place of St. Peter himself. The square's centerpiece is an awe-inspiring Egyptian obelisk, a symbol of ancient power and spiritual enlightenment.
Colosseum Square:
Gaze in awe at the Colosseum, the iconic amphitheater where gladiators once battled valiantly. Nearby, the Arch of Constantine stands tall, commemorating the victories of Emperor Constantine and the legalization of Christianity in Rome.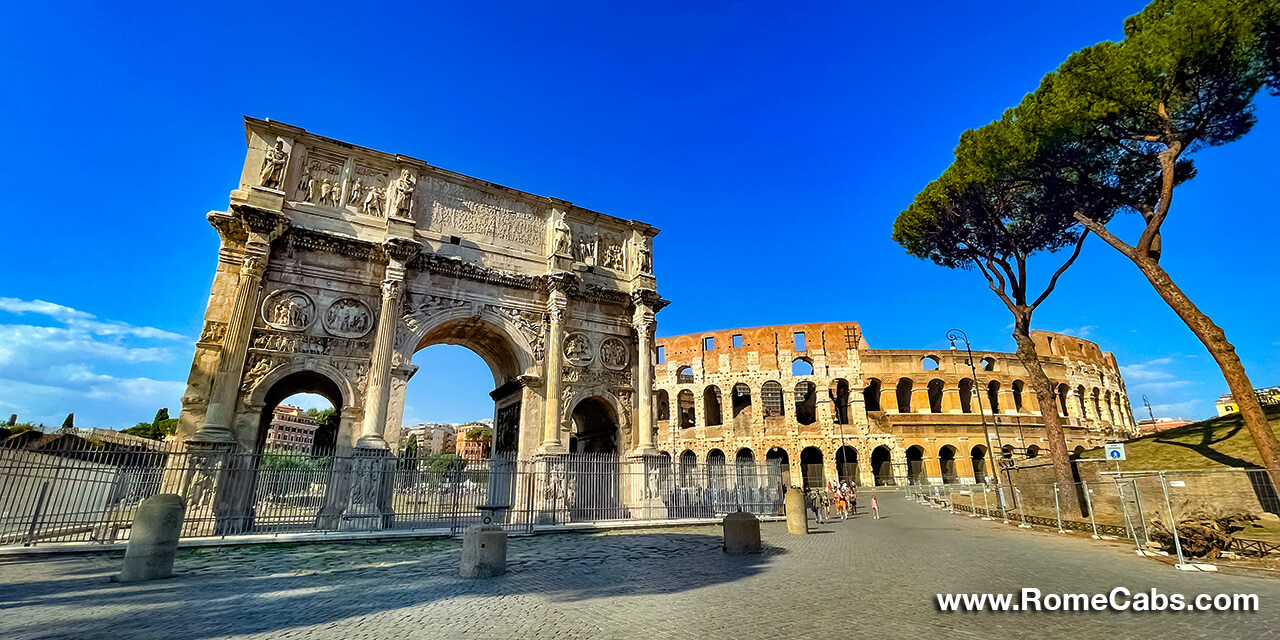 Circus Maximus:
Your journey continues to the historic Circus Maximus, where chariot races enthralled the ancient Romans. Today, it's a beloved public park, and you can imagine the grandeur of those racing days as you soak in the atmosphere.
Capitoline Hill:

Tucked behind Capitoline Hill is a hidden terrace that vaunts spellbinding views of the Roman Forum, Palatine Hill, and Colosseum in the background that graced postcards and iconic images of Rome for generations.
St. Paul Outside the Walls:
This grand basilica, one of the Papal Basilicas, is the second-largest in Rome. It was constructed above the burial site of St. Paul the Apostle and boasts a rich history, including a fire in 1823 that led to its meticulous reconstruction.
This tour provides an extensive exploration of Rome's rich history and culture, offering a balanced mix of sightseeing and indulgence.
TOUR ROME AS ROMANS DO from Civitavecchia
For those longing to immerse themselves in Rome's authentic local experience, our Tour Rome as Romans Do offers an enchanting journey. This Rome Shore Excursion from Civitavecchia provides an opportunity to explore Rome's vibrant heart steeped in culture and history, embrace the genuine spirit of the Eternal City, and savor life at a leisurely pace to experience Rome like a local.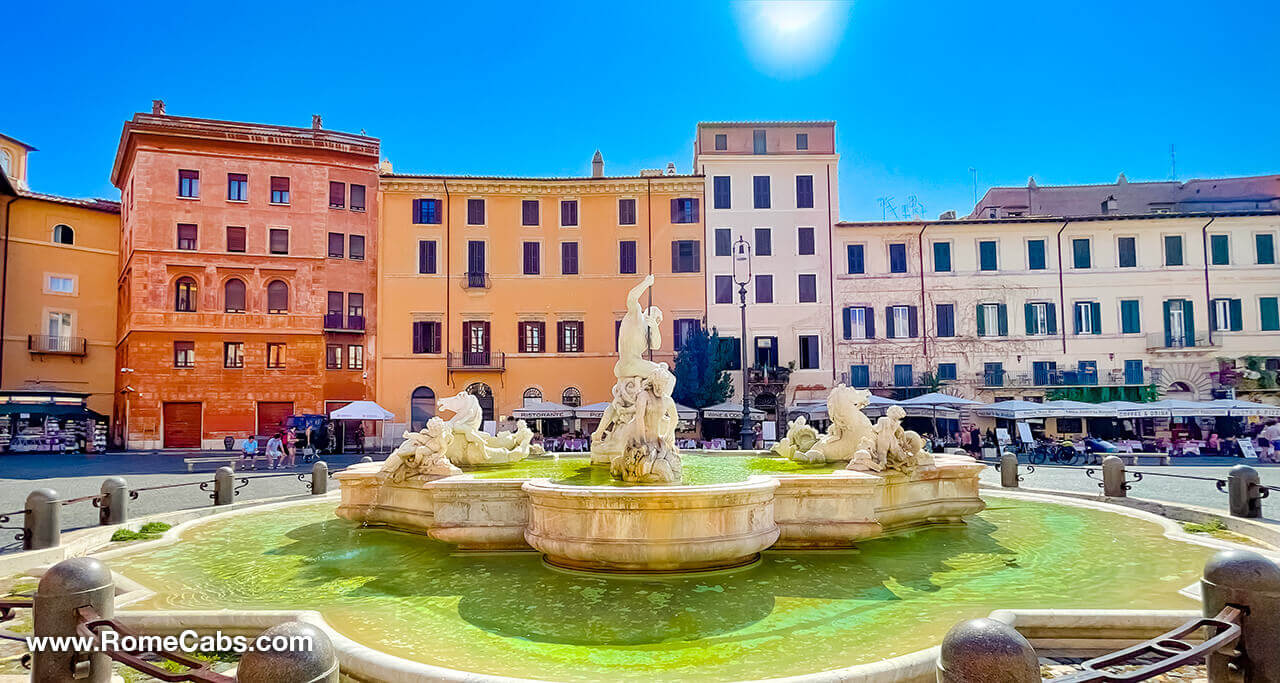 Enjoy Rome's vibrant squares, discover timeless monuments, and find hidden gems beloved by generations of Romans. Walk in the footsteps of emperors, artists, and visionaries, creating unforgettable memories of Rome's magic. Savor a local trattoria lunch in Trastevere as locals have done for generations. Don't forget to indulge in delicious gelato, adding a local touch to your journey's sweet memories.
Here's a glimpse of what you'll encounter during this tour:
Piazza Colosseo (outside view of Colosseum, Arch of Constantine)
Circo Massimo
Aventine Hill
Gianicolo Hill
Lunch in Trastevere
St Peter's Square (outside view of St Peter's Basilica)
Piazza della Rotonda (outside view of the Pantheon)
Piazza Navona
Trevi Fountain
Spanish Steps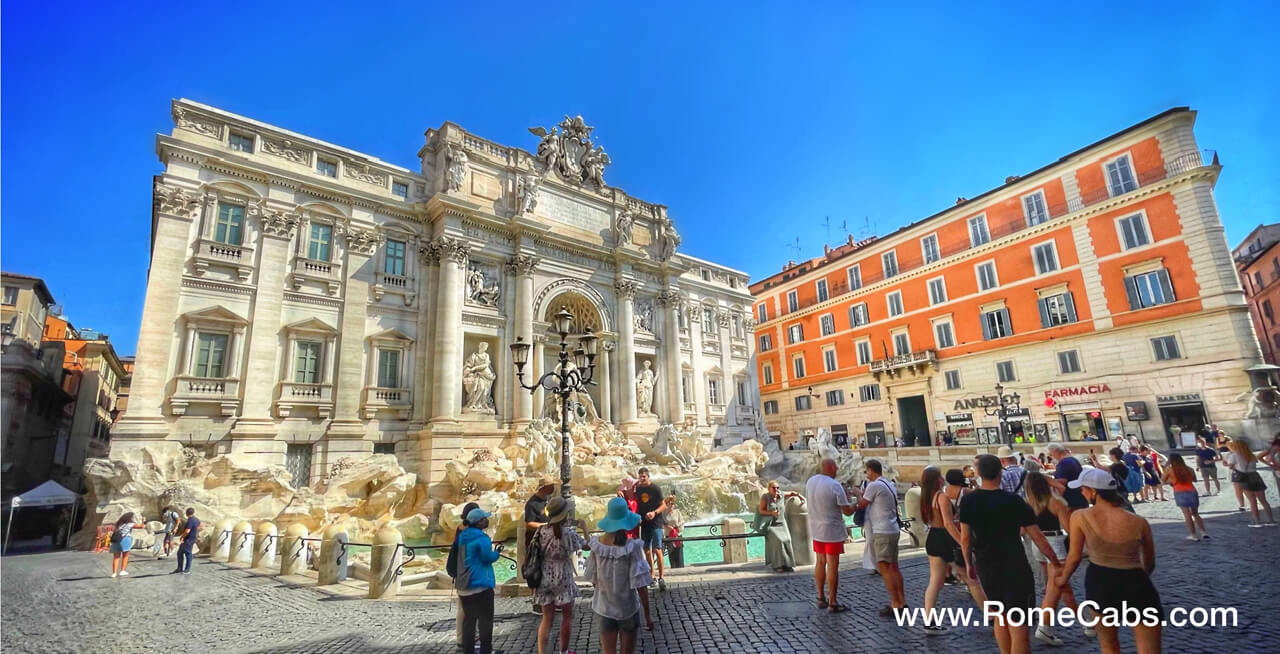 In Addition to Colosseum Square and Circus Maximus, Saint Peter's Square, Piazza della Rotonda, Piazza Navona, Trevi Fountain, and the Spanish Steps, you will also enjoy visits to the following:


Aventine Hill:
Nestled atop the Aventine Hill, you'll find a hidden gem: the Garden of the Oranges. This lush oasis offers stunning views of Rome and leads you to the enigmatic Keyhole, where you'll witness a mesmerizing perspective of St. Peter's Basilica.
Janiculum Hill:
Venture higher up to Janiculum Hill, one of the city's highest points, for panoramic views that capture Rome's eternal allure. You'll see a captivating blend of ancient monuments and modern structures, all telling the story of Rome's rich history.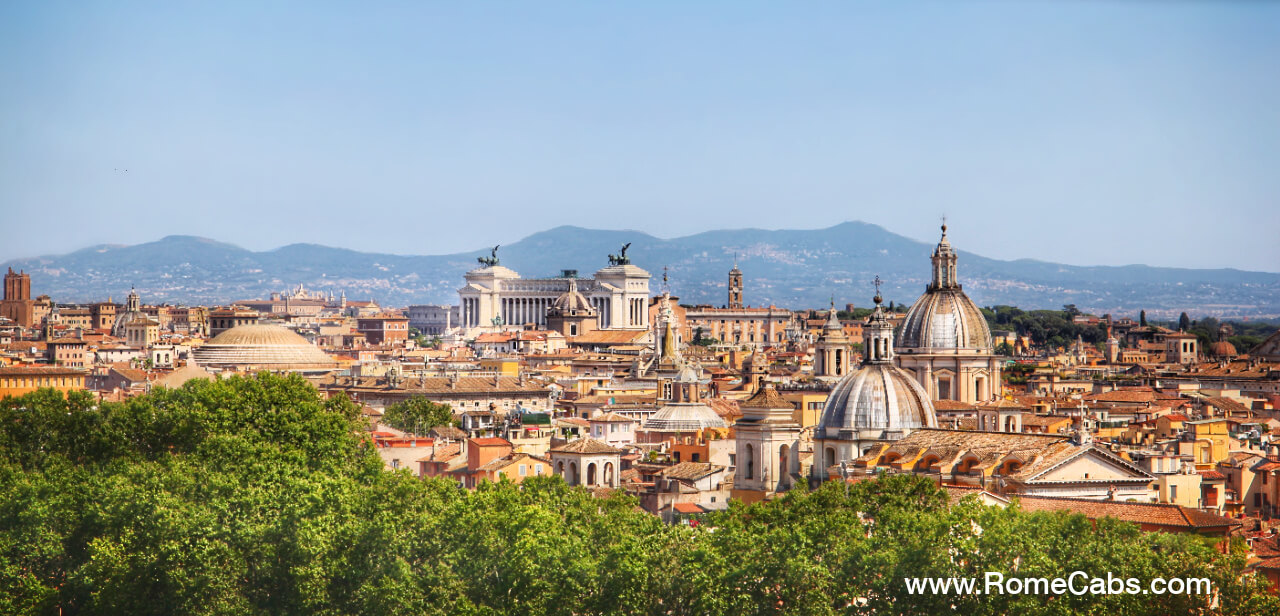 Trastevere:
Descend into the charming neighborhood of Trastevere, where winding alleys, weathered façades, and bustling squares transport you to another time. Piazza Santa Maria comes alive with the Basilica di Santa Maria in Trastevere and its golden mosaics.
Savor a delectable lunch at a local trattoria, indulging in traditional Roman cuisine passed down through generations.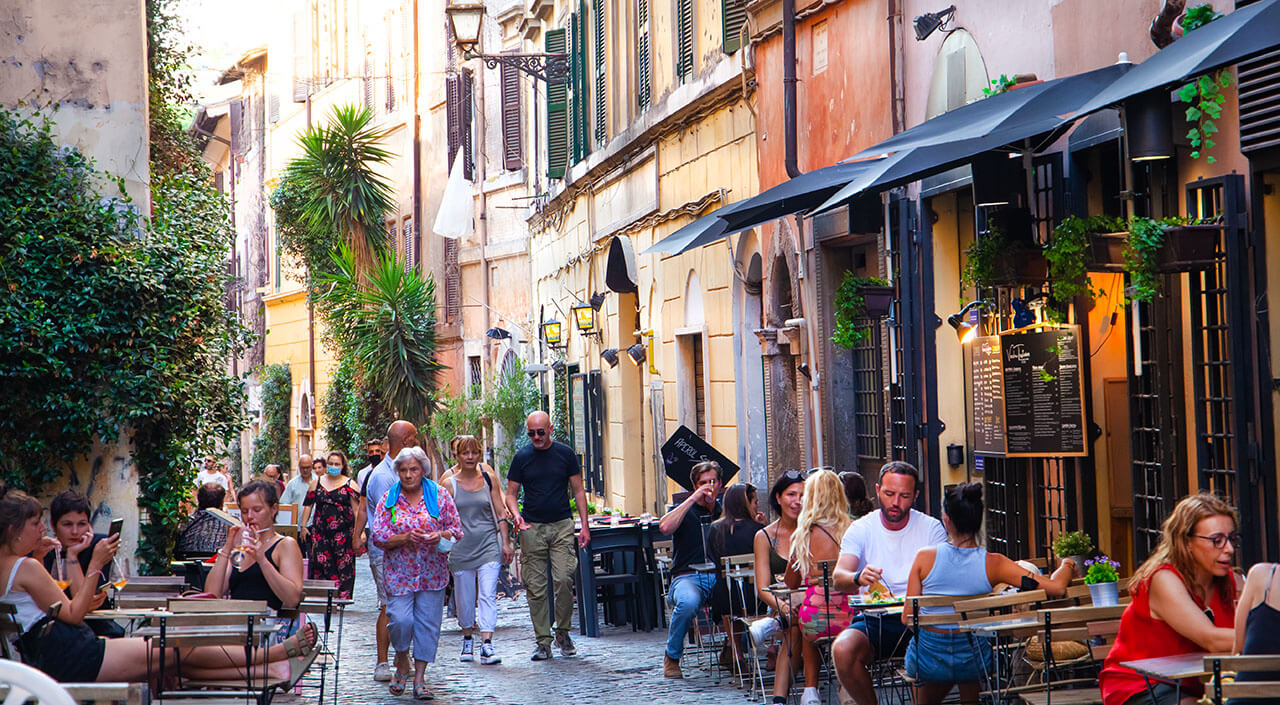 Medieval Magic -
Rome Countryside Tour from Civitavecchia
Close your eyes and let your imagination carry you away to a realm of wonder. Picture yourself meandering through villages that once kindled the dreams of Medieval royalty—kings, lords, ladies, and valiant knights who once called these Medieval castles home.
But here's the magic: On our Medieval Magic Rome Countryside Shore Excursion from Civitavecchia, these Medieval castles and villages come to life, waiting for you to explore their storied streets and experience the enchantment firsthand.
Our exclusive Medieval Magic tour was inspired by the enchantment of travelers expressing the feeling as though they had been whisked away to the Medieval era when they visited the very sites on this tour.
Your shore excursion begins with a scenic drive from Civitavecchia through the undulating landscapes of the rustic Roman countryside. As you venture toward your first destination, the very air around you will seem imbued with the whispers of history, drawing you ever deeper into a world of wonder and wanderlust as you explore Tuscania, Bracciano Castle and village of Ceri.
TUSCANIA - A Glimpse into Antiquity:


Tuscania, a veritable treasure trove of history, stands as one of Italy's most ancient towns, its origins tracing back an astounding 3,000 years to around the 7th century BC.
This captivating town serves as a living testament to the inexorable passage of time, where every cobblestone reverberates with the echoes of its storied past. It is a place where history is not merely recorded but intricately woven into the very fabric of its existence.
Prepare to be mesmerized by the awe-inspiring churches, notably the 8th century AD Church of San Pietro. Adorned with intricate carvings, these sacred structures whisper secrets from a time when Etruscans and Romans trod these hallowed streets.
As you explore Tuscania, don't miss the chance to admire the breathtaking views of the surrounding countryside, accentuated by the majestic basilicas and the haunting remnants of the medieval Rivellino Castle. All of this can be enjoyed from the vantage point of Torre di Lavello Park, situated atop the ancient city walls.
Embark on a journey through antiquity that awaits your eager exploration, complemented by the captivating vistas that grace this timeless landscape.

CERI - A Medieval Hamlet Frozen in Time


Our journey continues to Ceri, a medieval hamlet perched precariously atop a steep tuff cliff. This 13th-century enclave feels like a place where time has stood still, offering a glimpse into the medieval world.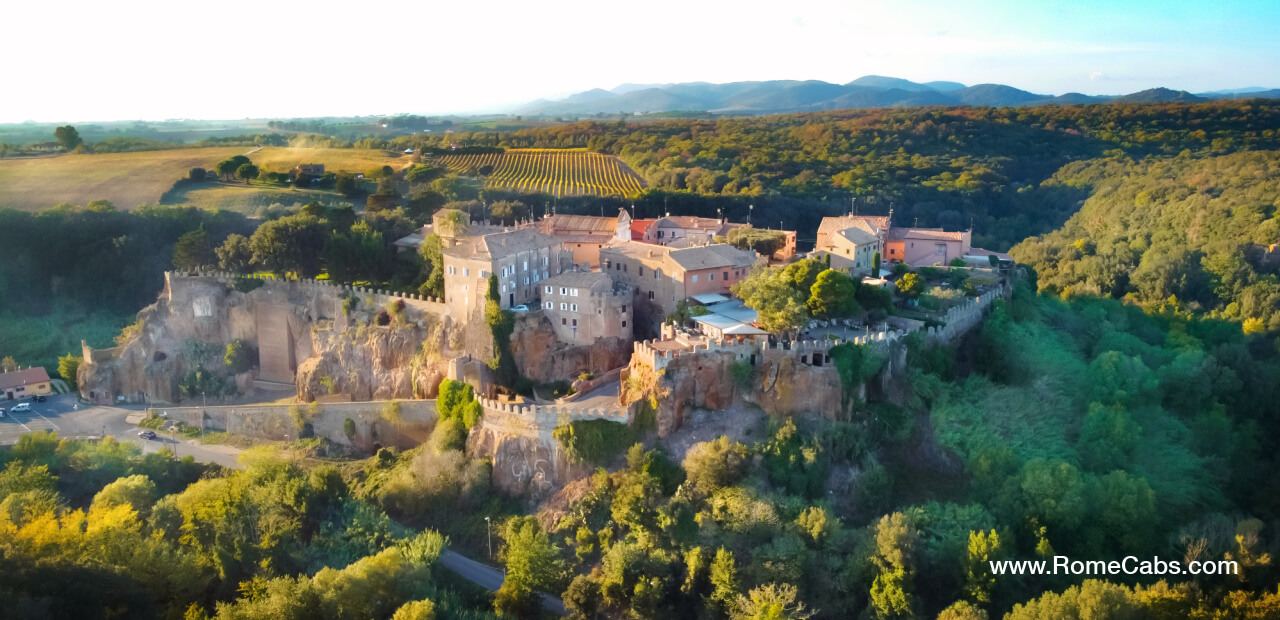 As you navigate its narrow single-lane street, you'll be drawn upward to the heart of the village, where a charming square awaits. At its center lies the 11th-century Sanctuary of the Madonna of Ceri, a church with ancient roots dating back to the Etruscans and Romans. Inside, captivating frescoes narrate tales from the Old Testament.
Ceri is not just a place of history but a sanctuary for your taste buds. Local family-owned restaurants serve authentic homemade-style cuisine amidst this picturesque backdrop.
BRACCIANO CASTLE - A Renaissance Jewel with Medieval Charm


Our first stop is the iconic Bracciano Castle, a Renaissance gem nestled by the pristine volcanic waters of Lake Bracciano. This imposing fortress, born from the Renaissance but exuding medieval charm, stands as a testament to Italy's rich history.
Originally constructed by the illustrious Orsini family in the 15th century, this castle witnessed centuries of noble intrigues. Later, in 1696, it passed into the hands of the Odescalchi family, who have maintained its grandeur to this day. As you step inside, you'll be transported to a time when kings, lords, and ladies roamed its elegant halls.
Part fairytale residence, part formidable stronghold, Bracciano Castle invites you to explore its central court and rooms adorned with original Renaissance-era opulence. Here, the ghosts of Italy's most illustrious figures, from kings to popes, share their stories.
ROME TOWN AND COUNTRY TOUR from Civitavecchia


If you're a cruiser torn between the vibrant charm of Rome and the serene beauty of the countryside, our Rome Town and Country Tour from Civitavecchia offers the ideal solution. This tour seamlessly combines the best of both worlds, catering to travelers who can't quite make up their minds.

Here are the amazing sites you will encounter during this Shore Excursion from Civitavecchia:
Colosseum Square for an outside view of the Colosseum and Arch of Constantine
Piazza della Rotonda (outside view of the Pantheon)
Piazza Navona
Spanish Steps
Trevi Fountain
Medieval village of Ceri
Medieval town of Bracciano
Orsini- Odescalchi Castle


Begin your day by delving into the heart of Rome, where you'll explore Rome's famous squares and ancient landmarks, ensuring you witness the city's rich history and vibrant culture. From the bustling energy of places like Piazza Navona and the Spanish Steps to the timeless charm of the Trevi Fountain and Piazza della Rotonda, you'll explore Rome's iconic highlights.
For those yearning for a taste of tranquil countryside life, our tour whisks you away to the bucolic Italian countryside to the medieval hilltop village of Ceri. Here, in the charming ambiance of a local restaurant, you'll relish the flavors of authentic Italian cuisine amidst the rustic beauty of the surrounding countryside.
After lunch, you will visit the awe-inspiring Renaissance Orsini-Odescalchi Castle in Bracciano. This magnificent fortress perched above the pristine volcanic Bracciano Lake promises panoramic views and a journey through time.
So, if you're a cruiser struggling to choose between the vibrant allure of Rome and the tranquility of the countryside, our Rome Town and Country Tour from Civitavecchia offers the perfect blend of both experiences, ensuring you make the most of your cruise adventure.



Along Rome's Empire Roads Tour from Civitavecchia
If you've already toured Rome's top tourist attractions but crave more of the history of the Roman Empire, all while avoiding the bustling tourist crowds in the city center, then it's time to embark on a different kind of journey through Rome.
RomeCabs' Along Rome's Empire Roads excursion from Civitavecchia unveils Rome's hidden treasures, whisking you away from the chaos of Rome's historic center and immersing you in the rich tapestry of the Eternal City's past. Embrace a Rome less explored and indulge your passion for its enduring splendor.
Follow in the footsteps of the ancient Romans, discovering the intriguing Saint Paul Outside the Walls. Discover Ostia Antica, an exceptionally preserved ancient port city that transports you back in time. Stroll along the storied Via Appia, and descend into the depths of history as you explore underground Christian catacombs dating from the 2nd and 3rd centuries AD.
On this Rome shore excursion from Civitavecchia, you will enjoy the following locations:
Basilica of Saint Paul Outside the Walls
Ostia Antica
Ancient Appian Way
Christian Catacombs



Via Ostiensis - A Gateway to Ostia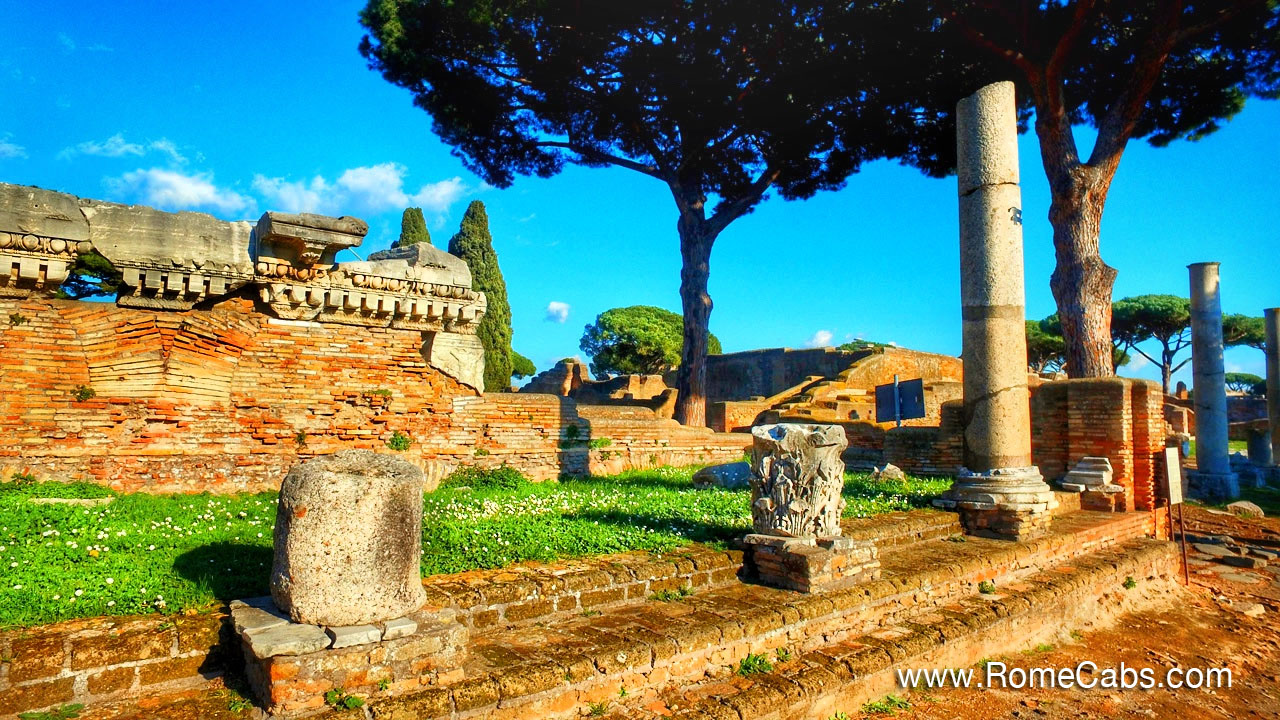 Begin your adventure on Via Ostiensis, one of ancient Rome's oldest roads connecting the city to the harbor of Ostia. As you journey toward Ostia Antica, a significant stop awaits—the Basilica of Saint Paul Outside the Walls, the second-largest basilica in Rome with Saint Paul's tomb.
Next, you'll arrive at Ostia Antica, a beautifully preserved ancient Roman city. Explore its well-preserved streets, temples, theaters, baths, bakeries, forums, and more. This city, founded in the 7th century BC, was a thriving trading post and home to 50,000 inhabitants during its zenith. Today, it offers a unique window into ancient Roman life, all just a stone's throw from Rome itself.



Ancient Appian Way - Queen of the Long Roads


The Ancient Appian Way, also known as Via Appia, awaits your discovery. Constructed in 312 BC, this road was essential for transporting troops and goods to Rome's southeastern regions. Its straight path earned it the moniker "Queen of the Long Roads".
As you walk along its well-preserved stones, you'll witness the grooves worn by centuries of chariot and wagon wheels. The serene, park-like setting is lined with evergreen cypress and sea pines, offering a tranquil escape from the bustling city.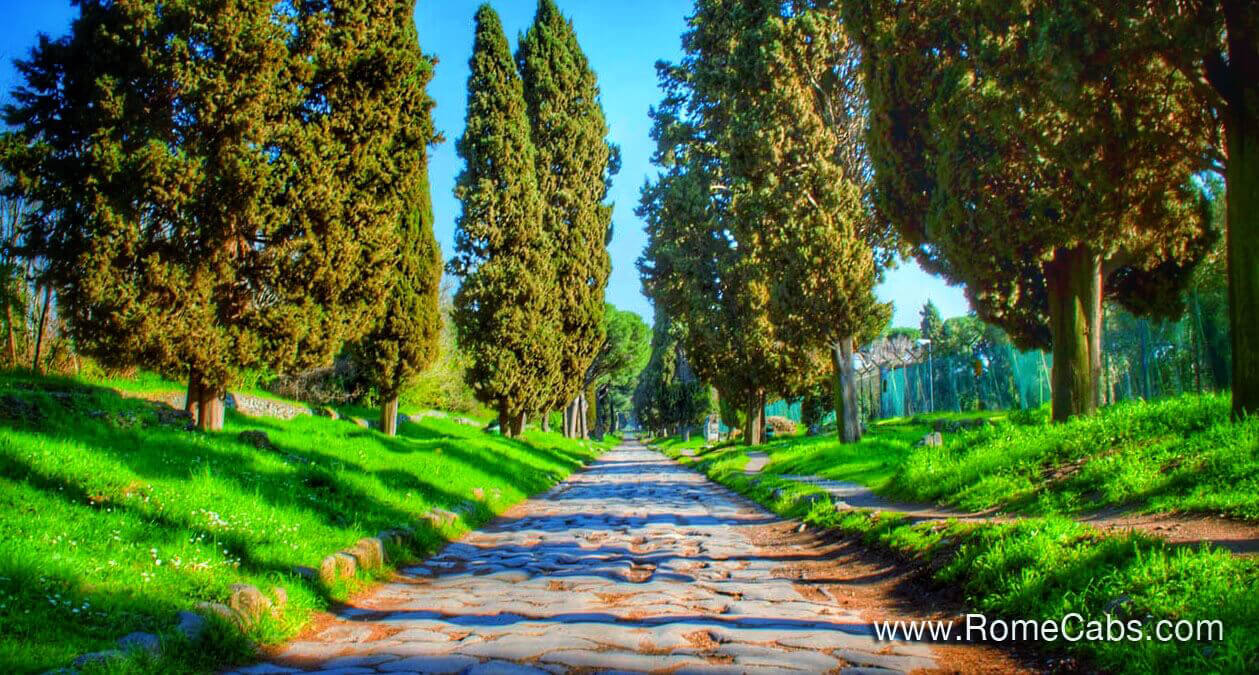 Christian Catacombs - A Captivating Journey Underground


Venture into the depths of history as you explore the 2nd-3rd century AD Christian catacombs along the Appian Way. These underground burial sites stretch for miles beneath the surface, containing an astonishing 170,000 graves and tombs. Early Christians, martyrs, and even popes found their resting places here.
Guided group tours lead you through this subterranean labyrinth, where you can marvel at ancient decorations and inscriptions on crypts and tombs. It's a remarkable journey into the hidden history of early Christianity
After a day filled with historical discoveries, your driver will safely return you to your Cruise Ship in Civitavecchia.
Countryside Splendor Private Excursion from Civitavecchia


Italy, a land steeped in history and brimming with captivating stories of ancient civilizations, offers a treasure trove of experiences waiting to be discovered. Our Countryside Splendor private excursion from Civitavecchia offers a unique blend of medieval marvels and ancient civilizations, immersing you in a world that feels like a page torn from the Middle Ages and an adventure of ancient sacred tombs worthy of Indiana Jones.
Visit Bracciano Castle


Your journey into the countryside begins with a stop in the medieval town of Bracciano, crowned by the imposing 15th-century Castello Orsini-Odescalchi, the legendary castle with a history of power struggles among noble families. Step into a bygone era as you explore over 20 lavishly decorated rooms, a medieval kitchen, an armory, and more. Don't miss enthralling views of crystalline Lake Bracciano, surrounded by forests and olive groves from the top of the castle walls.


Lunch in a Medieval Hamlet


Savor delectable homemade-style cuisine at local family-owned restaurants in Ceri, the picturesque medieval hamlet perched on a cliff. Take a moment to explore this tiny village during your brief visit for lunch.
Cerveteri Etruscan Necropolis: An Archaeological Adventure


Explore the secrets of the ancient Etruscan civilization at the Banditaccia Necropolis in Cerveteri, a UNESCO World listed site. This vast necropolis, the largest in the Mediterranean, houses over a thousand tombs dating back to 900 BC.
Cerveteri, once a thriving Etruscan city-state, reached its peak around 600 BC as a vital trading center. Today, we are fascinated by the remnants of this innovative civilization. As we tour the necropolis, spanning 25 acres, we encounter diverse tombs, each reflecting different eras, social statuses, and historical nuances.
Ancient roads crisscrossing the necropolis bear the deep grooves left by centuries of carriages, telling the tales of their countless journeys. Inside the tombs, intricately carved living tufa rock interiors resemble the homes of the deceased. These tombs are unique examples of Etruscan residential architecture that have defied the ravages of time.
Notably, the Tomb of the Reliefs stands out as a treasure trove of bas reliefs, frescoes, and sculptures depicting Etruscan daily life. While many of these treasures now reside in museums, the Banditaccia Necropolis preserves the essence of an advanced civilization that thrived long before the Romans.
Your day of exploration wraps up, leaving you with a sense of wonder and awe. As you embark on a leisurely drive back to Civitavecchia, you'll carry the echoes of Italy's medieval past and the enigma of the Etruscans with you.
Mysterious Etruscans Excursion from Civitavecchia
This exclusive Mysterious Etruscans Countryside shore excursion is a remarkable odyssey into the ancient world of the enigmatic Etruscans, whose legacy still intrigues and mystifies.
The Etruscan civilization remains shrouded in mystery. Their origins, language, lifestyle, and appearance are still subjects of fascination and curiosity. While many of their texts and structures have vanished, their tombs provide invaluable clues.
Your journey will take you through the Roman countryside, once known as Etruria in ancient times, allowing you to delve into this captivating enigma. Though the Etruscans may never fully reveal their secrets, you'll depart with a profound appreciation for their enduring influence on the ancient world, especially within the heart of Rome itself.
Join us on this timeless adventure, that begins with Tarquinia and then takes you to Tuscania.
Tarquinia: A Glimpse into Etruscan Life


Departing from Civitavecchia, your journey begins in Tarquinia, once the most significant of the 12 Etruscan city-states and the birthplace of at least one Etruscan king who ruled Rome. Today, Tarquinia is a picturesque medieval walled city renowned for the unique Monterozzi Necropolis, a UNESCO World Heritage Site.
Within this necropolis lie over 6,000 underground tombs, with about a dozen open to the public, showcasing stunning frescoes that provide a vivid window into daily Etruscan life. As you descend into these burial chambers, you'll step back 2,500 years, immersing yourself in the Etruscan world.
Each tomb, carved to resemble a home, reveals the Etruscans' celebration of life and the afterlife. Vibrant frescoes depict abundant banquets, music, dancing, hunting, and even the equality of Etruscan women—an aspect not common in other ancient cultures.
Intriguingly, many innovations once attributed to the Romans actually had Etruscan origins. The frescoes' evolution from joyful celebrations to darker themes mirrors the decline of the Etruscan civilization, gradually absorbed by the expanding Roman Empire.
Our journey also leads to Tarquinia's National Museum, housed in the elegant Renaissance Palazzo Vitelleschi, where you can witness incredible artifacts discovered in the tombs.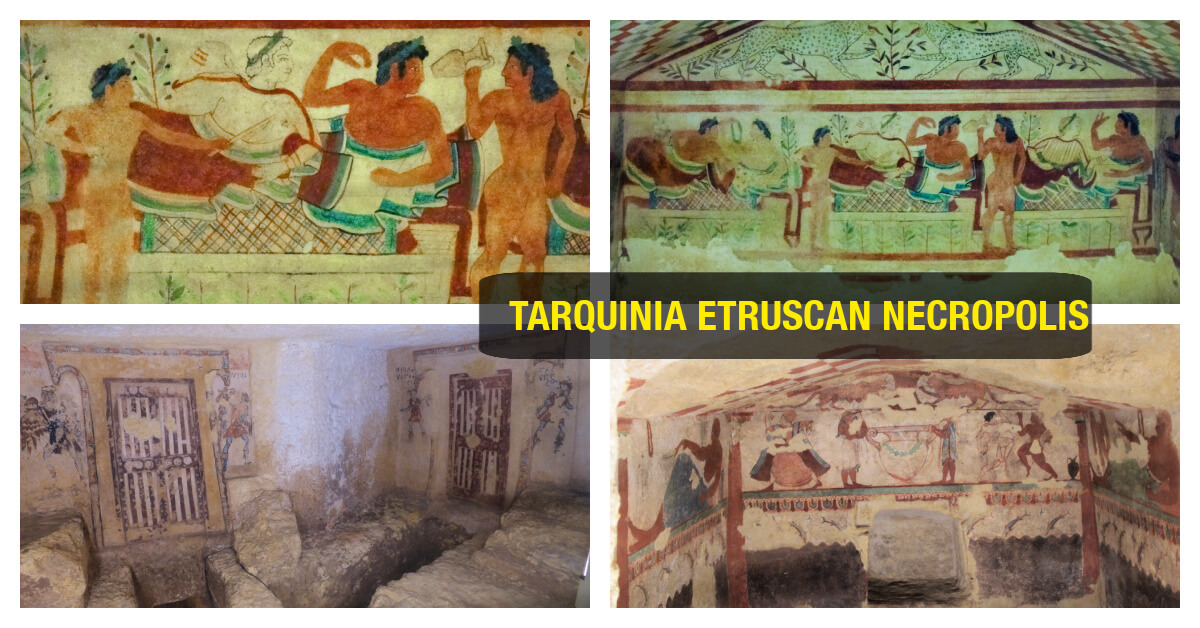 Tuscania: An Ancient Etruscan Stronghold


Tuscania, one of Italy's oldest towns dating back 3,000 years, greets you next. Legends surround its origin, claiming it was founded by Ascanius or Tusco, son of Hercules. Today, Tuscania stands as a medieval walled hilltop town offering breathtaking views and a connection to Italy's ancient past.
The Etruscans' presence is not only felt in the stone sarcophagi that grace the town's squares but also in the captivating Etruscan Museums that preserve their art and artifacts.
Tuscania boasts a rich history where Etruscan tombs and sarcophagi dot the landscape. While some are housed in renowned museums, many 2500-year-old masterpieces grace the town's Piazza del Commune and surroundings, offering an unconventional open-air display. These Etruscan remnants, coupled with Tuscania's medieval allure, provide a unique, immersive journey through Italy's cultural heritage.
Explore Tuscania's historical treasures at San Pietro and Santa Maria Maggiore churches, built upon ancient Etruscan temples, showcasing the intriguing coexistence of paganism and Christianity throughout history. These churches were strategically aligned with pagan solstices, adding to their captivating symbolism.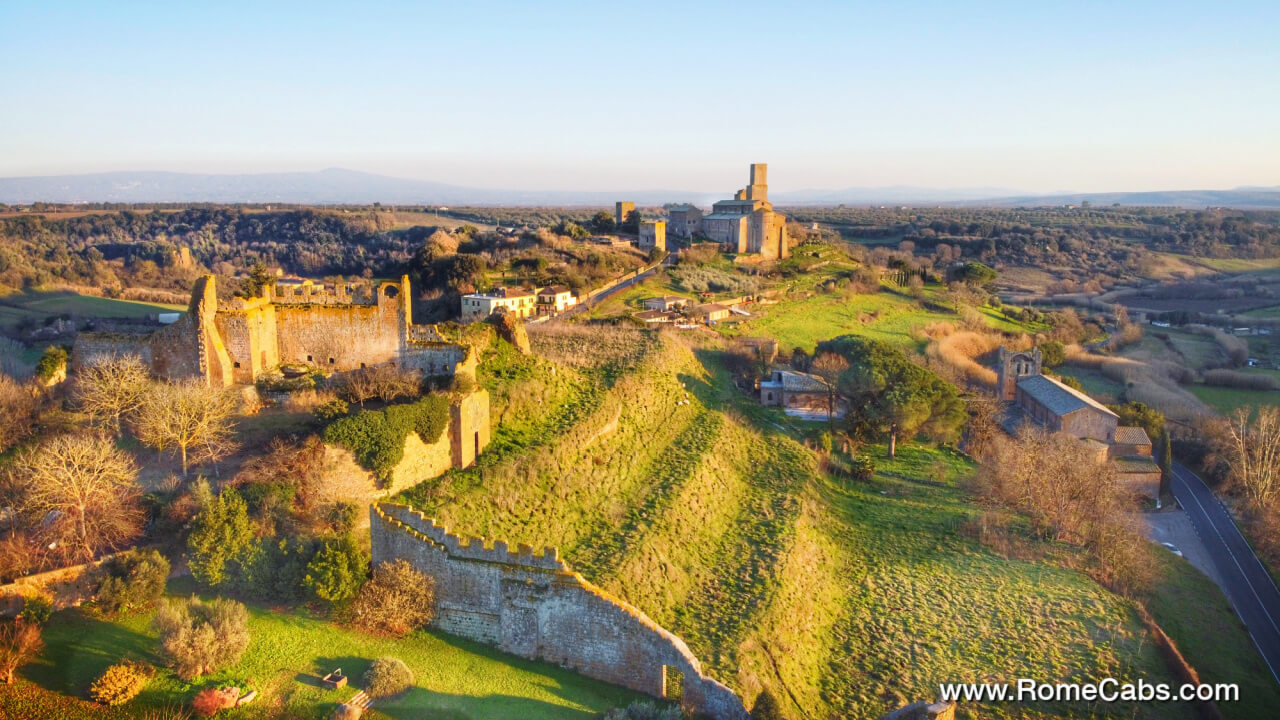 Ancient World Tour - Ostia Antica and Cerveteri
History enthusiasts, prepare for an enthralling journey through time on our Ancient World tour to Ostia Antica and Cerveteri to explore the Banditaccia Etruscan Necropolis. Explore the enigmatic Etruscans and the grandeur of ancient Rome.
Italy's rich heritage comes to life as you trace the footsteps of emperors, gladiators, and ancient civilizations that have shaped its legacy for over 3,000 years. Discover the captivating stories hidden within these ancient sites and immerse yourself in the intriguing world of the Etruscans and the rise of the Roman Empire.


Explore Ostia Antica


Discover the city founded in the 7th century BC, thriving into a prosperous Roman hub with grand buildings, theaters, and forums under the reign of emperors like Domitian, Trajan, and Hadrian. Explore the remarkably preserved town that fell into obscurity, only to be unearthed in the early 20th century.


Lunch in the Medieval Village of Ceri
Now, let's fast forward through time to enjoy a delightful Italian lunch. Journey to the picturesque 13th-century village of Ceri, perched atop rocky cliffs. Relish the authentic flavors of local cuisine, lovingly preserved and passed down through generations in charming family-owned restaurants.


Cerveteri - Discover Banditaccia Etruscan Necropolis


Now we travel further back in time to Ancient Etruria, a realm dominated by the advanced Etruscan civilization. Explore Banditaccia Necropolis, an 8-century testament to Etruscan achievements, with diverse tombs revealing their evolution from primitive trenches to elaborate houses of the deceased. Notable is the 3rd century BC Tomb of the Reliefs, adorned with intricate bas reliefs, inscriptions, and frescoes.
As you conclude your voyage through ancient civilizations and 3,000 years of Italy's captivating history, you will embark on one more brief journey. Your final destination: your awaiting cruise ship in Civitavecchia, where you can reminisce on the wonders of the past while preparing for your next adventure.
Orvieto Wine Tasting Tour from Civitavecchia
Indulge in the impossible dream – a wine-tasting tour from Civitavecchia that unveils the exquisite Orvieto Wine Tasting Tour from Civitavecchia that seamlessly combines the allure of a winery visit and wine tasting with an exploration of Orvieto, the radiant gem of Umbria.
Departing from Civitavecchia, venture into the picturesque Italian countryside, where the serene, rolling hills of Umbria reveal a hidden treasure: a family-owned, certified organic winery estate nestled amidst endless vineyards and olive orchards.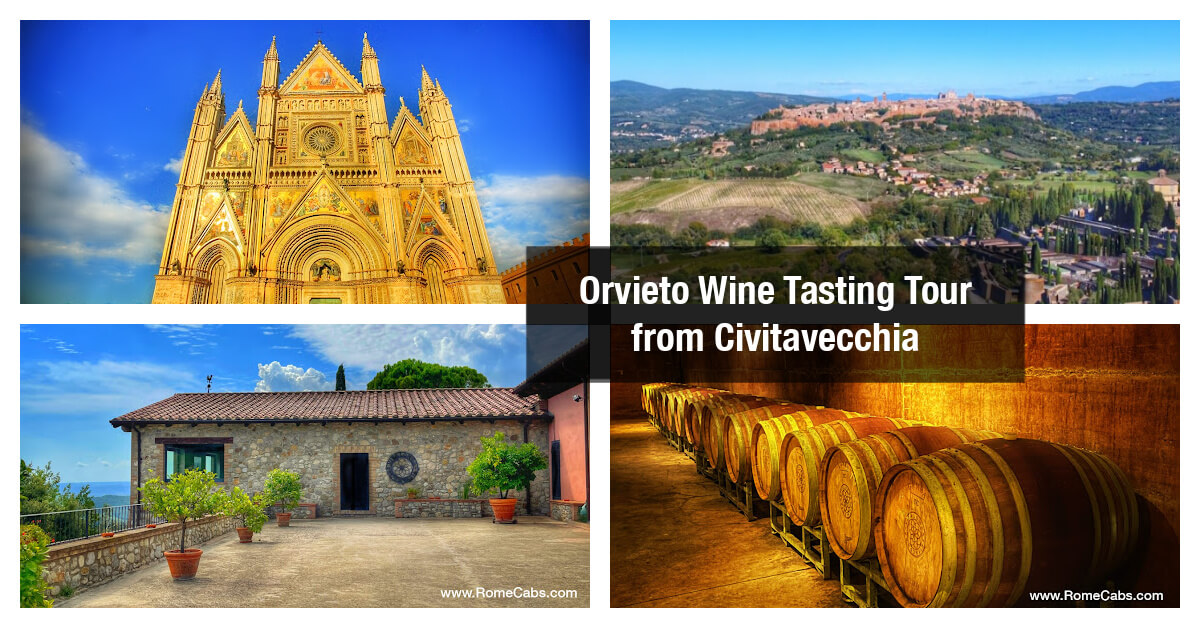 Umbria Winery Visit with Wine Tasting


Explore the winemaking heritage of Umbria, known for its unique terroir and ancient Etruscan roots. At a tranquil hilltop winery estate, you'll enjoy a 1.5-hour tour, learning about traditional winemaking and tasting three locally produced wines paired with delightful accompaniments. Each sip carries the echoes of history, offering the flavors of authentic local wines.
After the winery visit, your driver will take you to the charming town of Orvieto.
Explore the Ancient City of Orvieto


Perched on a volcanic plateau, Orvieto boasts stunning views of the Umbrian countryside. Enjoy lunch at a local restaurant, explore the town's medieval streets, and visit local wine shops for more tasting opportunities and wine purchases. Don't miss the magnificent Gothic Cathedral of the Assumption of the Virgin adorned with mosaics and intricate details.
As you journey back to your cruise ship in Civitavecchia, you will savor the memories of the sights and flavors you experienced on this exceptional wine-tasting shore excursion in Umbria.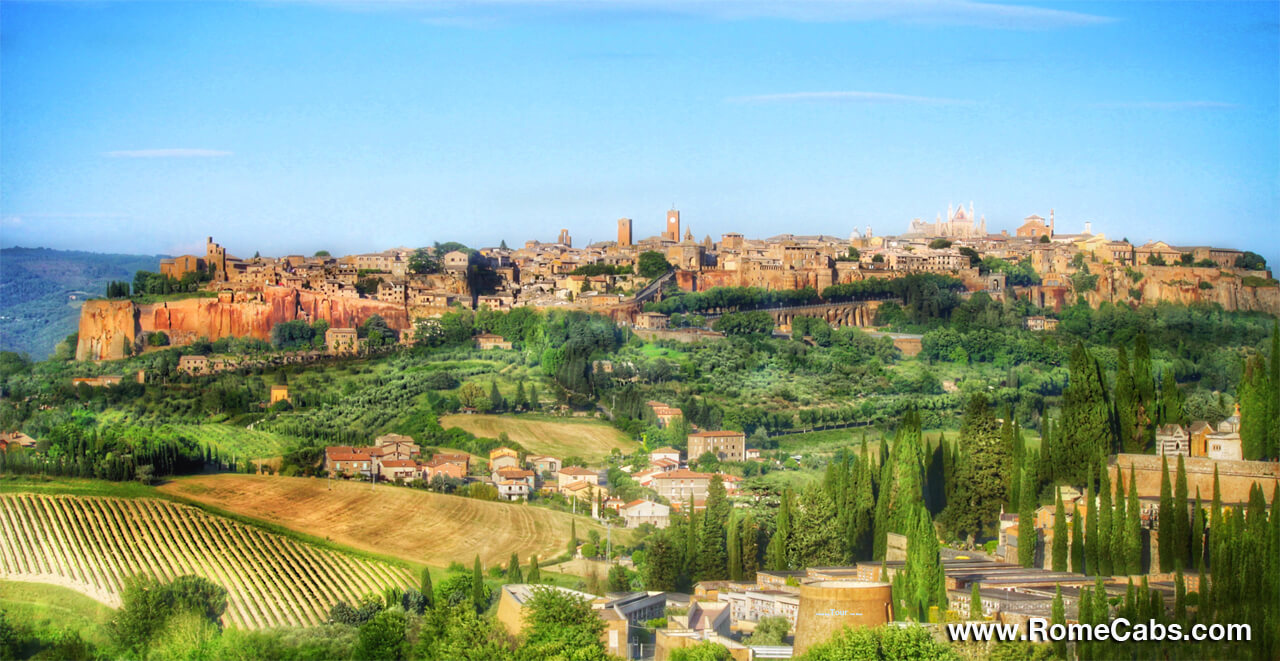 In 2024, cruisers have the opportunity to embark on unforgettable shore excursions from Civitavecchia that go beyond the overcrowded and challenging Vatican and Colosseum, offering a deeper and more enriching cruise experience of Rome and its surroundings.
From tracing the footsteps of the ancient mysterious Etruscans to spellbinding medieval castles and charming villages, or savoring the flavors of Italy through wine tasting in Orvieto, these excursions promise to unveil the hidden treasures of this remarkable region on your next shore excursion from Civitavecchia.
As you plan your cruise adventure, consider these captivating options that invite you to delve into Rome's timeless history, explore the picturesque Italian countryside, and indulge in the pleasures of the palate. Your journey awaits, promising memories that will last a lifetime.


Thank you for reading our travel blog and for choosing Stefano's RomeCabs for your Shore Excursions in Italy. We look forward to showing you beautiful places!


* Find us online also on: