Buongiorno and welcome to Stefano's RomeCabs, Rome's premier tour company for Italy private shore excursions and tours in Italy.

Tuscany is one of Italy's most celebrated regions and much sought after for extended sojourns, Tuscany tours from Rome, and Tuscany shore excursions from Livorno and La Spezia. Tuscany is blessed not only with postcard-perfect landscapes and charming villages, but also impressive cities that boast a cornucopia of world heritage sites, priceless artistic masterpieces, superb architecture, and magnificent monuments.

Cruisers on Mediterranean cruises to Italy can enjoy a taste of Tuscany's finest on their shore excursions. In this travel article, we will cover the top 10 monuments to see in a Tuscany shore excursion from Livorno or La Spezia cruise ports.
Top 10 Monuments to See in a Tuscany Shore Excursion
TOP MONUMENTS TO SEE IN FLORENCE



Florence is the capital of Tuscany and by far our Best of Florence Tour is the most popular Tuscany shore excursion from Livorno and La Spezia, and for good reason. Florence is considered the cradle of the Renaissance and boasts a treasure trove of priceless works of art and extraordinary iconic monuments that established its historic center as a UNESCO World Heritage Site.

On any Florence shore excursion from Spezia or Livorno cruise ports, you will enjoy ample time exploring its remarkable historic center and delight in the abundance of impressive monuments and exquisite outdoor sculptures that turned Florence into an outdoor museum. Here, we will introduce 5 top monuments to see in Florence's historic center. At the end of this section, we will also suggest other must-see places in Florence that are not mentioned in this blog.
1. Duomo of Florence / Cathedral of Santa Maria del Fiore

In the heart of Florence's historic center is Piazza del Duomo comprised of three of the most extraordinary monuments.


The Cathedral of Santa Maria del Fiore (commonly nicknamed the Duomo) is the largest building in Medieval Europe, the fourth largest church in Europe, and crowned with the largest dome in Italy.

The construction of this vast Gothic-style cathedral began at the end of the 13th century on the site of an early 7th-century church of Santa Reparata and was completed 142 years later in 1435. The Cathedral was consecrated by Pope Eugene IV on March 25, 1436.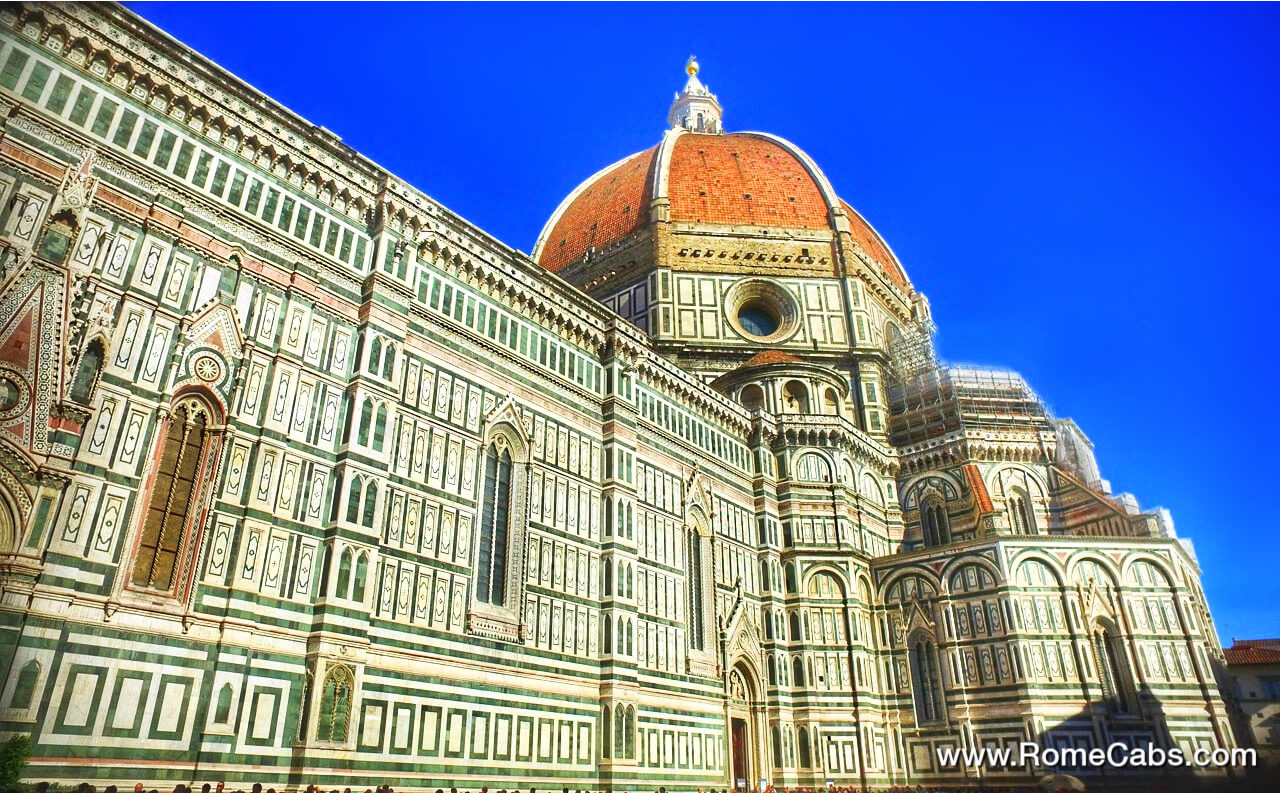 The Cathedral's intricate neo-gothic polychrome facade is sheathed in decorative pink, white and green marble which was applied in 1887. The interior of the cathedral, by contrast, is plain and unadorned, corresponding with the austerity of religious life.

The soaring dome by Filippo Brunelleschi was a groundbreaking engineering feat, made even more remarkable by the fact Brunelleschi was a goldsmith with no prior architectural training. After a hundred years of construction, the cathedral was still missing a dome.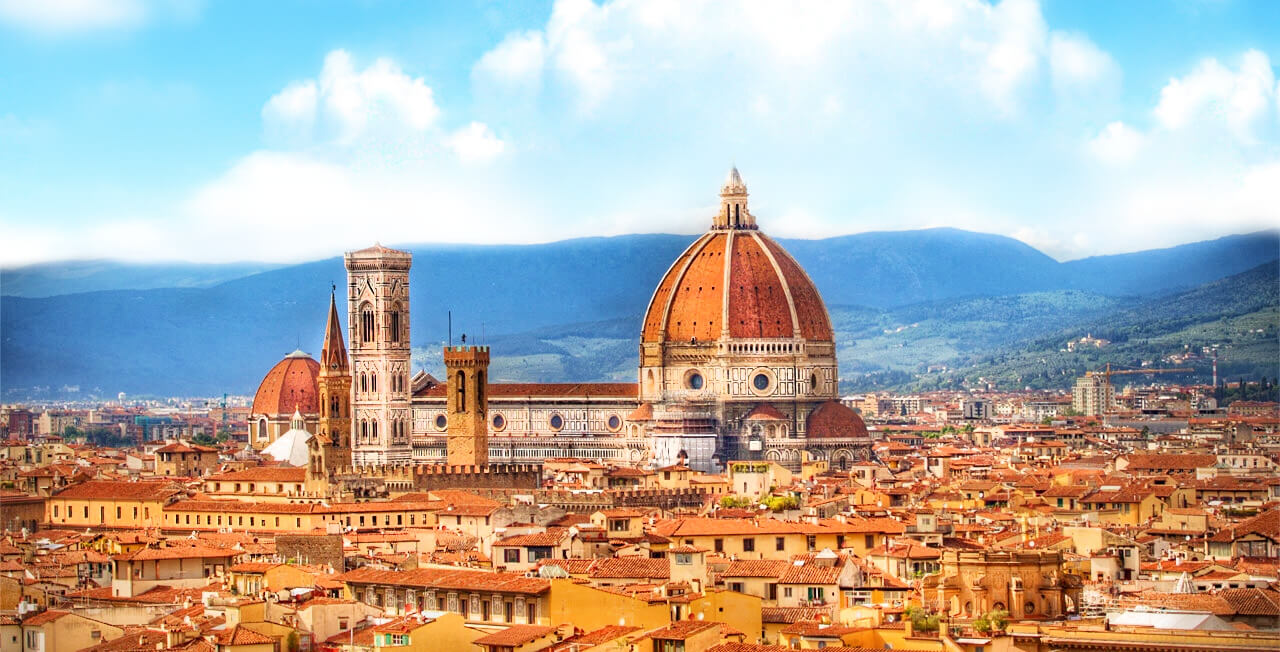 The Florentines rejected the contemporary Gothic domes with their distracting buttresses and instead, they looked to the classic dome of Ancient Rome's Pantheon as inspiration. Although the original Roman technology and concrete formulas have long been forgotten, Brunelleschi dedicated his time to studying ancient Roman architecture. Eventually, his solutions proved ingenious when he successfully built the brick drome between 1420-1436. With its 45.5 meters in diameter and 116 meters tall, the dome is the largest masonry vault in the world.

Interestingly, if Brunelleschi had won the competition for designing a set of bronze doors for the Baptistery in 1401 (see below), this magnificent dome may not have never existed, and neither would Ghiberti's "Gates of Paradise" doors. Upon losing the baptistery door contest to his most hated rival, Lorenzo Ghiberti, Brunelleschi abandoned his aspirations for sculpture and left for Rome to study Roman antiquity. The secrets he unlocked while examining ancient Roman buildings such as the Pantheon became the foundation for Brunelleschi's subsequent success as an architect.

The Florentines were determined to outdo their neighboring cities, and they accomplished this with their revered Cathedral and its masterpiece dome that enchanted the world since its completion. It served as the symbol of Florence, of the Renaissance, and humanism in general.
2. Baptistery Of Saint John the Baptist


Located in front of the Cathedral, the 11th-century octagonal Baptistery of Saint John the Baptist is one of Florence's most significant religious buildings. Raised on the foundations of an ancient Roman structure, the baptistery is a fine example of the Tuscan Romanesque style, intended for the liturgical function of baptism. A large building as this was required due to the large crowds that attended the biannual administration of baptism.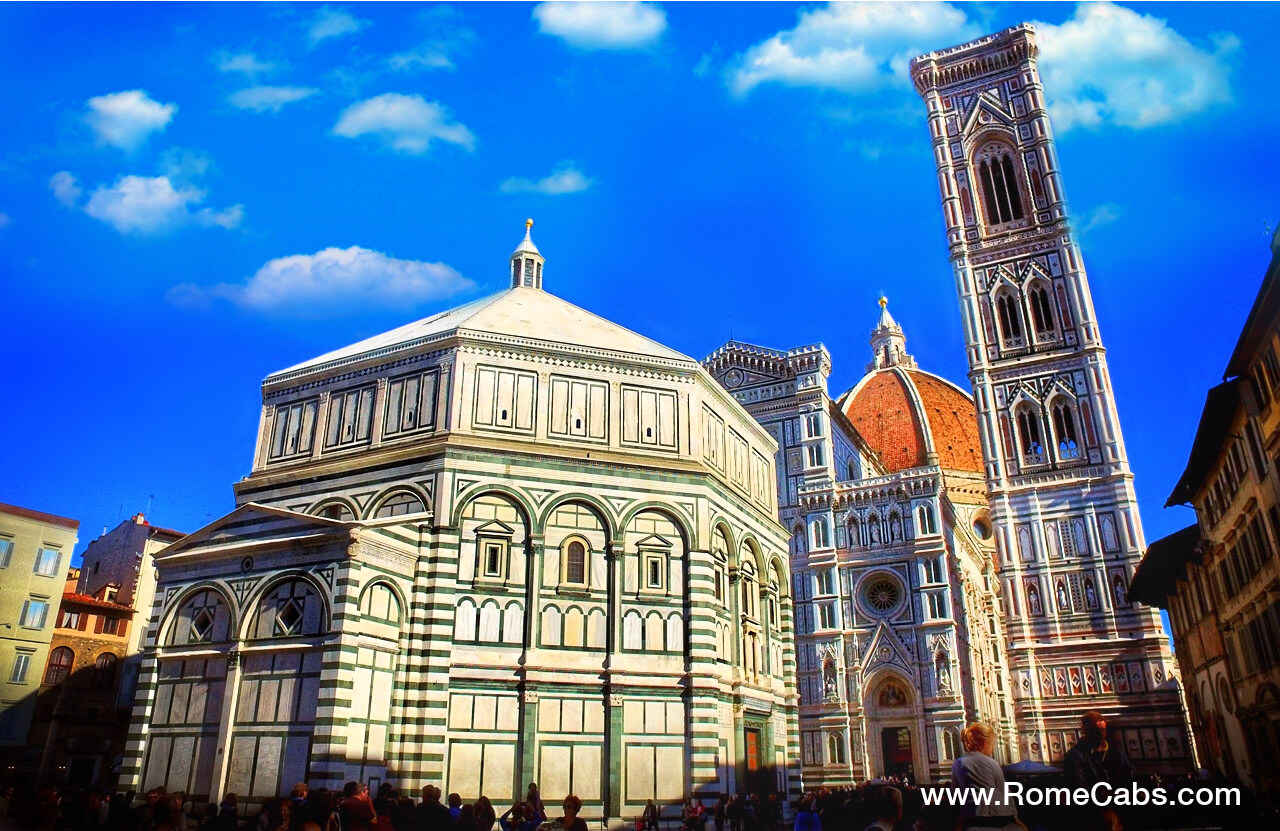 The facade of the baptistery is adorned in white marble and green Prato marble. On three of the four sides, there are large embellished doors. The most famous of the three is the main gate of the Baptistery facing the Cathedral.

In 1401 Florence held a competition for a set of bronze doors intended as a votive offering to celebrate the sparing of Florence from recent scourges such as the Black Death of 1348. Lorenzo Ghiberti won this competition and completed the doors in 21 years. These doors are currently on the north side of the baptistery.

Following his celebrated success of these bronze doors, Ghiberti was commissioned to also create the last set of bronze doors that became known as the "Gates of Paradise". These most famous doors which included 10 panels depicting scenes from the Old Testament, took 27 years to complete. In honor of their magnificence, they were declared superior to his previous doors and given the place of honor, facing the Duomo.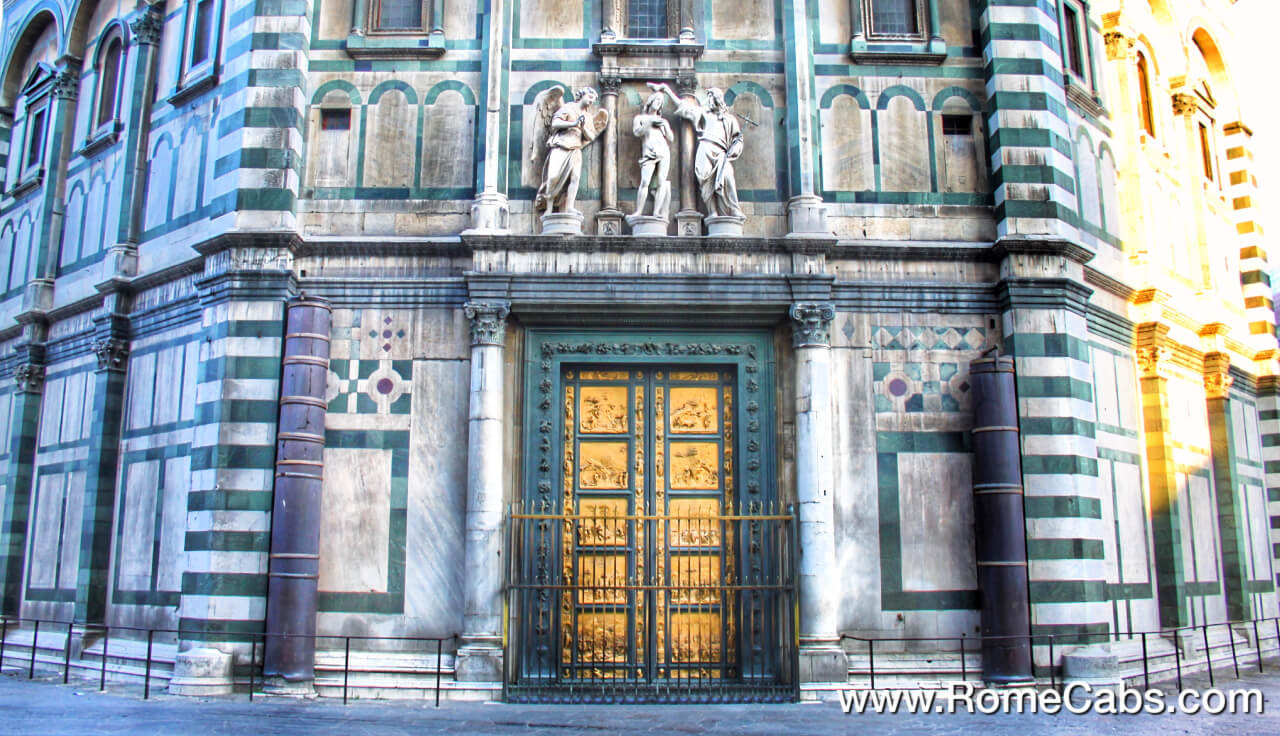 When Michelangelo saw these gates, he is believed to have exclaimed: "they are so beautiful that they would be perfect for the gates of paradise". Hence, they became known as the Gates of Paradise. The original panels of the Gates of Paradise are displayed at the Opera del Duomo Museum, the ones in situ are copies.


3. Campanile / Giotto's Bell tower

Adjacent to the cathedral is the free-standing eloquent 14th century Giotto's Belltower standing at almost 85 meters tall and approximately 15 meters wide.
Clad in white, red, and green polychrome marble encrustations similar to the cathedral next to it, this majestic square bell tower is considered to be the most beautiful bell tower ( campanile ) in Italy, some describing it as a giant candy cane.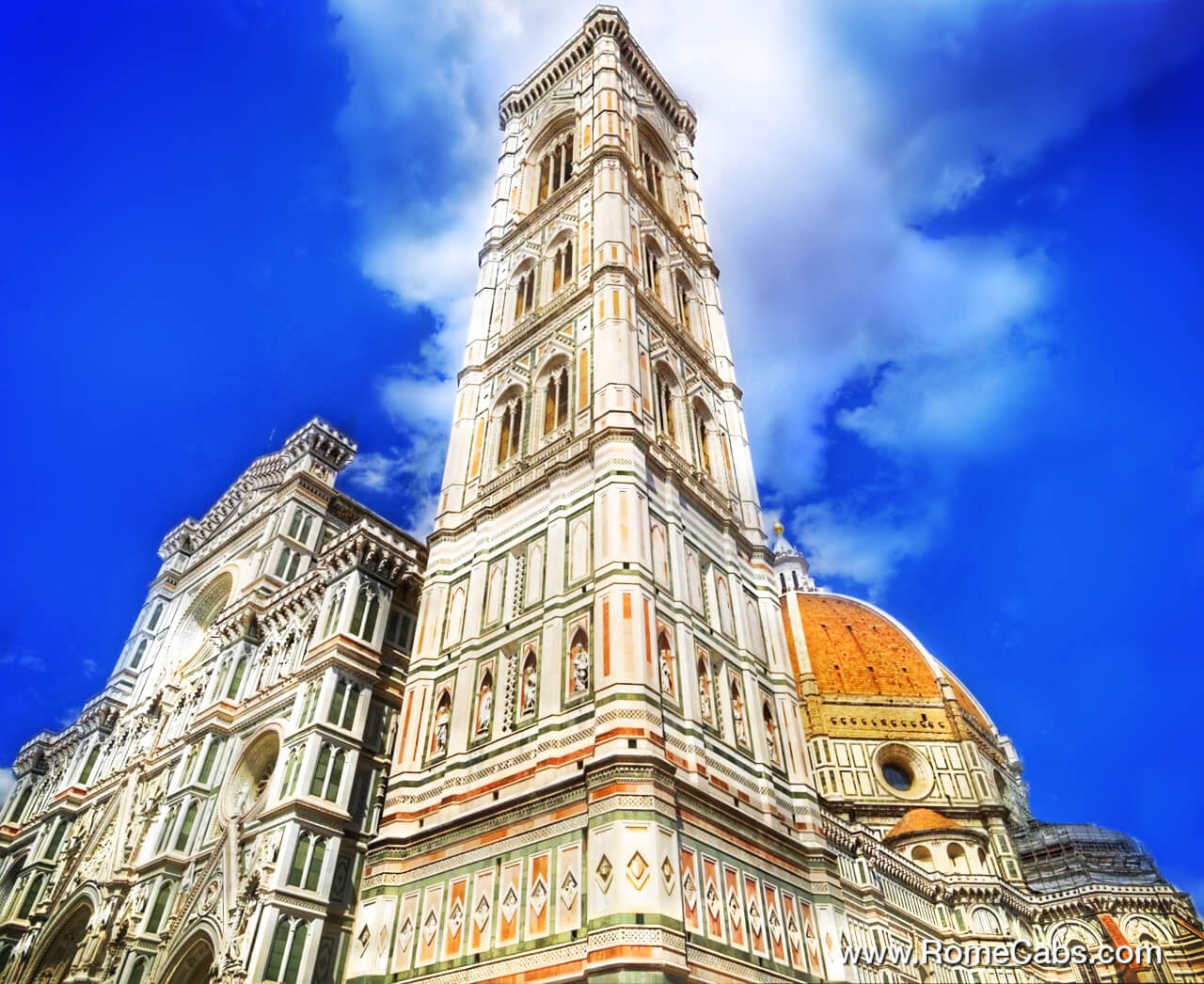 Construction began in 1334 by Giotto, who at that time was already 67 years old and considered an eminent architect. When he died 3 years later, he only completed the lower floor of the bell tower when he was succeeded by Andrea Pisano (who was already famous for completing the first set of the Baptistery bronze south doors). Pisano was in turn succeeded by Francesco Talenti who completed the top three levels in 1359.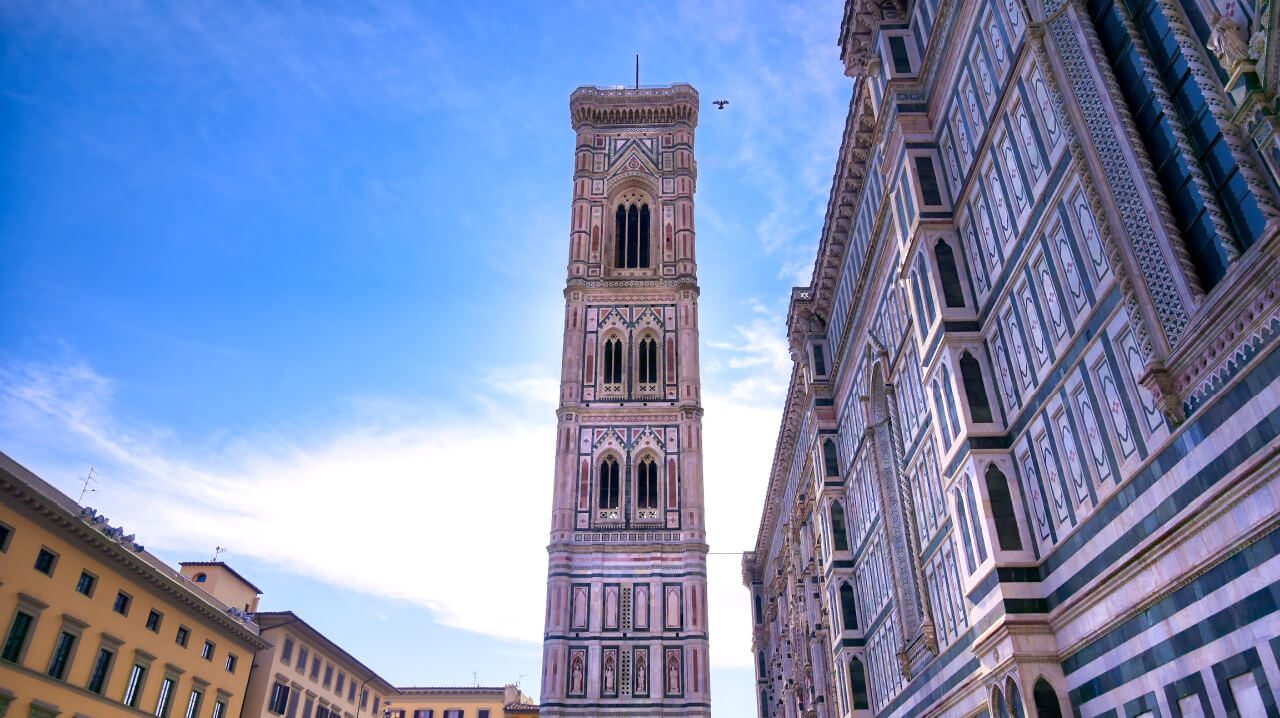 The sculpted decorations on the tower facade are extremely rich in detail, using rhombus shapes with bas relief carvings and life-size statues of prophets and patriarchs. All the present works of art in the bell tower are copies. The originals were removed in the 1960's and displayed in the Museo dell'Opera del Duomo.

Giotto's Bell Tower has 7 bells. The number "seven" has a special meaning in the Biblical sense: communicated a sense of completeness and perfection. The largest bell is named Santa Reparata, in honor of the saint to which the original church was dedicated.


4. Palazzo Vecchio

Piazza della Signoria is among the most famous squares in Florence. It is largely dominated by Palazzo Vecchio (translates into the "Old Palace") and the nearby arched Loggia dei Lanzi. Palazzo Vecchio was built in 1299 over what used to be an ancient 1st century AD theater of the Roman colony of Florentia, whose ruins are still visible in the underground level. The purpose of this palace was to house the government organizations of the republic and service as the symbol of the civil power of Florence.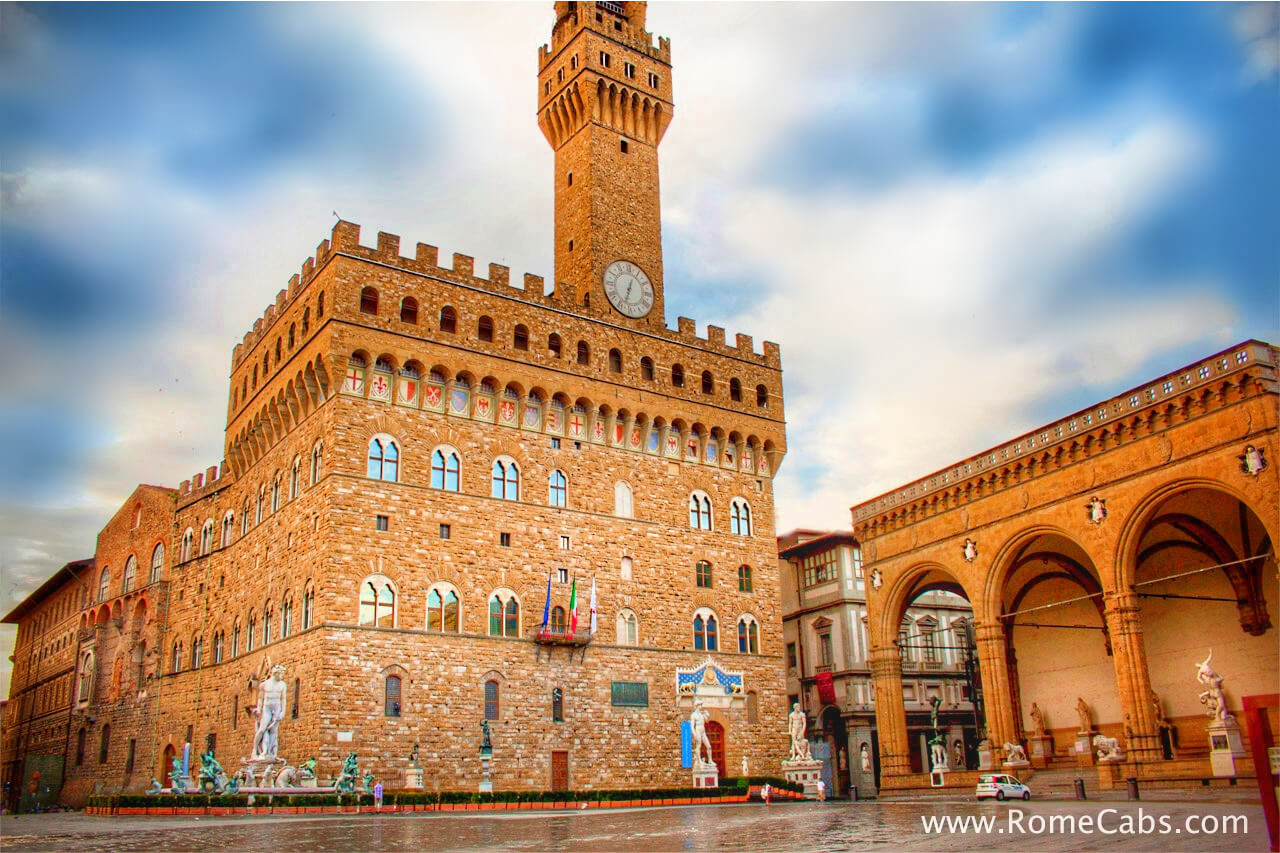 The uniqueness of the Tuscan Gothic design of Palazzo Vecchio resembles a medieval fortress or castle, with a 94-meter tower. However, the style represented the civil architecture of its time seen in other civic buildings such as Palazzo Communale (town hall) in Montepulciano.

Inside, the palace is comprised of various unique rooms, primarily the impressive late 15th century Salone dei Cinquecento (Hall of the Five Hundred) designed by Giorgio Vasari with an ornate paneled ceiling, large wall frescoes, and opulent decorations.

In the 16th century Cosimo I de Medici commissioned the restructure and redecoration of the palazzo to convert it into his residence, Palazzo Ducale (the Ducal Palace). Later, he moved his residence to the Pitti Palace, and "Palazzo Ducale" was renamed "Palazzo Vecchio" becoming once again a civic building for government offices. The Medici also built a series of hidden passages inside Palazzo Vecchio to escape their enemies or to store valuables.

On our Tuscany shore excursions to Florence, you will be delighted to know that Florence's historic center is compact and walkable, so you can stroll from one grand monument to another admiring the outdoor museum that best describes Florence's spellbinding historic center.


5. Santa Croce Church

The present Basilica of Santa Croce is the principal Franciscan church in Florence and a minor basilica of the Roman Catholic Church. The church's original structure dates as far back as 1212 when, according to legend, Saint Francis of Assisi came to Florence with a group of his followers and settled in this former inhospitable marshy area outside the city walls and founded this church. This original church was discovered after the great flood of 1966.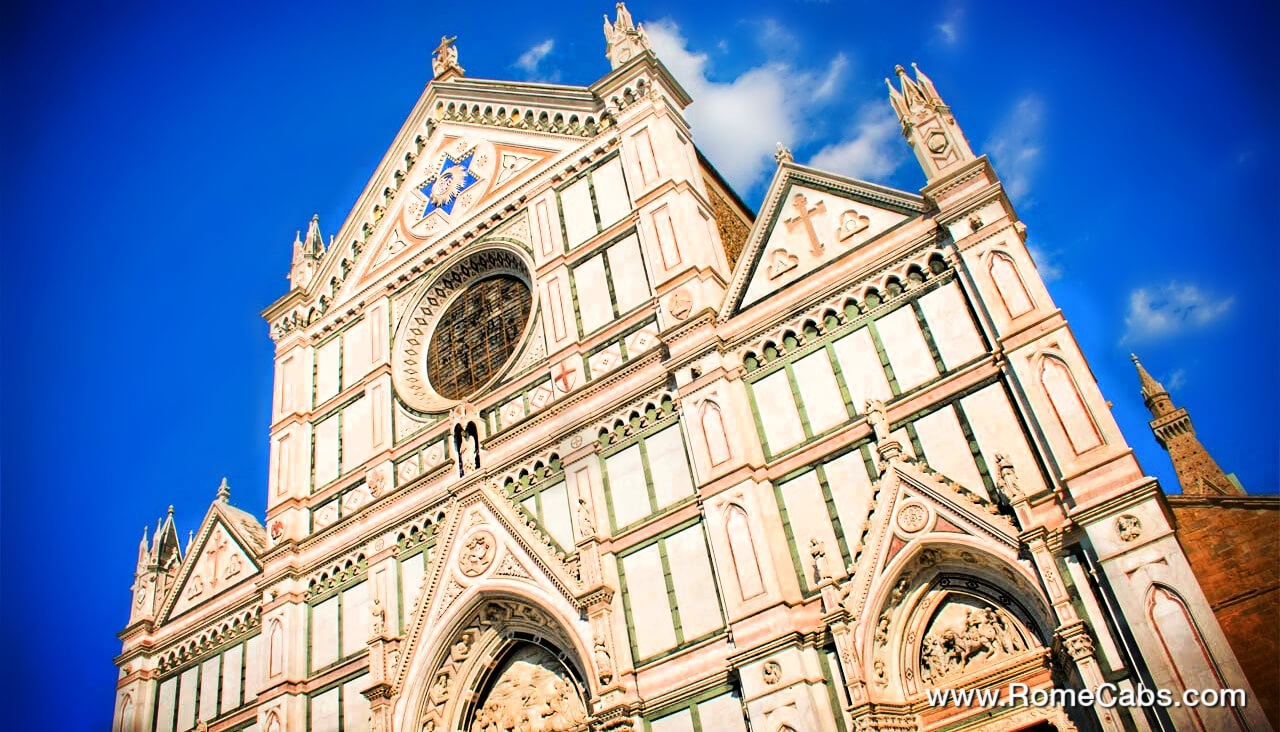 This grand Franciscan church features 16 chapels, many of which are finely decorated with frescoes by Giotto and his pupils. The church's beautiful facade was adorned with polychrome marble in 1863.
The Basilica of Santa Croce is also known as the Temple of the Italian Glories (Tempio dell'Itale Glorie) being the burial place for epochal Italians whose impact continues to reverberate through the centuries such as Michelangelo, Rossini, Machiavelli, and Galileo Galilei. There is also a memorial to Dante with an empty sarcophagus as he was buried in Ravenna given he was exiled from Florence.
Admission Tickets are required to visit Santa Croce.

While on a Florence shore excursion don't miss out on other notable monuments and places of interest such as Ponte Vecchio, Accademia Gallery with Michelangelo's original David, and Piazzale Michelangelo.
If staying in Florence on an extended visit, don't miss out on Ufizzi Gallery, Medici Chapel, San Lorenzo, National Museum of Bargello, Palazzo Pitti, Boboli Gardens, Basilica di Santa Maria Novella, and Piazzale Michelangelo.
If you are cruising to Italy and stop in Livorno or La Spezia Ports, you can enjoy the following shore excursion to Florence:



Also, very popular are Florence and Pisa shore excursions. Pisa is featured below.
TOP MONUMENTS TO SEE IN PISA


Our top 10 monuments to see in a Tuscany shore excursion from Livorno or La Spezia takes us to our next destination: Pisa. You can visit Pisa on a Shore Excursion to Pisa and Florence, or on a Shore Excursions to Pisa and Lucca.
The full complex is formally known as Piazza del Duomo, but more commonly known as Piazza dei Miracoli (or the Square of Miracles) includes the cathedral, baptistery, cemetery, and the famous bell tower (the Leaning Tower of Pisa). This marvelous square with its significant monuments was listed as a UNESCO World Heritage Site in 2007.
Due to its international fame for its unique tilt, we are featuring the Leaning Tower of Pisa along with the nearby cathedral among the top 10 monuments to see in a Tuscany shore excursion.
6. The Leaning Tower of Pisa
The Tower of Pisa ( Torre Pendente di Pisa in Italian ) was built next to the Cathedral of Pisa and it's one of Italy's most iconic symbols that attracts thousands of tourists a year. The Leaning Tower of Pisa was not intended to lean to one side nor planned to be more significant than its surrounded buildings. Yet the consequences of an engineering mishap launched this structure into fame for its uniqueness.



Construction of the Leaning Tower of Pisa began in 1173 as part of a grand cathedral project to flaunt the wealth and military victories of Pisa. Due to several pauses in construction attributed to economic strife and wars between Italian city-states, it took approximately 200 years to complete the bell tower.
Problems arose shortly after construction began, perhaps due to the site itself where the ground beneath was composed of clay, fine sand, and shells from the nearby rivers. By the time builders completed the second of the eight stories in 1178, the tower's foundation had begun to settle unevenly, causing the structure to tilt towards the south.
After multiple attempts to counterbalance to tower's southern drift, the structure continued to tilt and sink even after the tower was completed in approximately 1370. The nearby cathedral and baptistery are also slowly sinking due to the marshy nature of this area.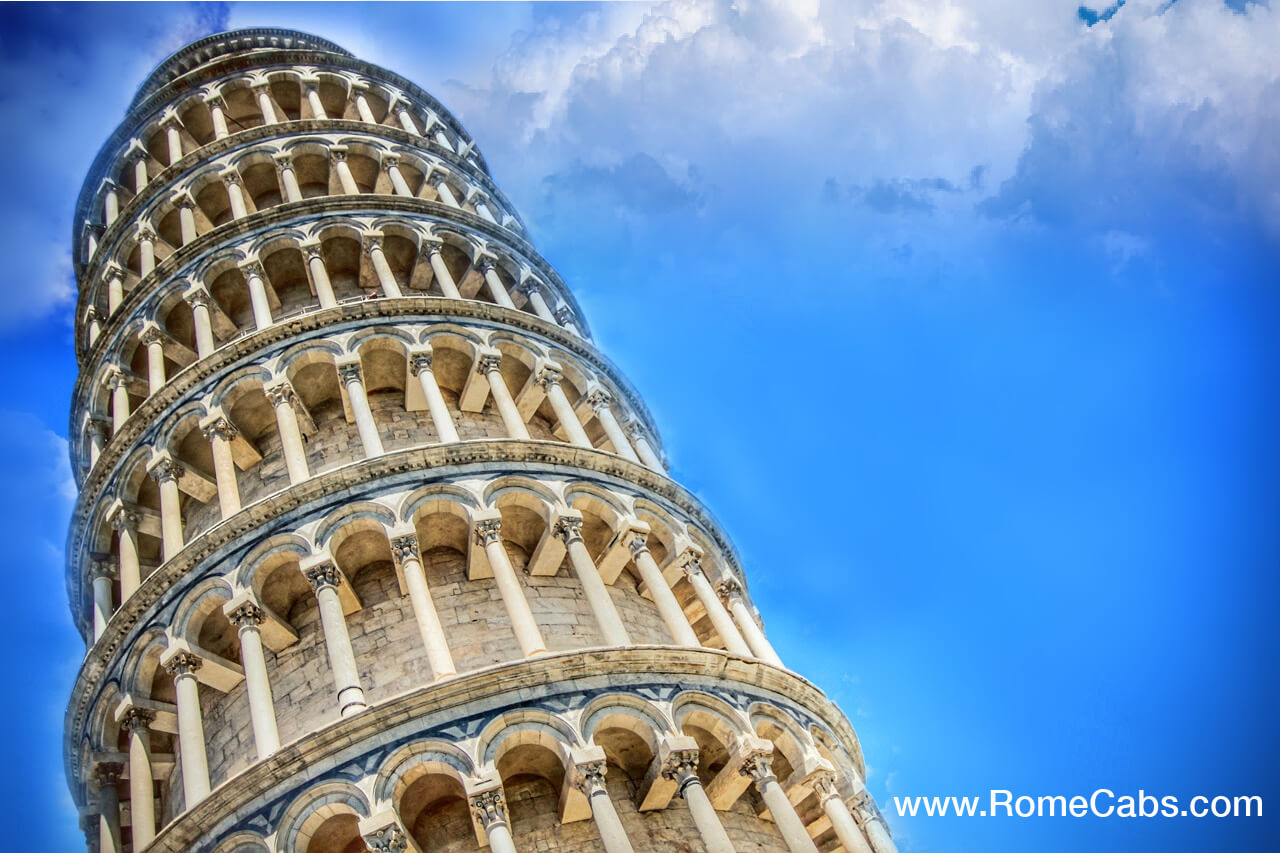 Over the next six centuries, the tower's unique tilt became an integral part of the bell tower's charm. But, by 1990, the structure was still subsiding at the rate of 1.2 mm (.05 inch) per year and was at a heightened risk of collapse. This prompted Italy to attempt to stabilize it. The monument was closed to visitors for a decade while engineers were able to bring the tower back to a safer 4-degree incline as it was two centuries ago, with a total improvement of around 19 inches. Engineers expect the structure will remain stable for another two centuries.


7. Cathedral of Santa Maria Assunta

Next to the Leaning Tower is the Cathedral of Pisa, a masterpiece of Pisan Romanesque architecture and one of the most impressive churches in Tuscany. Construction of this duomo began in 1063 with the spoils received after its fleet defeated the Saracens in Sicily. At that time Pisa was one of the superpowers of the Mediterranean Sea, and its Cathedral was intended to match the city's prestige.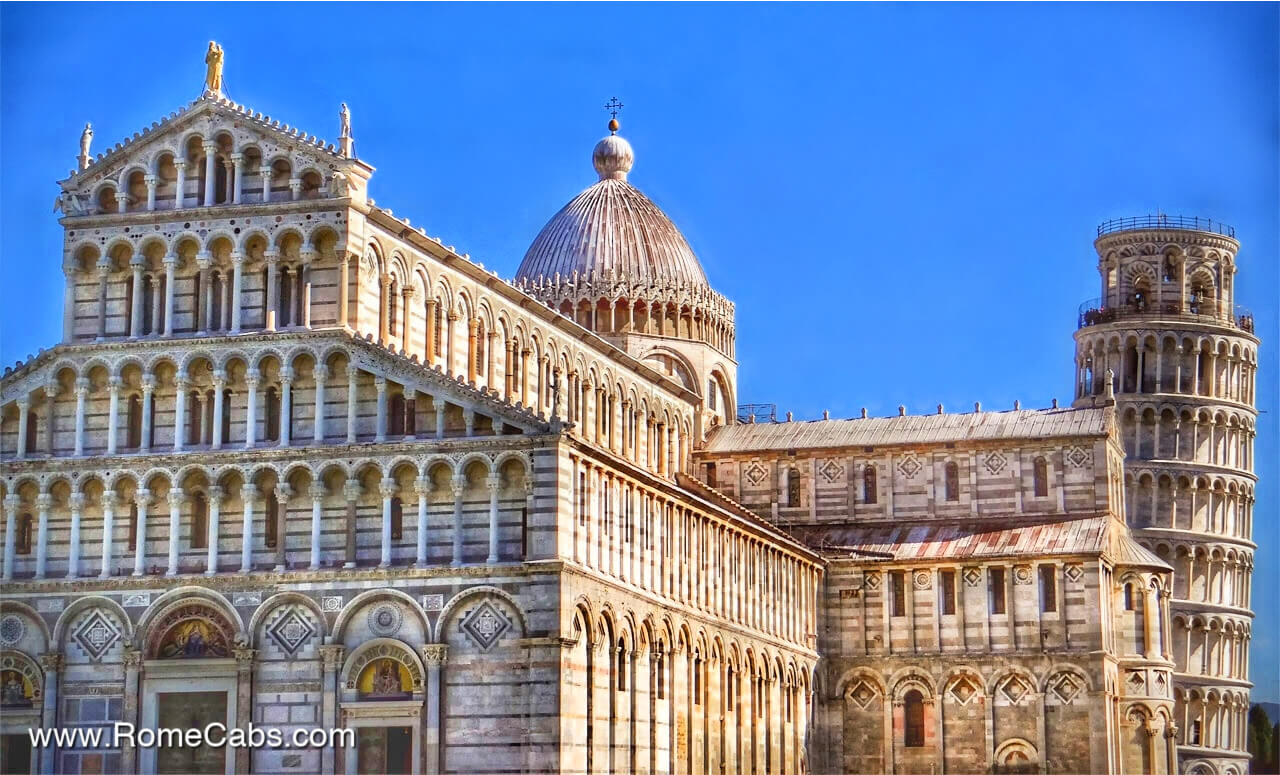 The design combined various stylistic elements such as classical, Lombard, Byzantine, and Eastern architecture to create a new architectural style referred to as "Pisan Romanesque". The black and white alternation of marble is an Eastern architectural feature, while the blind arches are Lombard (similar to Lucca's Church of San Michele). Its rich exterior decoration contains multicolored marble, mosaics, and numerous bronze objects from the spoils of war.

The duomo was further enlarged in 1118 when it was consecrated, making it the pride of the city and biggest cathedral in Europe for almost a century. Its striking elliptical dome inspired by the Moors was added in 1380, and at that time, it was the first of its kind in Europe.

The interior of the Cathedral of Pisa is sheathed with white and black marble and features monolithic grey marble columns topped with Corinthian capitals. Its wooden 17th-century coffered ceiling is painted and beautifully decorated with gold leaf. Precious paintings depicting the Old Testament and the stories of the life of Christ cover the galleries behind the main altar.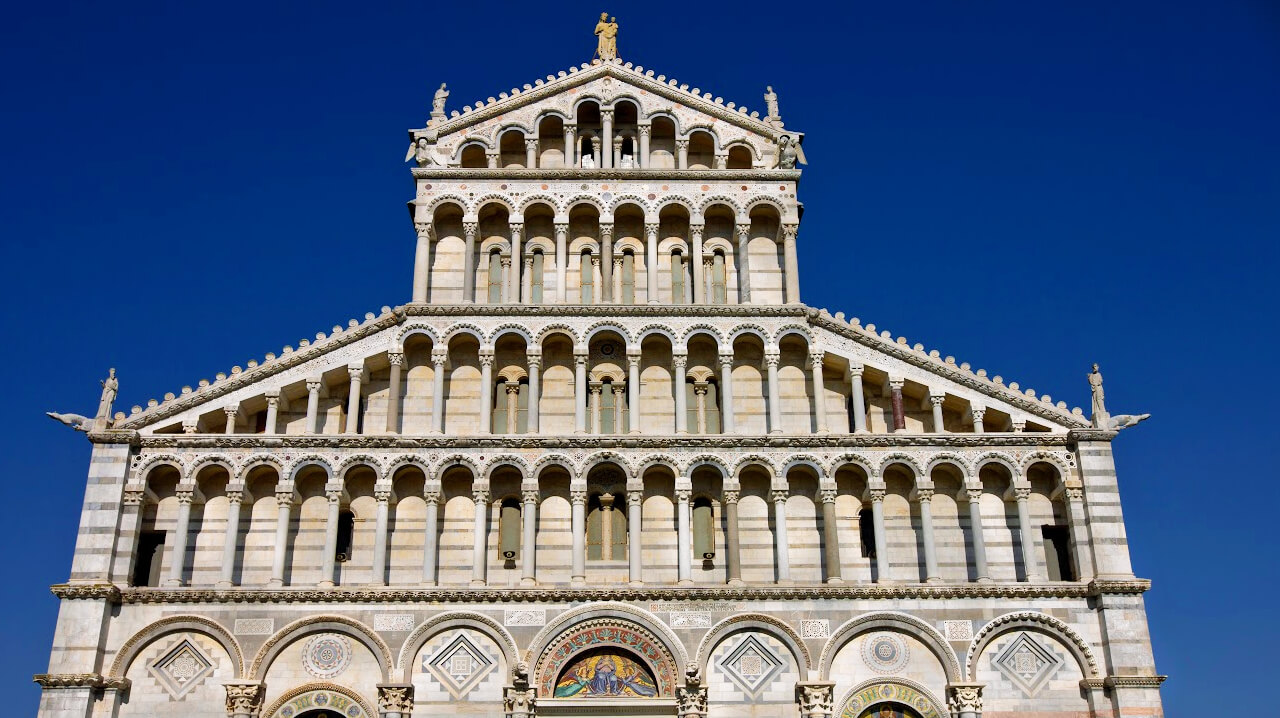 As mentioned above, the cathedral is also sinking perceptibly into the ground due to the soft soil foundation upon which these monuments were built. The name "Pisa" is believed to have originated in 600 BC from either a Greek word meaning "marshy land", or from an Etruscan word meaning "mouth" as Pisa is at the mount of Arno river. In both cases, its name is indicative of soft marshy lands that contributed to the sinking of these monuments.

You can enjoy a tour to Pisa and Florence or Pisa and Lucca on your Tuscany Shore Excursion from Livorno or La Spezia. The beauty of visiting Pisa along with Florence or Lucca is that a visit to Pisa is short as the most important monuments to see are in just one place. After ample time to explore this beautiful square and take your preferred photos of (or with) the Leaning Tower of Pisa, your shore excursion continues to Florence or Lucca


SAN GIMIGNANO - the town of fine towers
San Gimignano is among the most recognizable ancient Tuscan cities for its unique beauty and lofty signature towers, and our San Gimignano and Siena Shore Excursion of the most frequently requested on Tuscany cruise tours from Livorno or La Spezia.




The founding of San Gimignano dates back to ancient times and is shrouded in legends - adding to the mystique of this fascinating medieval town. It is said that in 63 B.C. Muzio and Silvio, two young patrician brothers, escaped from Rome and settled in this area building the Castle of Mucchio and Castle of Silvia, which would eventually evolve into the current city. San Gimignano was likely named after Saint Geminianus, the bishop of Modena. According to legend, Saint Geminianus appeared miraculously on the city walls and saved the town from Totila's barbaric invasion.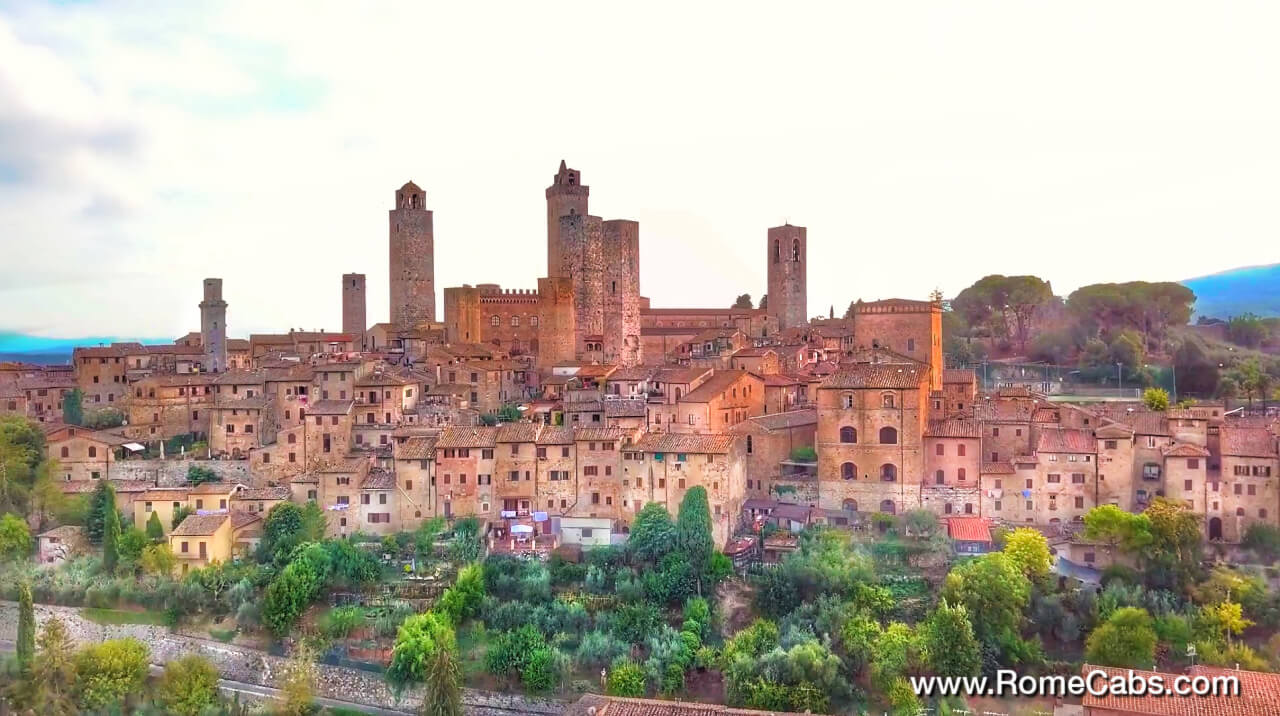 San Gimignano rests majestically on top of a hill and is well recognized from the distance for its many towers that lent it the nickname "The Medieval Manhattan". During the 14-15th centuries, there were 72 towers in San Gimignano with many wealthy families building a tower to show off their economical prowess. Today, only 13 towers remain, while many former towers were cut to size and blended in with surrounding buildings. San Gimignano's historic center has been designated a UNESCO World Heritage Site since 1990.

Our 8th of the top 10 monuments to see in a Tuscany shore excursion from Livorno or La Spezia are the Towers of San Gimignano, most specifically its grandest tower Torre Grossa.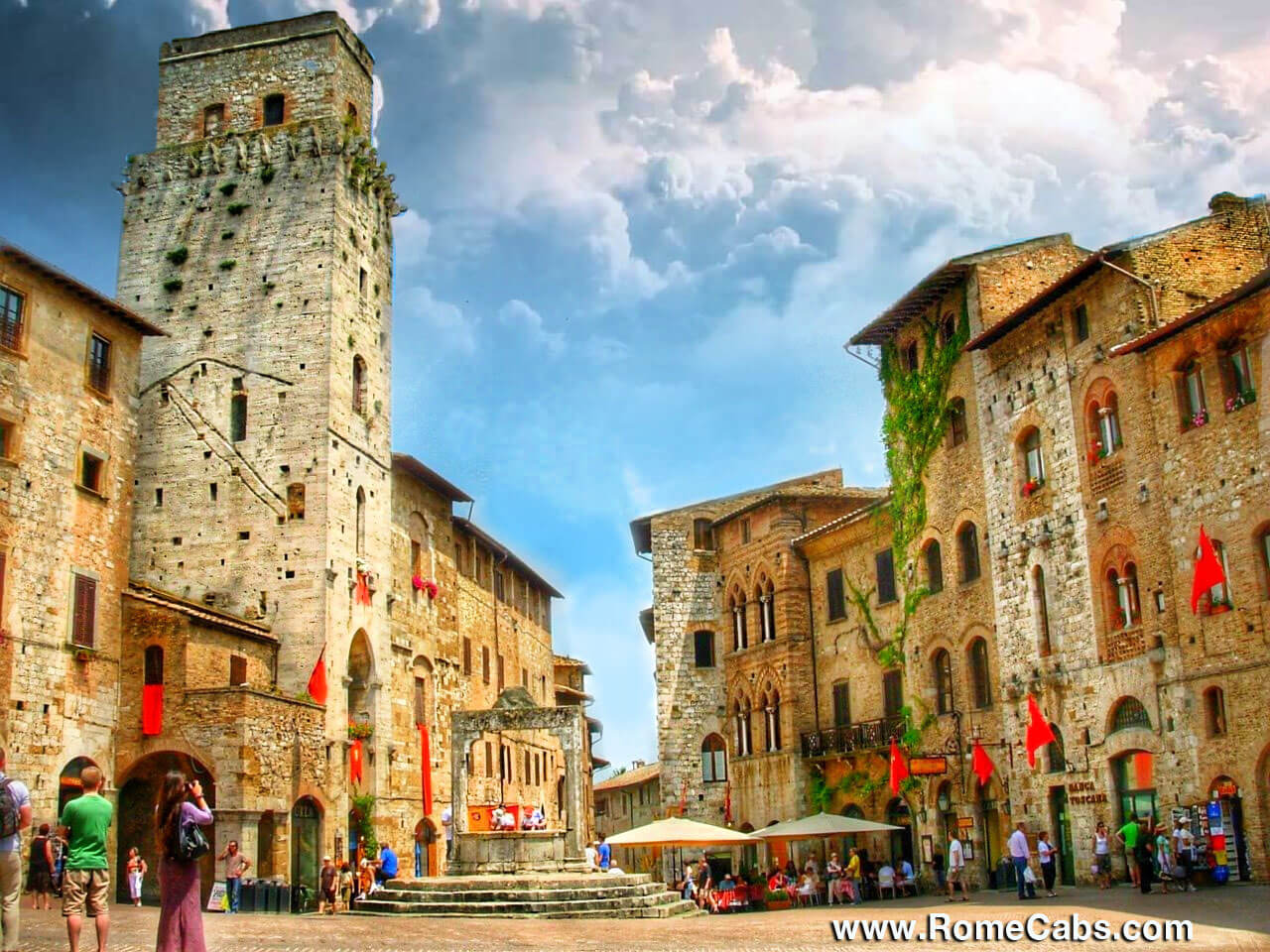 In medieval times towers were a symbol of power and wealth as building towers was complex and expensive. Only the wealthiest families of merchants and moneylenders could afford to construct their own towers. The taller the tower, the greater the prestige.

Rooms inside the towers were very narrow with few openings. The thick walls assured cool temperature in summer and warmth in winter. The actual living quarters occupied just a portion of the tower. The ground floor of a tower consisted of workshops. On the first floor were the sleeping quarters, and on the higher level was the kitchen. The kitchen, where cooking always posed a risk of accidental fire, was located on the highest live-in level to make escaping a fire easy. In palaces and castles, kitchens were built independently away from the main building to make it safe from an accidental kitchen fire.
8. Towers (Torre Grossa)

Torre Grossa, built in 1310 in Piazza del Duomo and standing at 54 meters (177 feet) is the tallest tower in San Gimignano and one of the most renowned medieval towers in Tuscany. This magnificent tower was built with the intention for it to become a symbol of civic pride functioning as both a watchtower and bell tower.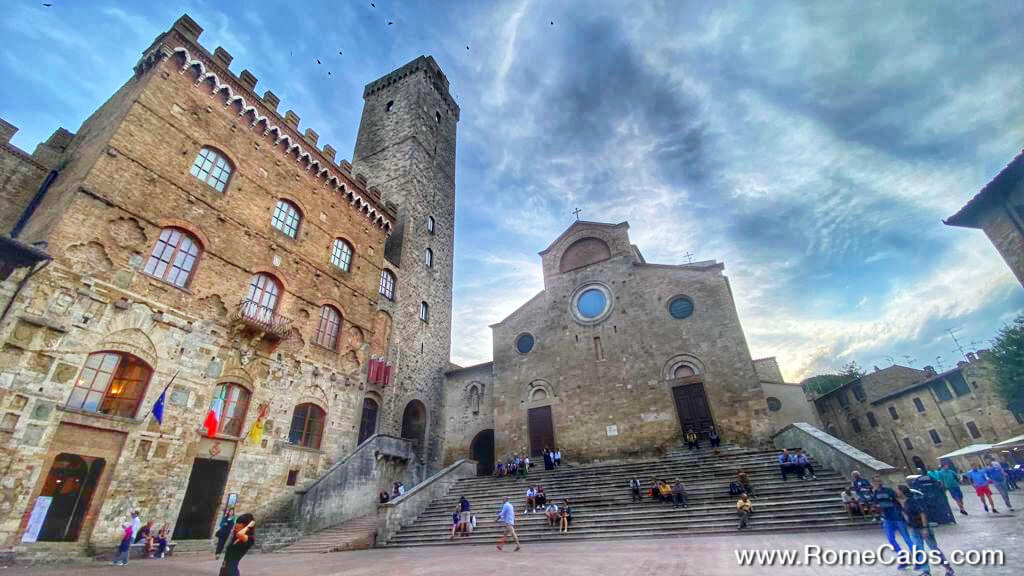 Torre Grossa tower boasts walls that are two meters thick built of stone carved in regular bricks. It is possible to climb the tower's 218 steps and be rewarded with panoramic views of the city landscape with its terracotta-hued roofs, lively squares, and medieval alleys and palaces.

You can enjoy a Tuscany Shore Excursion from Livorno to San Gimignano and Siena, which is featured below. While in San Gimignano, cherish a stroll along its history steeped streets lined with large evocative medieval palazzi that give the impression of traveling through time. Piazza della Cisterna with the beautiful ancient well in the center is not to be missed. Wine lovers will appreciate an abundance of wine shops that offer wine tastings of the celebrated local Vernaccia wines. San Gimignano is also famous for its stunning artisan ceramics hand-painted in gorgeous Tuscan motifs that many travelers can't part without.
TOP MONUMENTS TO SEE IN SIENA


Our last destination for the top 10 monuments to see in a Tuscany shore excursion from La Spezia or Livorno is Siena. Siena is one of Italy's loveliest medieval walled cities in Tuscany. Its historic center was declared a UNESCO World Heritage Site in 1995. Legends tell us Siena was founded by Senius, the son of Remus (his brother Romulus is the legendary founder of Rome). Thus, while in Siena, you will see its city emblem similar to Rome's: the mythical she-wolf who suckled the infant Remus and Romulus.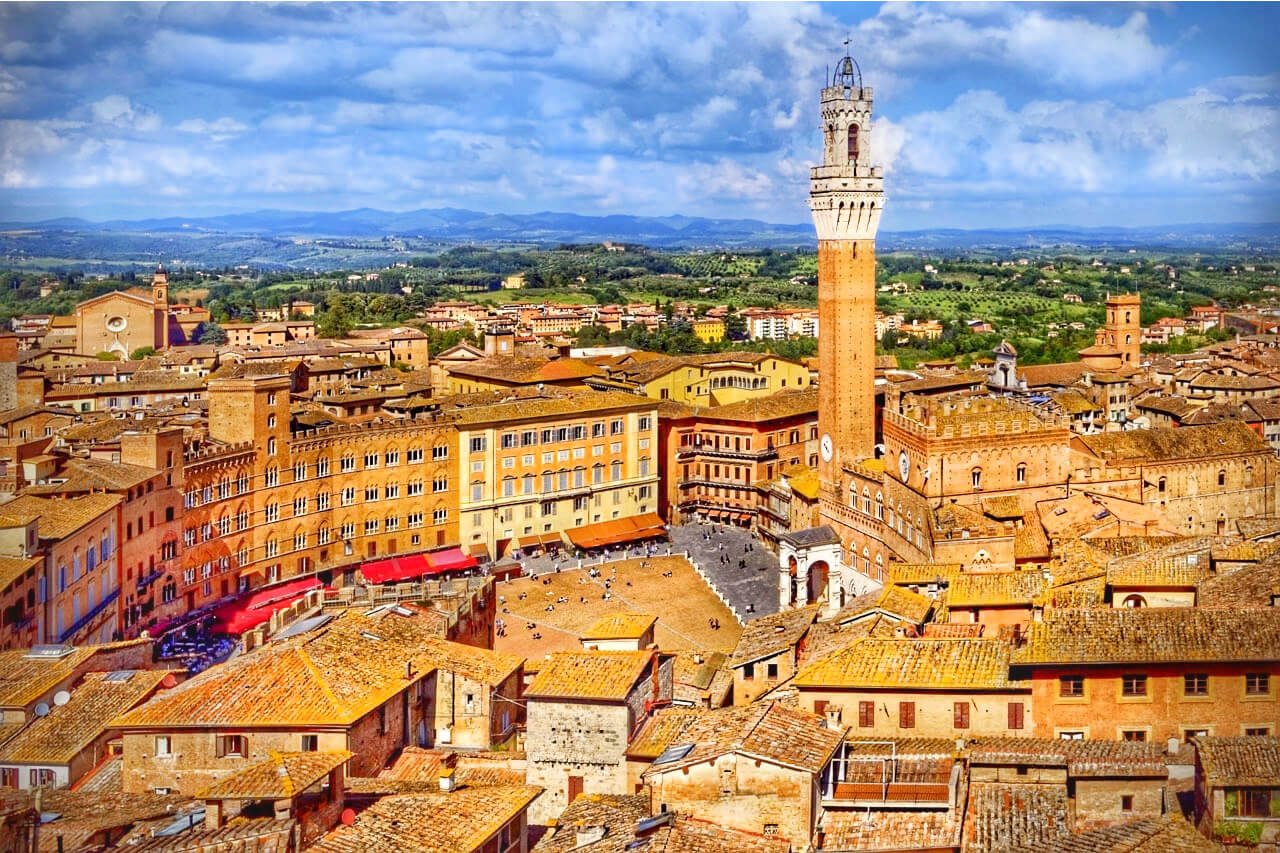 The heart of Siena is its central square known as Il Campo, internationally famous for its biannual Palio horse race around the square twice each summer. Dominating the spacious shell-shaped square is Palazzo Pubblico.
9. Palazzo Pubblico

Palazzo Pubblico (Town Hall), built between 1297 - 1308, is an example of Italian medieval architecture with Gothic influences. The palazzo served as the seat of the Republic of Siena's government. Its facade is slightly concave following the curvature of the square. The lower story is built of stone, while the upper crenelated stories were made of brick.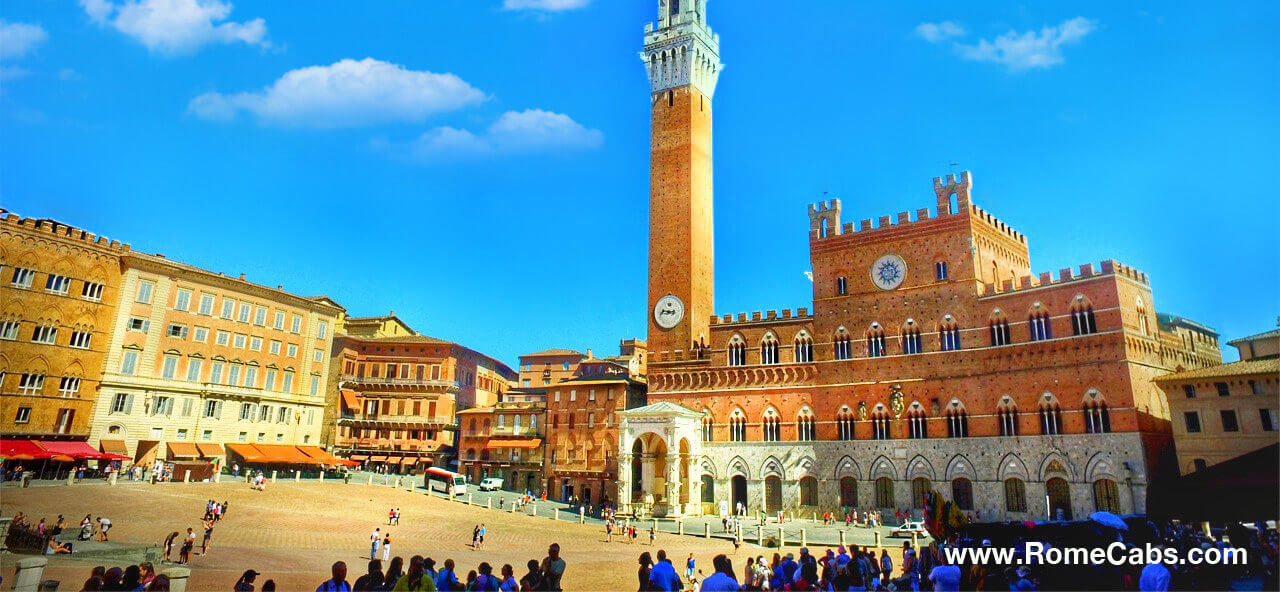 Its soaring bell tower, Tower del Mangia, was built between 1338-1348 using brick for the shaft topped with a stone crown and bell tower emulating an Eastern minaret design. A marble loggia known as Cappella di Piazza was added at the base of the tower in 1352 to fulfill a vow to the Holy Virgin by the Sienese survivors of the Black Death that decimated Siena. The tower was designed to exceed the height of the tower of Florence, its neighboring rival. Inside the palace, nearly every significant room is adorned with beautiful frescoes, many of which depict secular subjects.

The tower takes its unique name from its first bell-ringer Giovanni di Balduccio who was nicknamed Mangiaguadagni (profit-eater) for his reputation of squandering money and gluttony.

The beautiful and inviting shell-shaped Il Campo square surrounded by a myriad of buildings beckons guests to grab a table at one of the many outdoor cafes and restaurants and enjoy a tasty respite while admiring the gorgeous surrounding medieval setting. On private shore excursions from Livorno or La Spezia, Siena offers ample opportunities for shopping (or window shopping) and admiring its unique gothic architecture with a stroll along its pedestrian-friendly streets as you make your way to the next important monument in Siena.


10. Duomo di Siena / Cathedral of Saint Mary of the Assumption

The last of the top 10 monuments to see in Tuscany shore excursion from La Spezia or Livorno is the stunning Duomo of Siena. Once you step into Piazza del Duomo you will be taken by surprise by the stunning vision of the majestic Cathedral decorated in alternating stripes of white and greenish-black marble symbolizing the black and white colors of the civic coat of arms of Siena.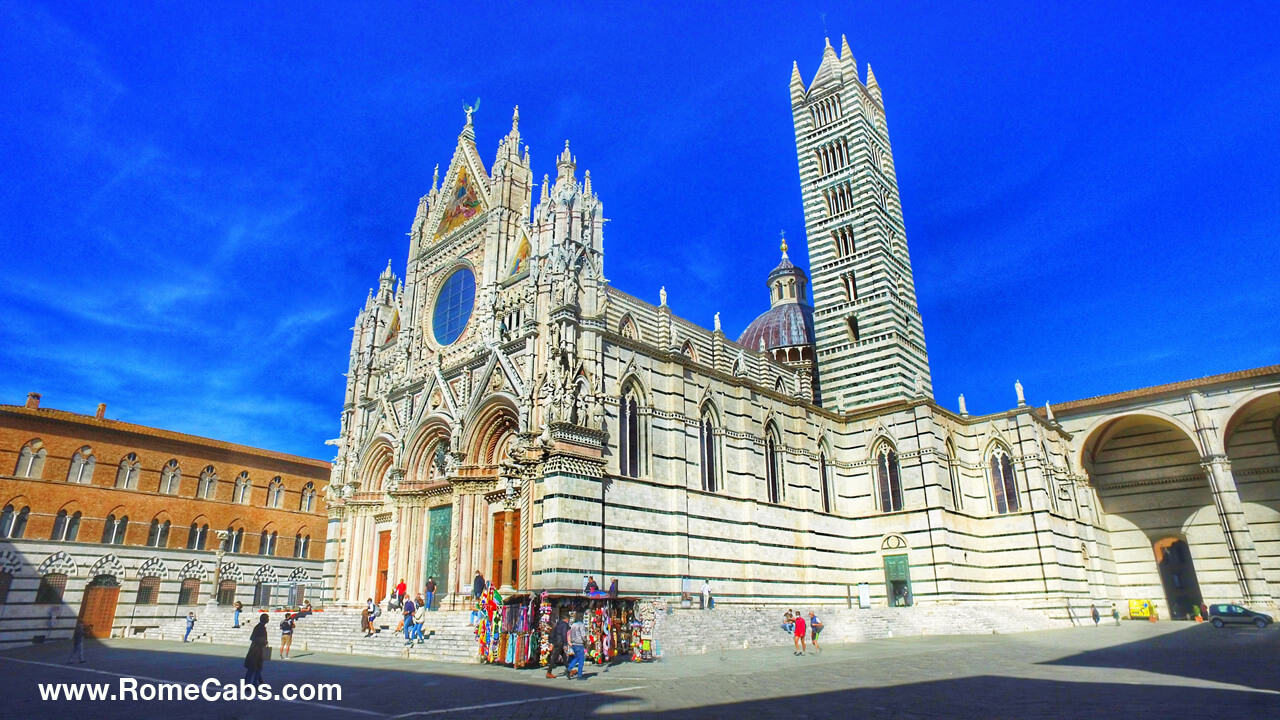 The majestic cathedral was built on top of an ancient pagan temple dedicated to Minerva. Completed in 1348, this medieval Gothic cathedral is a Roman Catholic Marian church dedicated to Santa Maria Assunta (the Assumption of Mary). The cathedral was built in the form of a Latin cross with a projecting dome and a bell tower.

The cathedral's fascinating facade is one of the most captivating in all of Italy (and one of Siena's most impressive features). It combines elements of the French Gothic, Tuscan Romanesque, and Classical architecture utilizing polychrome marble. The lavish facade is further embellished with large mosaics and decorative sculptures depicting prophets, philosophers, and apostles.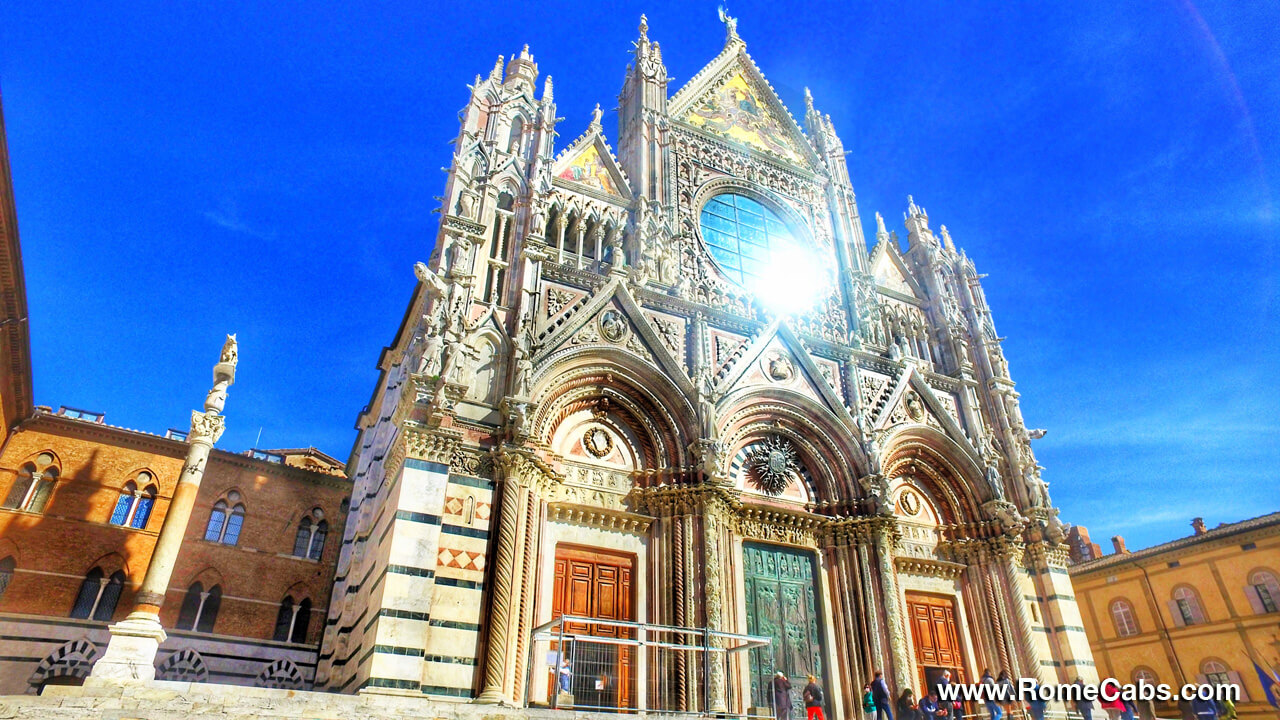 The interior of the cathedral features black and white marble strips, beautiful sculptures, and paintings, but its prized possession is its gorgeous marble mosaic inlay and graffito floor. This cathedral's interior magnificence is also due to some of the greatest sculptors of the era who contributed their talents: Nicola Pisano carved the pulpit, Donatello sculpted the statue of Saint John the Baptist, Michelangelo carved Saint Peter, Saint Paul, St Pius, and Saint Augustine for the Piccolomini altar, and Gian Lorenzo Bernini carved the statues of St Mary Magdalen and St Jerome in the "Cappella del Voto" (The Chapel of the Vow).

If you can, take the extra step (and purchase tickets) to visit inside the Cathedral. If you are short on time such as on a shore excursion from Livorno or La Spezia, or if there are long queues to enter and you prefer to enjoy more of Siena, just admiring the grand cathedral from the square is sufficient for most travelers.

Tours to Siena and San Gimignano are top shore excursions from Livorno and La Spezia, and also Tuscany tours from Florence. If you are looking for a "taste of Tuscany" you can't go wrong with touring Siena and San Gimignano in a day.
Although Civitavecchia is associated with shore excursions to Rome, don't miss the opportunity to delve into the medieval wonders of Tuscany on an enticing shore excursion from Civitavecchia to Pitigliano and Sovana. These enchanting towns are like pages torn from a history book, steeped in medieval charm and Etruscan mystique. Explore narrow cobblestone streets, discover ancient churches, and marvel at the stunning architecture that has endured through the centuries.
In Pitigliano, perched atop tufaceous cliffs, you'll feel transported back in time. Sovana, with its quaint squares and Etruscan tombs, is another jewel waiting to be uncovered. Taste local delicacies, sip on Tuscan wines, and savor the tranquil beauty of the Tuscan countryside. This excursion promises a remarkable journey through time, where the medieval wonders of Tuscany come to life in all their glory.
MORE USEFUL ITALY TRAVEL BLOGS:



Thank you for reading our top 10 monuments to see in a Tuscany Shore Excursion from La Spezia or Livorno cruise ports. While it will not be possible to visit ALL these magnificent monuments on one Tuscany shore excursion, we invite you to visit Italy on an extended land trip and either enjoy a multitude of Tuscany Tours from Rome or spend a few days in Tuscany to explore the region.
Florence is a great base to start from, and we also offer Tuscany Tours from Florence so you can visit ALL these marvelous monuments on your next Italy trip.
We look forward to showing you Tuscany on your next Italy shore excursion!


Find us online also on: