Buon giorno and welcome to Stefano's RomeCabs, Rome's premier tour company for private driving tours in Rome. We've been offering private Rome Tours by car and Rome Shore Excursions from Civitavecchia since 2004 with many years of experience sharing the Eternal City with thousands of visitors.
Travelers are discovering new ways to explore and experience travel. In addition to not missing out on iconic monuments, museums, and churches that make visiting Rome worthwhile, there's a renewed interest in exploring outdoor spaces, less crowded places, and discovering off-the-beaten-path destinations.

If you're planning your trip to Italy and are wondering what to see and do in Rome, in this travel blog we featured the top 24 things to see and do in Rome in 2024, focusing on a balanced variety that you can enjoy when visiting Rome in 2024.
Rome's TOP must-see sites are categorized geographically:


Top places to visit in the Ancient Rome area

Rome's Best Squares to visit

Top places to see in the Vatican area

Best places to visit outside of Rome



Top 24 Things to See and Do in Rome in 2024
1. THE COLOSSEUM

The Colosseum is given the honor of being at the top of 24 things to see and do in Rome in 2024 and always. Rome is not Rome without at least seeing the Colosseum if not visiting it. This ancient Roman monument is truly an icon of Rome, most recognized in the world, and also among the most beloved ancient Roman monuments of all time. If you've never visited the Colosseum make sure you do on your trip to Italy as it's one of the top must-see places in Rome!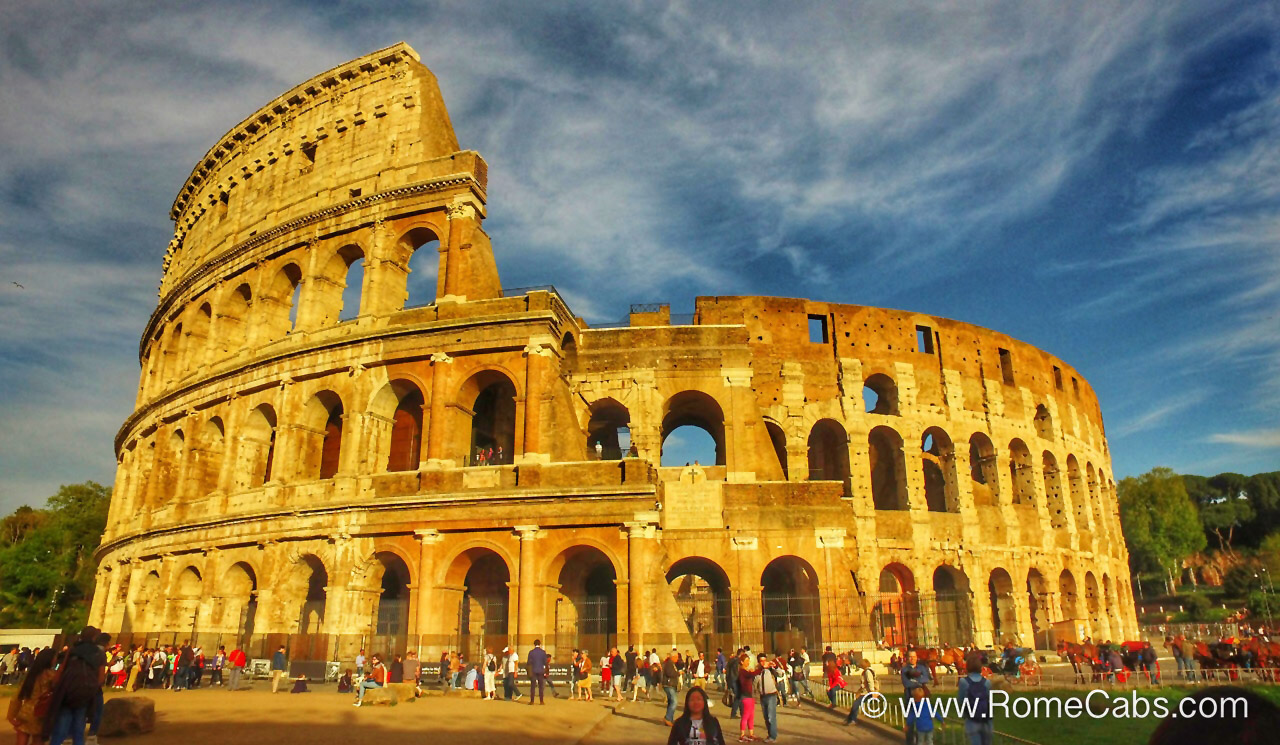 The original name of the Colosseum is the Flavian Amphitheater, taken from the family name of Emperor Vespasian who commenced its construction for public use in an attempt to set himself apart from former hated Emperor Nero who used this area for his personal interest when he built his ultra-opulent Domus Aurea (the golden house). The amphitheater got its nickname the Colosseum from the Colossus of Nero, an ancient towering bronze statue of Nero depicted as the pagan sun god Apollo.
If you're not a fan of crowds, long lines, and fixed time-slot tickets, you can still enjoy this magnificent monument from the outside!
Near the Colosseum, you will discover the impressive Arch of Constantine. This 4th century AD elaborate Victory Arch was dedicated to Emperor Constantine who legalized Christianity when Christians were persecuted for their religious beliefs. Opposite the Colosseum, you can catch a glimpse of ruins inside the Roman Forum.


Pro tip: Stroll around Colosseum Square and revel in the ancient Roman atmosphere that surrounds you. Be sure to view (and photograph) the Colosseum from different angles to capture its unique beauty that changes form as you move around it.
Where to purchase your COLOSSEUM TICKETS
ROME TOURS TO THE COLOSSEUM:
The following Rome tours include a visit to the Colosseum, or to see the Colosseum from the outside with the option to visit.
2. The ROMAN FORUM


Because of its outdoor location and significant part of the history of Ancient Rome, the Roman Forum is next in line for the top 24 things to see and do in Rome in 2024.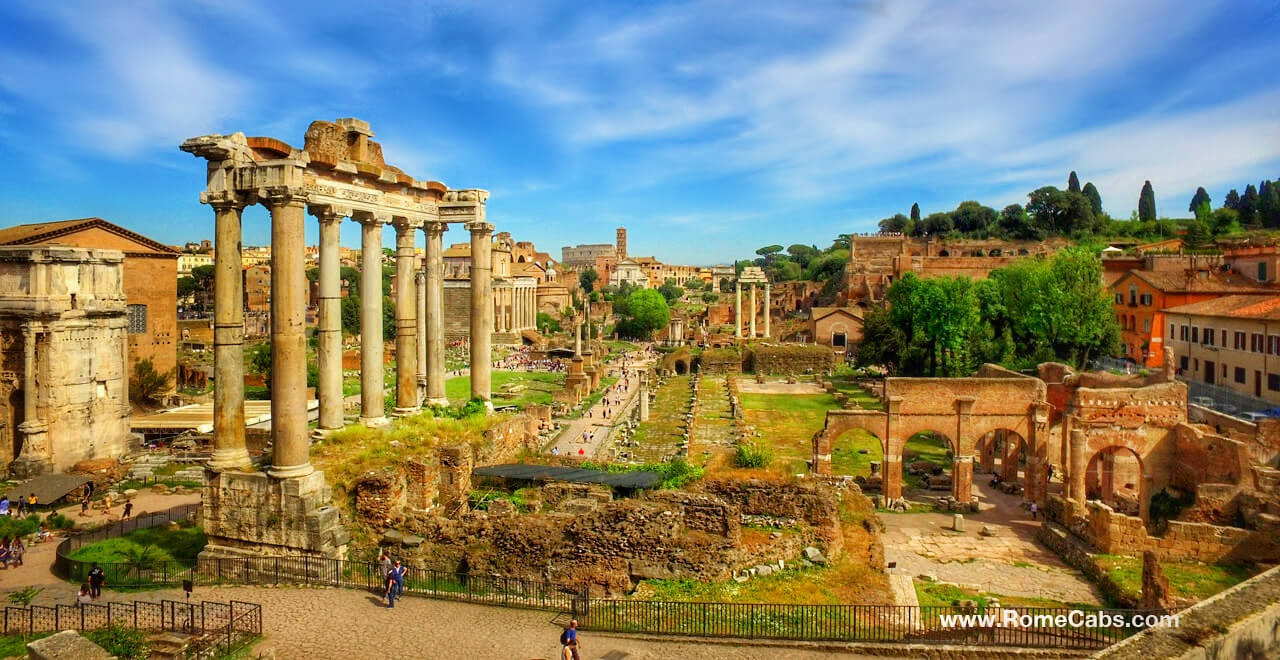 Located in the small valley between Palatine Hill and Capitoline Hill and opposite the Colosseum is the Roman Forum, a rectangular square (forum) comprising fragmented ruins of several significant ancient Roman government buildings and temples.
In the ancient city of Rome, this meeting space was originally a marketplace, Forum Magnum, or simply the Forum. For many centuries the Forum was the hub of daily life in Rome that included its political, judicial, and commercial affairs. Politicians up for elections or seeking the citizens' approval gave public speeches, criminals were tried, and gladiators fought. See for yourself why the Roman Forum welcomes about 4.5 million visitors a year!


Pro Tip: As you can use the same Colosseum Tickets to also visit the Roman Forum, plan to visit both on the same day, with the Roman Forum following your Colosseum Tickets. If you are short on time and cannot visit both sites on the same day, you will have 2 days to use the tickets that are also valid for Palatine Hill.


ROME TOURS TO THE ROMAN FORUM:
ROME IN 2 DAYS TOUR
ROME IN 3 DAYS TOUR
3. CIRCUS MAXIMUS


Not far from the Colosseum is Circus Maximus. The faded outline is all that remains of the once magnificent ancient Roman stadium where thrilling chariot races were held for the pleasure of royalty and Roman citizens. On the spina (spine) that runs along the center of the stadium and served as a dividing barrier, once stood Obelisco Flaminio. This obelisk was later removed and is currently standing in the center of Piazza del Popolo.
The ancient ruins that serve as a majestic backdrop behind the Circus Maximus are located on top of Palatine Hill. Ancient Roman emperors and Rome's elite built their palatial villas on this exclusive hill overlooking the city.


ROME TOURS TO CIRCUS MAXIMUS:
Seven Wonders of Ancient Rome Tour
Rome in A Day Tour
Rome in 2 Days Tour
Rome in 3 Days Tour
Panoramic Rome Tour for Cruisers


4. BATHS OF CARACALLA
While in Rome, don't miss the opportunity to visit one of the most splendid health spas of ancient Rome: the Baths of Caracalla.
These impressive early 3rd-century Imperial baths and the recreational complex were by Emperor Caracalla large enough to accommodate up to 10,000 people at a time in an extensive area covering about 1 million square feet.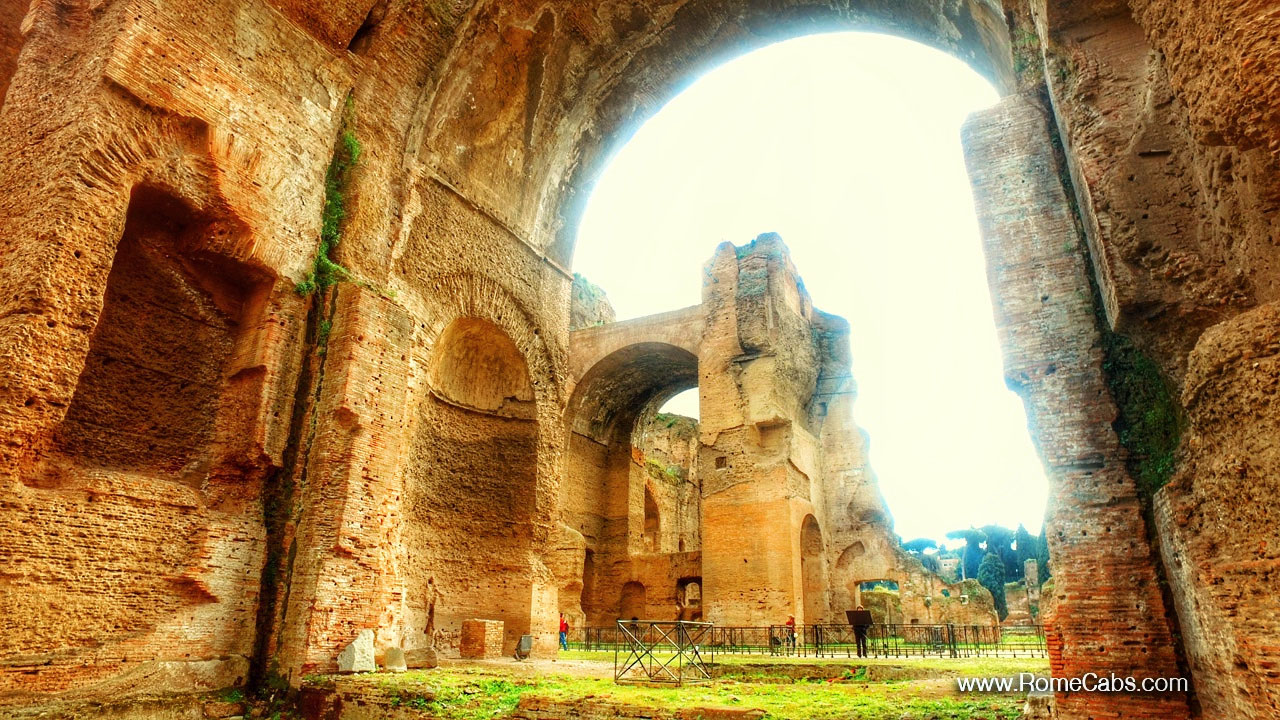 This vast bath complex featured an Olympic-size swimming pool (natatio), hot baths (caldarium), cold baths (frigedarium), and exercise areas (palastrae).
Sumptuous architectural elements, columns, mosaics, and sculptures that were once part of this luxurious bath complex can be found interspersed around Italy's piazzas, churches, buildings, and museums. Many ancient Roman monuments were quarried and recycled in various building projects during the medieval and Renaissance eras.
Aside from being a health spa, the Baths of Caracalla complex was also a learning center with large Greek and Latin public libraries. It also included conference rooms, gardens, and shops serving as a center for people to meet, network, and conduct business.
5. Trajan's Forum, Market, and Column
Next in line with our top 24 things to see and do in Rome in 2024 is Trajan's Forum, Market, and Column.
As you make your way along via dei Fori Imperiali, the spacious boulevard that connects the Colosseum with Piazza Venezia, you will see on one side the Roman Forum, and on the other side Trajan's Forum, Trajan's Market, and Trajan's Column.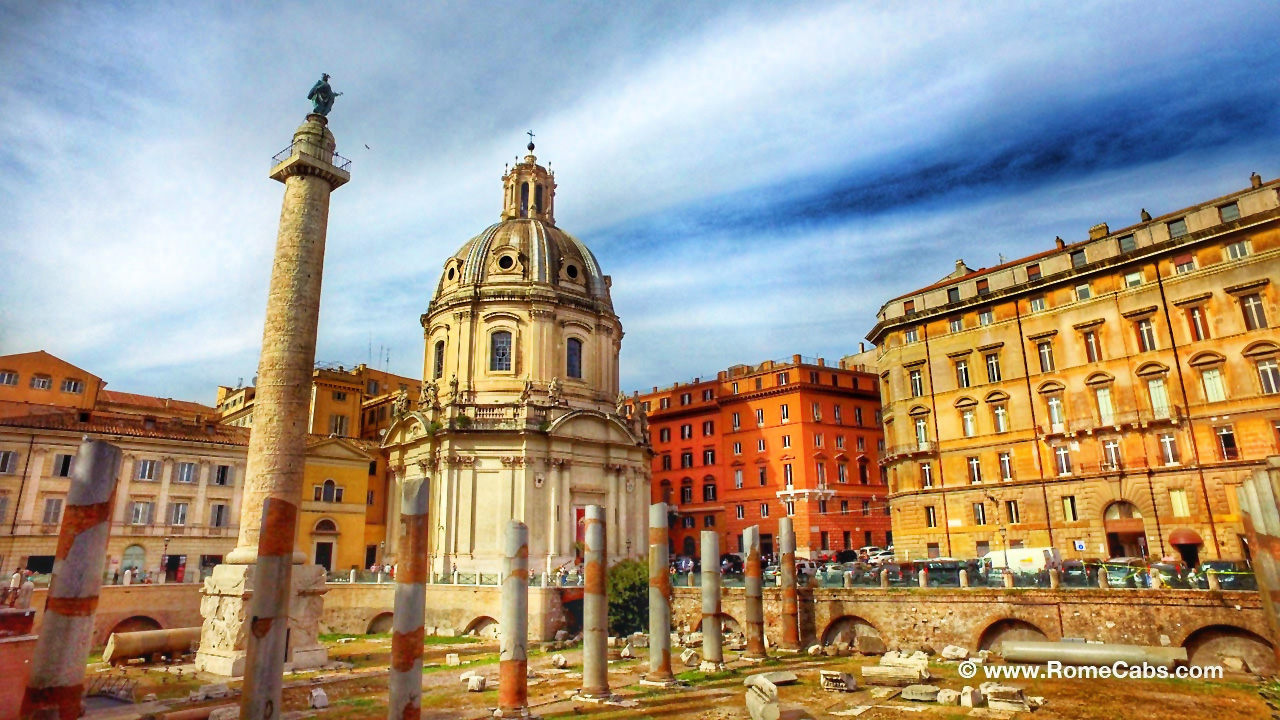 The largest of Imperial Forums, Trajan's Forum is a testimony to Ancient Rome's golden age of architectural marvels by ambitious Emperors. Throughout the remaining ruins of this forum, imagine the splendor that overwhelmed succeeding emperors like Emperor Constantinus who visited Rome from Constantinople.
Historian Marcellinus who may have been present during such a visit wrote: "He (Constantinus) stood there transfixed, surveying with an astonished eye the gigantic fabric, of such grandeur that it defies description and can never be replicated by mortals."
Rising tall from this complex, you can't miss the famous Trajan's Column, a victory column comprised of marble bands that detail Trajan's successful military campaign against Dacia (present-day Romania) whose spoils financed the construction of this forum. Numerous foundations and columns once belonged to Greek and Latin libraries, the Hall of Liberty, the Temple of Trajan, and Basilica Ulpia are still visible.
In the background, nestled against the excavated flank of Quirinal Hill, you will notice a semi-circle structure. Here once stood the unprecedented Trajan's Market, the ancestor of today's shopping centers (although many now believe these arcades were administrative offices of Emperor Trajan). You may certainly visit this ancient multi-level structure of brick and concrete, and stroll along where ancient shops once stood.


ROME TOURS TO TRAJAN'S FORUM:
Seven Wonders of Ancient Rome Tour

6. BASILICA OF SAN CLEMENTE


Saint Clement Basilica is not just a 12th-century elaborately decorated church dedicated to Pope Clement I. It may not seem like it at first, but it is also an impressive underground archaeological site that reveals two excavated layers of ancient history that over the millennia it transformed an Ancient Roman private home into the basilica we see today.

In the mid-1800s excavations deep beneath the present basilica revealed layers of buried history: a 1st century AD private home of Roman consultant and Christian martyr Titus Flavius ​​Clemens, who converted his home into a clandestine place of worship when Christianity was illegal in Ancient Rome.
Deep underground where the remnants of this well-preserved ancient Roman complex exist, you will also discover a Mithraic Temple where secret pagan rituals took place. The cult of Mithras was eventually banned in the 4th century.
Ascending to the second layer above, you'll arrive further in time in the 4th century when Christianity was legalized by Emperor Constantine. Here was the first basilica built on top of the previous house church, and was dedicated to Saint Clement, who was also Pope Clement I - 3rd the Pope after St Peter, possibly even Titus Flavius ​​Clemens himself.
Beautiful faded frescoes have been preserved entombed for centuries under unfortunate circumstances. In 1084 the basilica was badly destroyed by the Normans when they attacked Rome. As with its predecessor, this church was also filled with rubble and dirt to create a foundation for the new 12th-century basilica that we see today.
7. CASE ROMANE DEL CELIO / Roman Houses of Celio Hill
One of the lesser-known but nonetheless one of the top 24 things to see and do in Rome in 2024 is Case Romane del Celio (Roman Houses of Celio Hill). Have you ever wondered what it's like to visit an ancient Roman house without going to Pompeii?
In Rome, you can! Just below the Basilica of Saints John and Paul is the fascinating ancient Roman Houses (Case Romane) upon which the church was built.
Here you have the opportunity to explore a magnificent underground complex that once was an insula (ancient Roman apartment building) with various homes that date to the 2nd to 4th century AD. These ancient apartment buildings were later transformed into large Roman residences with approximately 20 rooms finely decorated with frescoes, mosaics, and opulent architectural details.
Not to be missed when visiting the Roman Houses of Celio Hill are the Room of the Geni ("geniuses" were ancient Roman mythological guardian spirits), the Room of Orant ("worshipper") Room of the Imitation Marble, the Nymphaeum of Proserpina, the Confession, the Baths, and finally the Antiquarium - the Greek cross-shaped museum that showcases excavated ancient Roman objects offering visitors a glimpse into the everyday life of ancient Romans.
8. AVENTINE HILL and the ORANGE GARDEN


The lovely Aventine Hill, situated on one of the Seven Hills upon which ancient Rome was built, is an elegant residential area of Rome that includes two jewels enjoyed by off-the-beaten-path enthusiasts: Giardino degli Aranci (The Orange Garden that locals managed to still keep this little secret place to themselves) and the Secret Keyhole in Piazza of the Knights of Malta.
Inside the Giardino degli Aranci, you will find a lovely grove of orange trees that is quite delightful in the spring when the orange blossoms release their exquisite fragrance. According to tradition, St Catherine of Siena made candied orange peels from the orange trees in this garden as a gift for the pope.
The garden terrace will surprise you with a lovely panorama of Rome with the dome of St Peter's Basilica in the distance, and the Tiber River below.
Near the Giardino degli Aranci is the 18th-century Piazza of the Knights of Malta where you will discover a rather common green door with a peculiar keyhole through which you will also discover folks lined up to peek through. The view through that keyhole reveals an enchanting scene of the misty dome of St Peter's Basilica perfectly framed by green manicured trees that grow in the garden just beyond the door. Find out more about the Secret Keyhole in Rome on Aventine Hill and be prepared to be amazed!

ROME TOURS TO AVENTINE HILL:
Rome in 2 Days Tour
Rome in 3 Days Tour
9. PANTHEON

The Pantheon is always on top of the list of things to see and do in Rome. Rebuilt in approximately 126 AD by Emperor Hadrian, the Pantheon is the best-preserved of all Ancient Roman buildings and the best-preserved of his age in the entire world!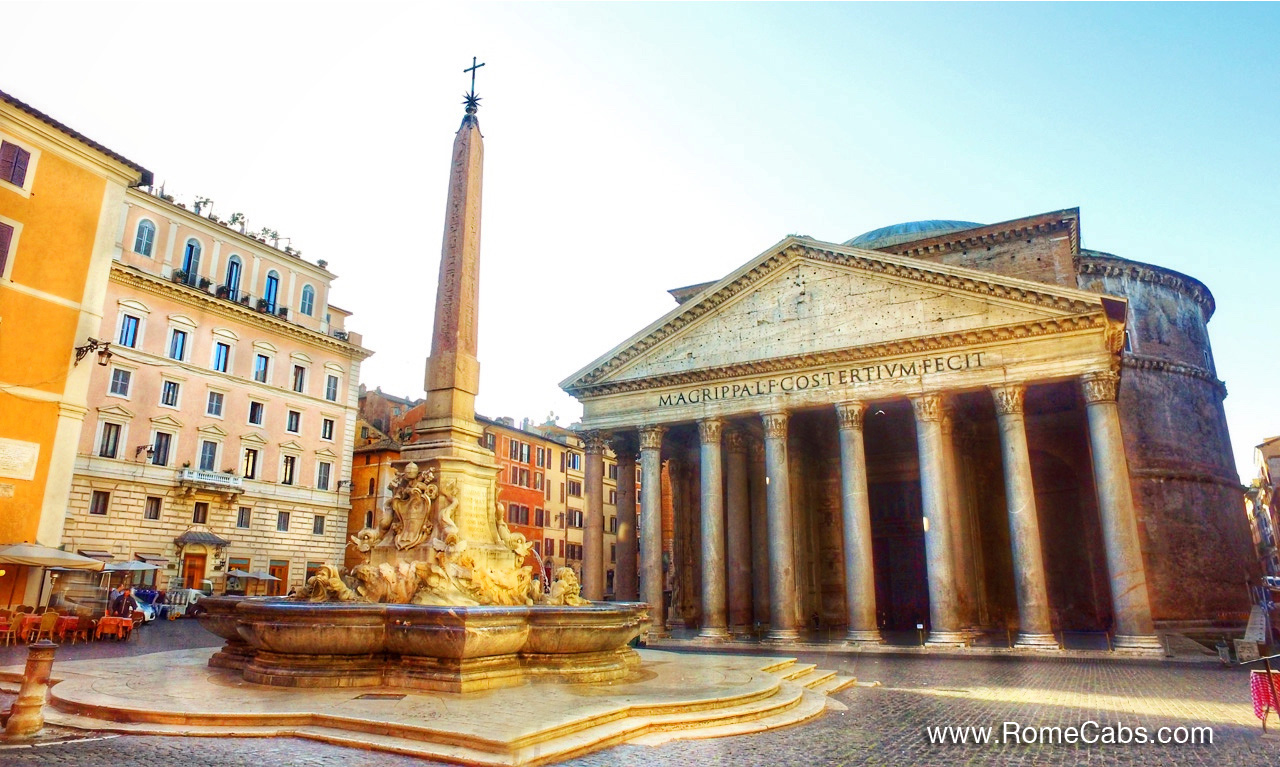 Uniquely, the Pantheon has also been in continuous use throughout its history. While it was originally a pagan temple dedicated to all gods, in 609 it was converted into the Catholic church known as Basilica of Saint Mary and the Martyrs.
Its imposing dome has been an architectural inspiration for centuries, starting with Brunelleschi who studied the Pantheon prior to designing the dome of the Cathedral of Florence (the Duomo).
Once you enter this monument and look up to the center of the coffered dome, you'll see the oculus (Latin for 'eye') that has always been open to nature's elements, allowing the sun to illuminate the space, and rain to fall to the floor and carried away through drains below. Learn 10 unique facts about the Pantheon you probably didn't know on our travel blog.


Rome's BEST Squares to visit
10. CAMPO DEI FIORI

Campo dei Fiori is one of Rome's most famous squares that comes to life each weekday morning with its open-air market where you will experience a market day in Rome!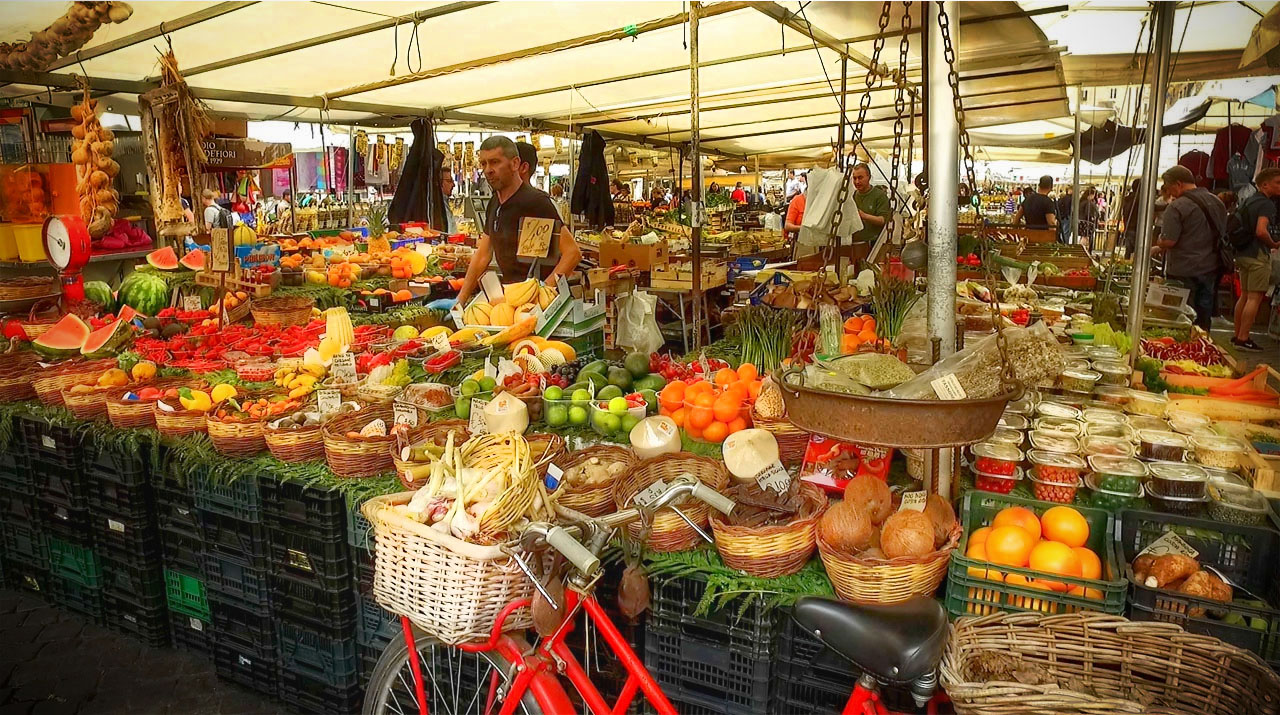 This bustling market has been occupying this square since the late 1800s. Here you will discover a vibrant cornucopia of everything from tempting fruits and vegetables beautifully displayed in a burst of color and fragrance, to souvenirs, clothing, kitchen wares, and countless enticing Italian products and delicacies.
Campo de' Fiori translates to "field of flowers", a name that was first given in the Middle Ages when it was actually a meadow. Flowers are still part of this square's character, but they are now sold by vendors in beautiful bouquets and flowerpots. At night, this square is again transformed into a vibrant nightlife atmosphere celebrated by locals and tourists alike.
The single immutable element in this square is the brooding statue of 16th-century philosopher Giordano Bruno who was burnt alive for heresy. The inscription on the base of this monument reads: A BRUNO – IL SECOLO DA LUI DIVINATO – QUI DOVE IL ROGO ARSE ("To Bruno – the century predicted by him – here where the fire burned")
Pro tip: If you are staying at an apartment in Rome, a visit to Campo dei Fiori will also offer you opportunities to shop for some basics at the outdoor market, as well as additional shops and bakeries in the squares.
TOURS THAT INCLUDE A VISIT TO CAMPO DEI FIORI:
Rome in 2 Days Tour
Rome in 3 Days Tour
11. PIAZZA NAVONA


The inviting Piazza Navona is a symphony of fountains in an oblong square embraced by earthy-colored historic buildings. In this lively square, you will often see street performers and artists displaying colorful paintings and portraits.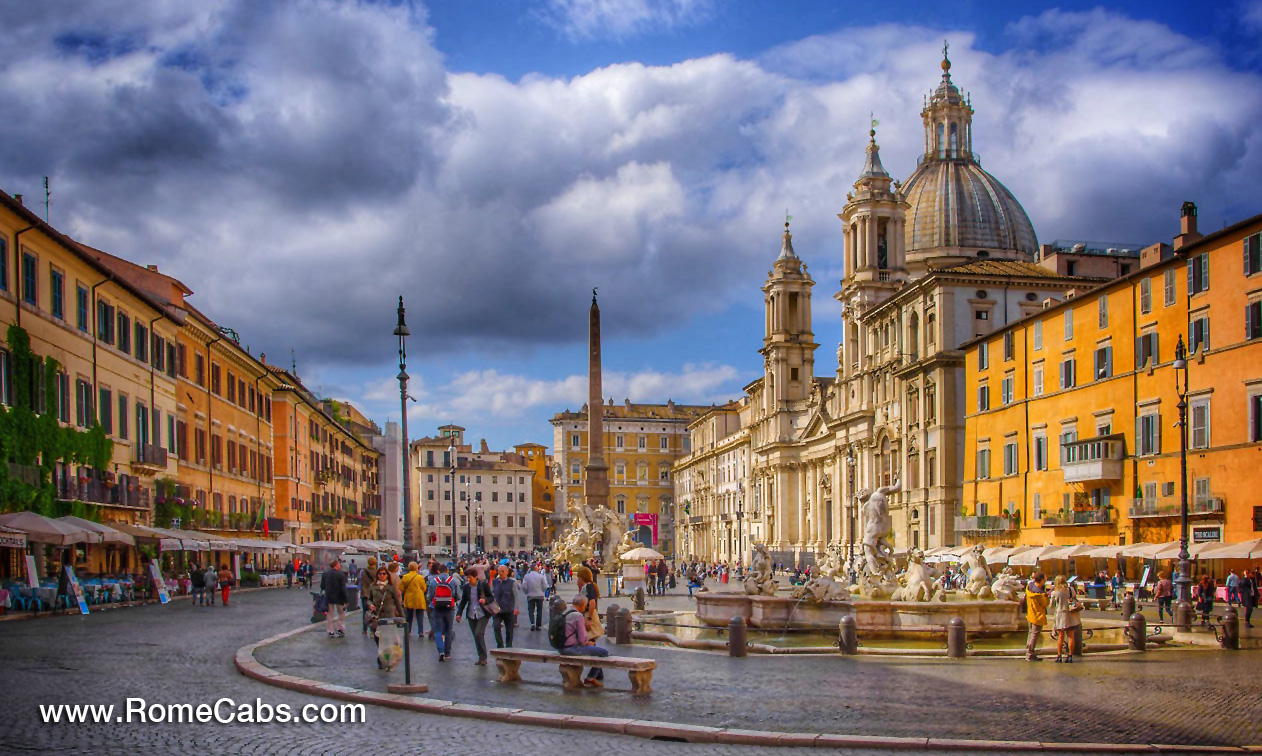 Piazza Navona takes its unique shape and name from the ancient 1st century AD Roman stadium built by Emperor Domitian for athletic competitions. The current square today was built over the interior arena of this ancient stadium. The name Navona is rooted in the ancient word for games, 'agones', and over time it evolved to Navona.
The stunning centerpiece of this square is the 17th-century Fountain of Four Rivers (Fontana dei Quattro Fiumi) created by the celebrated Gian Lorenzo Bernini. This magnificent fountain represents the four major rivers of the four known continents of that time: Nile (Africa), Danube (Europe), Ganges (Asia), and Rio de la Plata (America). Topping the fountain is an ancient Egyptian obelisk commissioned by Pope Innocent X adding height and dominance to this elaborate fountain.
Piazza Navona makes for a delightful stop, especially at one of the outdoor cafes and restaurants for a quick meal or a beverage while admiring the beauty that surrounds you.


TOURS THAT INCLUDE A VISIT TO PIAZZA NAVONA:
Tour Rome as Romans Do
Rome Town & Country Tour
Rome in A Day Tour
Rome in 2 Days Tour
Rome in 3 Days Tour
Panoramic Rome Tour (for Cruisers and travelers staying in Rome)
12. TREVI FOUNTAIN


One of the most famous fountains in the world is Trevi Fountain, the largest Baroque fountain in Rome with water gushing from its original 1st century BC aqueduct, Aqua Virgo. You can almost hear the symphony of water gushing from its fountains from a block away.
The Trevi fountain was also the setting of the classic movies Three Coins in a Fountain and Federico Fellini's La Dolce Vita.
Pro tip: According to tradition, tossing a coin into the fountain will assure a return to Rome, two coins will lead to a new romance and three will ensure marriage. Obviously, it's always been a popular tradition as nearly 3,000 Euros are collected each night. The money has been donated to a local charity to subsidize a supermarket for Rome's less fortunate.


ROME TOURS TO TREVI FOUNTAIN:
Tour Rome as Romans Do
Rome Town & Country Tour
Rome in A Day Tour
Rome in 2 Days Tour
Rome in 3 Days Tour
Panoramic Rome Tour (for Cruisers and travelers staying in Rome)



13. SPANISH STEPS / Piazza di Spagna


The lovely Spanish Steps will surely impress you with its elegant 18th-century winding stairway that connects the square below to the French church of Trinita dei Monti above.
It derived its name from the Spanish Embassy that was located there in 1647 before it was transformed into the Spanish Embassy to the Holy See.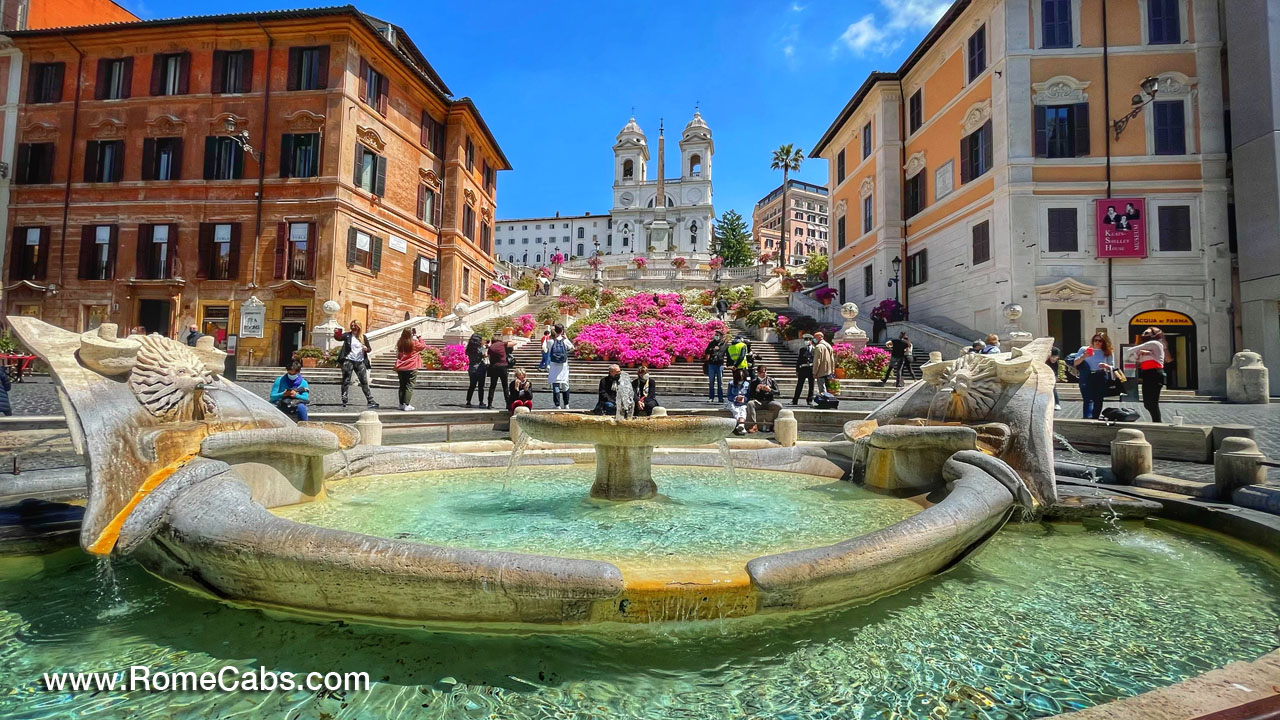 The Obelisk Sallustiano that was placed at the top of the stairs in 1789 is a smaller version copy of the large original Egyptian obelisk belonging to Pharaoh Ramses II that was originally erected in Circus Maximus before it was moved to Piazza del Popolo.
As you stand facing the Spanish Steps, notice the lovely pink-toned building to your right. This is the Keats-Shelley Memorial House where the famous English poet John Keats lived and died in 1821
At the base of the staircase is an early 1600's Baroque fountain, "Fontana della Barcaccio", or "The Fountain of the Old Boat". This type of shallow boat was generally used to carry wine to the port of Ripetta. This distinctive fountain is attributed to Pietro Bernini, the father of the famous sculptor Gian Lorenzo Bernini.


ROME TOURS TO THE SPANISH STEPS:
Rome in A Day Tour
Tour Rome as Romans Do
Rome Town & Country Tour
Rome in 2 Days Tour
Rome in 3 Days Tour
Panoramic Rome Tour (for Cruisers and travelers staying in Rome)
OFF THE BEATEN PATH MUST-SEE PLACES IN ROME
14. VIA MARGUTTA


Near the Spanish Steps, you will discover one of the most exquisite neighborhoods in Rome along the nearly hidden Via Margutta.
What's so famous about Via Margutta? More specifically the address Via Margutta, 51? If you've watched Vacanze Romane (Roman Holiday) featuring Audrey Hepburn and Gregory Peck, you will recognize this address as the residence of Joe Bradley.
Behind the enormous doors of this address which are closed to the outside world, is a spacious atrium with various art galleries, and further tucked away multiple bohemian-like apartments stacked with no particular order.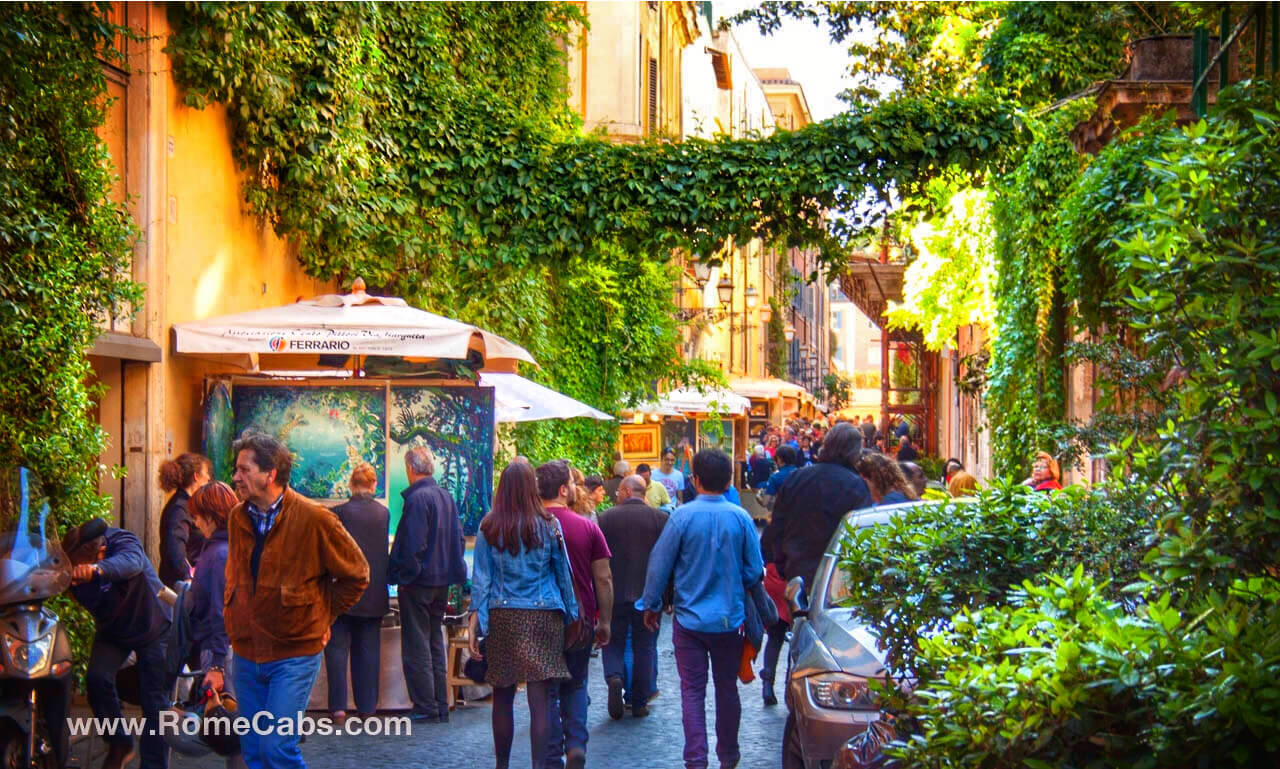 Via Margutta is an oasis in the heart of Rome, where suddenly the loud traffic and throngs of tourists cease allowing for a bit of peace and quiet. It's no wonder tourists in the know choose to stay at hotels on Via Margutta.
The narrow Via Margutta is a fascinating lane lined with charming aged ochre buildings overtaken by green climbing and hanging ivy. Here you will find elegant galleries, artisan workshops, and designer boutiques.
Via Margutta is by far one of the most enchanting, romantic, and picturesque streets in Rome and it's no wonder it has been featured in Vacanze Romane. Next time you visit the Spanish Steps, take a stroll along Via Margutta, you will not be disappointed.


15. BORGHESE GARDENS and VILLA

If you are looking for a breath of fresh air surrounded by nature in the heart of Rome, you'll love Borghese Gardens.
Walking distance from the Spanish Steps and Via Veneto, Borghese Gardens is like a smaller version "Central Park", for a perfect respite from visiting monuments and museums.
At Borghese Gardens you can rent bikes, segways, golf carts, and other fun vehicles you can take around the park. For children, there's also a wonderful Zoo. You'll discover a lovely pond with row-boat rentals, gorgeous fountains, and wooden benches to rest on. You can eat or enjoy a beverage at any of the cafes inside Borghese Gardens, or pack a picnic like the many locals who flock to Borghese Gardens on weekends and holidays for quality time spent with friends and family. Coupled delight in a romantic stroll through these beautiful gardens.
While at Borghese Gardens, you can also visit the Borghese Gallery. Be sure to purchase your tickets in advance at specific time slots.



16. Trastevere


Trastevere is the charming neighborhood of Rome across the Tiber River with that unique Old World charm visible along the narrow cobblestone streets, medieval buildings with ocher and sienna-aged facades, hanging ivy, and unique boutiques. As the name indicates in Latin: "trans Tiberium", Trastevere translates to "beyond the Tiber".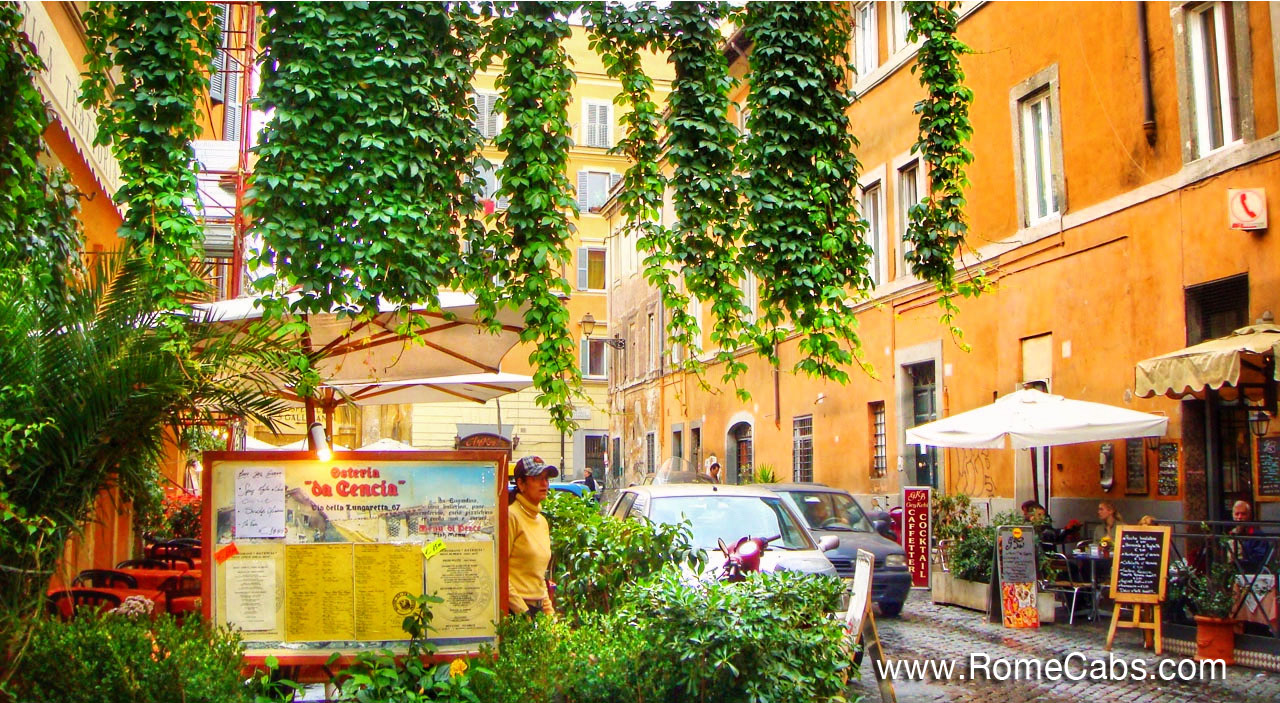 The most popular square is Piazza Santa Maria in Trastevere, dominated by the beautiful ancient 4th-century church of Santa Maria in Trastevere. This is perhaps one of the oldest churches in Rome and where the first Mass was openly celebrated in Rome. What we see now is the 12th-century reconstruction, but elements inside the church still date to the 4th century.
The beautiful fountain in the center of the square attracts quite a gathering on its steps. This fountain is the original work of Donato Bramante with later additions by Gian Lorenzo Bernini and Carlo Fontana, but it's believed That a fountain Has Been here since the 8th century.
While in Trastevere, stroll along the history-steeped streets that are lined with gorgeous palazzi, browse the inviting shops, and take in the old-world atmosphere of this authentic Roman neighborhood. You will also discover cozy outdoor restaurants and cafes for wonderful lunch and dining opportunities.


ROME TOURS TO TRASTEVERE:
BEST PLACES TO VISIT NEAR THE VATICAN
17. Vatican Museums, Sistine Chapel, St Peter Basilica

Next to the Colosseum, the Vatican is the next most popular of the top 24 things to see and do in Rome in 2024.

The Vatican (also known as Vatican City) is the smallest country in the world, and the most visited for its size. There is so much to see at the Vatican, starting with the Vatican Museums and the Sistine Chapel.
The Vatican Museums boast an extensive amount of compelling collections of masterpieces including Michelangelo, Leonardo da Vinci, Caravaggio, Raphael, Giotto, Perugino, and Titian, as well as a vast treasure of classic sculptures from antiquity.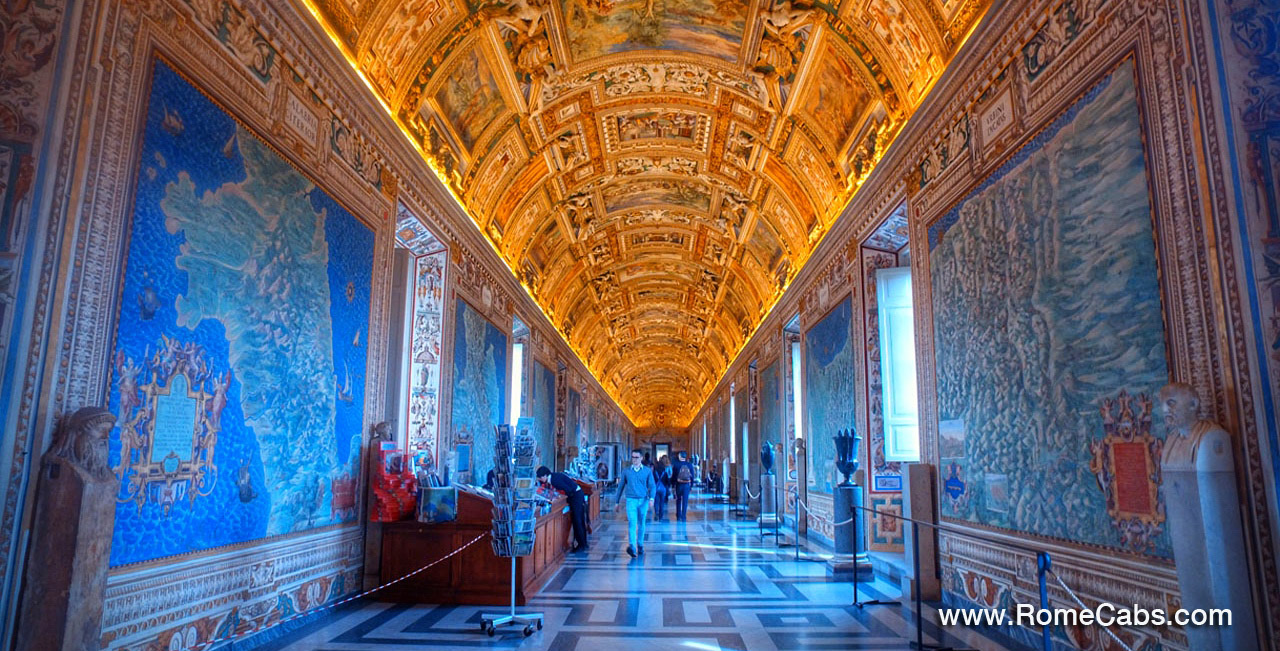 Among the most widely visited galleries and halls inside the Vatican Museums are Raphael Rooms, Gallery of Tapestries, Hall of Maps, and the Pinacoteca. At the very end is the most famous chapel in the world: the Sistine Chapel. This sacred chapel where popes are elected is covered with masterpiece frescoes.
The lower walls are adorned with cycles of paintings executed by famous painters of that time: Botticelli, Perugino, Ghirlandaio, and Rosselli. However, those paintings are not why millions of visitors flock to the Sistine Chapel. They flock to gaze in wonder at Michelangelo's famous frescoes based on the Old Testament that grace the vaulted ceiling and the Last Judgment over the altar.
Saint Peter's Basilica is not just another church in Rome, it is the largest church in Christendom and a jewel within Vatican City from where for millennia popes have shared the word of God to the world. Built upon the believed tomb of Saint Peter, St Peter's Basilica is not just a focal point for pilgrims and religious figures, but also millions of tourists of all spiritual spectrum visit this amazing landmark for its remarkable architecture, and abundance of sculptures, mosaic paintings, and precious artifacts.
The basilica you can admire today was rebuilt over the earlier Constantine's basilica at the behest of Pope Julus II in the 16th century. Inside, you will discover previous works of art such as Michelangelo's Pieta, and Bernini's towering bronze altar.


Pro tips:
To avoid crowds at the Basilica, plan to visit first thing in the morning when it opens.
To avoid huge crowds at the Vatican Museums, plan to visit in the winter or visit mid-day or in the afternoon after lunch when most large bus tours and group tours have left.
To make the most of your limited time at the Vatican Museums, book a private guided tour for a fantastic learning experience.
ROME TOUR TO THE VATICAN:

18. CASTLE SAN'TANGELO


One of Rome's most imposing and famous ancient Mausoleums turned into a fortified castle is Castel Sant'Angelo. Ancient Roman Emperor Hadrian's original 2nd-century AD tomb was later converted into a fortress and also a castle offering protection and safety to the popes during dangerous times of war and sieges. At times, the castle also functioned as a prison.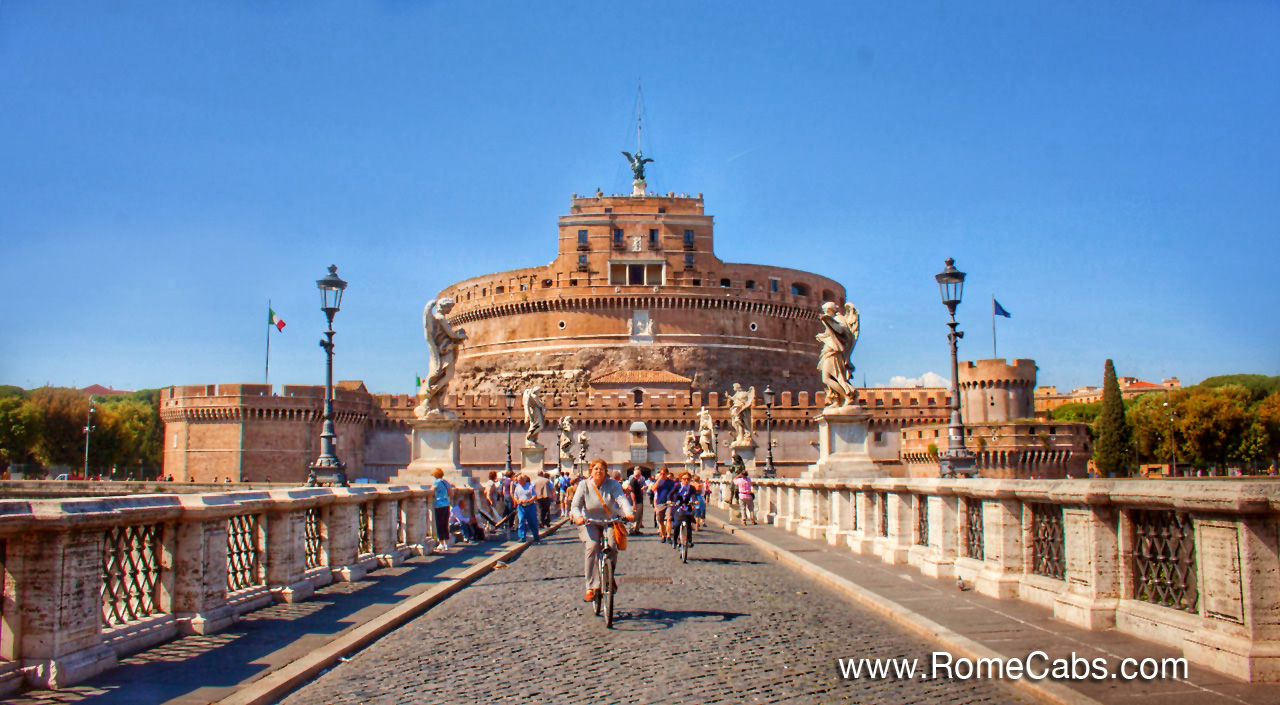 The name "Castel Saint Angel" was given when it was believed that Archangel Michael appeared on top of the mausoleum sheathing his sword signaling the end of the dreadful plague of 590. The statue representing this legendary event stands tall on top of the castle.
You may visit Castel Sant'Angelo which serves as a museum. Stroll through the ancient mausoleum, visit opulent papal apartments, and walk along the ramparts on top of the fortified walls. From the top of the monument, you can also enjoy stunning views of St Peter's Basilica, and the city of Rome around you. Castel Sant'Angelo was also featured in the Dan Brown best-selling novel and blockbuster film Angels and Demons.
The remarkable Ponte Sant'Angelo bridge that stretches across the Tiber River was originally built in 134 AD by Emperor Hadrian to connect the city to his mausoleum. In the Middle Ages, pilgrims used this bridge to reach St Peter's Basilica. After the railings of the older bridge collapsed in 1450 due to the large traffic of pilgrims during the jubilee, the bridge has seen multiple transformations including the addition of the angels carrying the symbols of the Passion in 1668. While Bernini was commissioned by Pope Clement IX to draw the figures of the angels, they were made by his pupils. The bridge we see today assumed its appearance in 1882 following additional renovations.
Pro Tip: If you are self-touring in Rome, plan to visit Castel Sant'Angelo on the same day you plan to visit the Vatican. Even if you don't want to visit Castel Sant'Angelo, you can enjoy a stroll and admire it from the outside.
ROME TOURS TO CASTEL SANT'ANGELO

Rome in 2 Days Tour
Rome in 3 Days Tour
19. Experience ROME AT NIGHT


Seeing Rome at night is a treat! The daytime hustle of the city slows down, soft lights illuminate monuments, and a blanket of stars covers the Eternal City. While you shouldn't miss seeing Rome at night, it can become difficult after a day of sightseeing.
The last thing you want to do after dinner is a trek through Rome again. And even if you have the energy to do so, you won't cover much of Rome on your own due to the long walking distances between the various must-see places in Rome at night.
This is why we introduced our Rome at Night Tour by car, so you may experience the wondrous Rome at night effortlessly and comfortably in your luxurious private vehicle driven by your personal English-speaking Driver. We will show you the best places to enjoy Rome at night.
This unforgettable night tour by car includes a stop in Colosseum Square where you have the opportunity to bask in the grandeur of the Colosseum which seems to transform itself at night.
Nearby, on Via dei Fori Imperiali, various ancient imperial forums such as Trajan's Forum and Market with the famous Trajan's Column are also suggestively illuminated. Also not to be missed is a night view of the Roman Forum from a special terrace on Capitoline Hill. Another ancient Roman monument that is quite evocative at night is the Pantheon.
Another sight to behold at night is the Trevi Fountain with its display of spellbinding lights dancing on water as it rushes from its spouts.
Vatican's St. Peter's Square at night is always a must. Graze in reverence at St Peter's Basilica, one of the most classic images in Rome ethereally illuminated by soft lights along with the fountains and colonnade.
The top of Gianiculum Hill will reward you with a panorama of Rome with sparkling lights, luminous church domes, and a sea of rooftops reposing under a blanket of stars. Our private tours in Italy help you see MORE beautiful places in LESS time, comfortably and effortlessly.


20. BASILICA OF SAINT PAUL OUTSIDE THE WALLS
Basilica of St Paul Outside the Walls is the second largest basilica in Rome and one of the four Papal Basilicas - the highest-ranking churches in Christendom. The basilica was given the name "Outside the Walls" as it was built outside the Aurelian Walls.
Originally built in the 4th century by Emperor Constantine over the burial site of Saint Paul the Apostle, the Basilica of Saint Paul Outside the Walls is currently one of the most significant pilgrimage destinations for millions of Christians. The tomb of Saint Paul is located beneath a marble tombstone in the basilica's crypt, about 4.5 feet below the altar.
This revered basilica was destroyed by fire in the early 1800s, but, with the generosity of donors from around the world, it was perfectly restored to its previous glory that we can admire today.
Basilica of Saint Paul Outside the Walls is truly a must-see church in Rome. Not only it is an architectural masterpiece that rivals all major papal basilicas in Rome and is enhanced with a graceful portico and cloister of the monastery, but this basilica is also more accessible to visitors than St Peter's Basilica where unpredictably long security lines and potentially exhausting wait times is very common.


ROME TOURS TO SAINT PAUL OUTSIDE THE WALLS:
BEST PLACES TO VISIT OUTSIDE OF ROME



21. PARK OF AQUEDUCTS


Bringing fresh water to Rome through the incredible achievements of aqueducts gave the ancient city the possibility to grow and flourish. Fresh clean water was brought from distant hills feeding Rome's many public fountains. In varying capacities, some of these ancient aqueducts continue to be in use even today.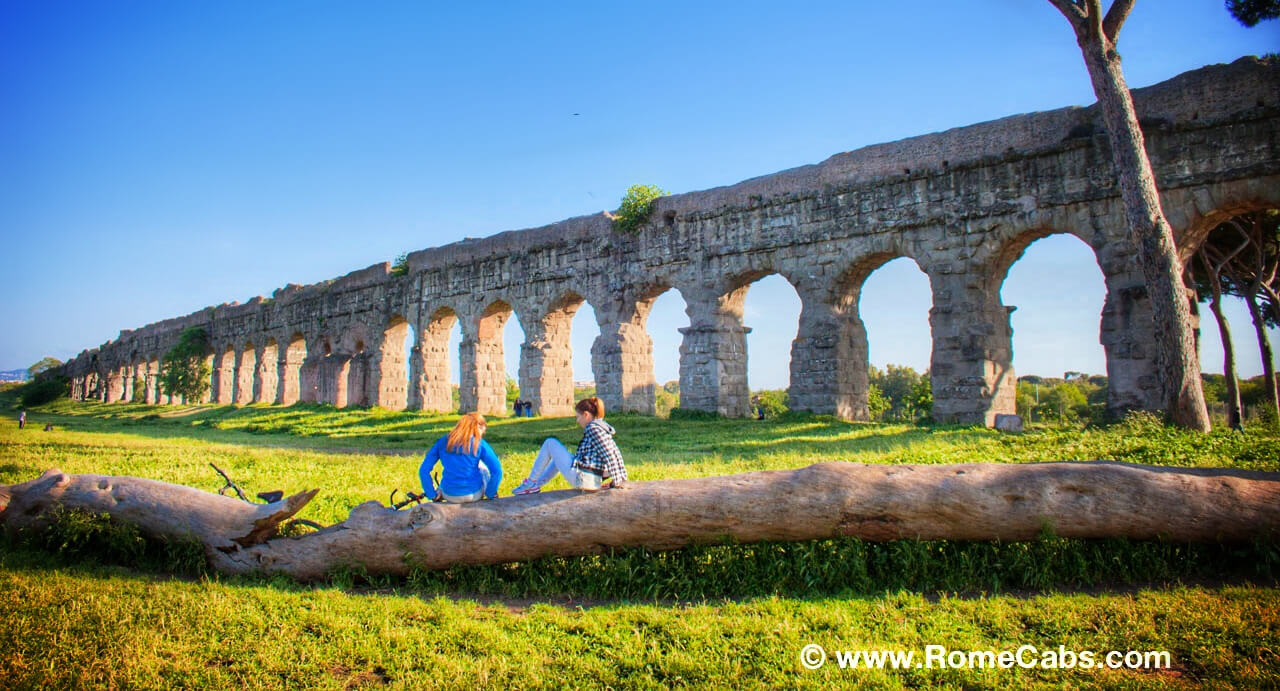 Roman engineers, advanced for their time, understood the principles that allowed water to travel uphill and downhill through the aqueducts as it traversed long distances. Large portions of the aqueducts were actually underground, but some aqueducts, especially as they neared Rome, were above ground.
In the Park of the Aqueducts, you can admire the imposing arched remains of some of the seven main aqueducts that supported the flow of water more than two thousand years ago. Today, the Park of the Aqueducts is exactly that: a park. You will find locals jogging, walking their dogs, or enjoying peaceful walks through the ruins.

ROME TOUR TO PARK OF THE AQUEDUCTS
Seven Wonders of Ancient Rome
22. ANCIENT APPIAN WAY / Via Appia

The next to last of the Top 24 Things to See and Do in Rome in 2024 is the Ancient Appian Way (Via Appia in Italian). This remarkable ancient Roman road was built in 312 BC by the magistrate Appius Caecus.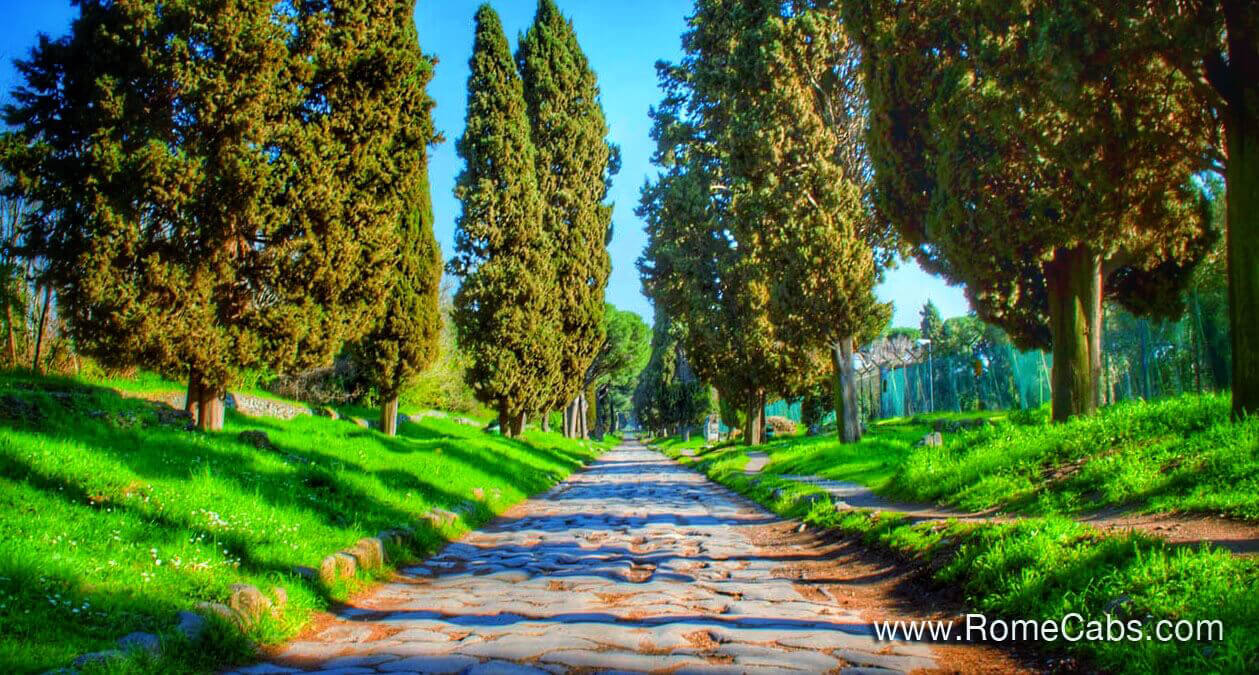 The Ancient Appian Way is impressively well preserved offering visitors a general idea of how ancient Roman roads were built. Within the large original stones, you will notice grooves created by chariot and wagon wheels that traveled along this road for centuries.
Ancient Appian Way is also recounted in the Christian tradition that it was along this road that Peter tried to escape Rome when he encountered a divine vision of Christ which inspired him to return to the city and face his certain martyrdom.
Visiting Rome in the summer? Surrounded by nature and fresh air, Ancient Appian Way is the perfect getaway from Rome on a hot summer way. Why? Ancient Appian Way is situated in a park-like setting where you will surely find locals on an afternoon passeggiata or bicycling.
Not far from the Ancient Appian Way you will discover other interesting sites such as Circus of Maxentius and the Tomb of Cecilia Metella.
ROME TOURS TO ANCIENT APPIAN WAY:
Rome in 2 Days Tour
Rome in 3 Days Tour
23. OSTIA ANTICA

We've reached the last of our top 24 things to see and do in Rome in 2024, although you will have to travel a bit outside of Rome to visit Ostia Antica.
Although Ostia Antica is not in Rome, it will offer you the unique opportunity to walk in the footsteps of ancient Romans as you explore this authentic ancient Roman city. Ancient legends tell us that Ostia was founded in approximately 7th century BC by the fourth king of Rome, Ancus Marcius.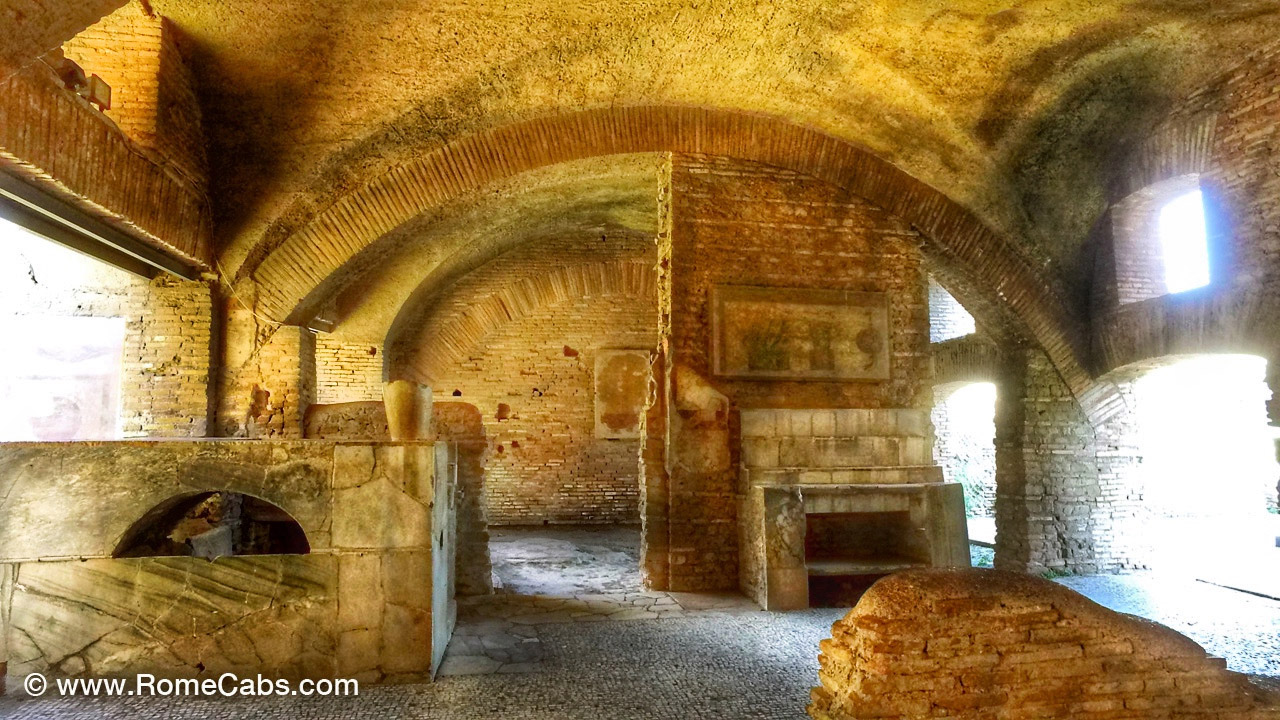 Most of the structures that we have the opportunity to admire in Ostia Antica were constructed early 2nd century AD during the reign of Emperors Trajan and Hadrian when Ostia was considered a "colony" of Rome.
Resting in a park-like setting Ostia Antica (the Ancient Ostia) is a treasure trove of timeworn ancient Roman streets, remains of pagan temples, apartment buildings, theaters, baths, taverns, and bakeries. As you meander through this ancient Roman city, you will also discover an ancient forum, commercial sites, latrines, mosaics, sculptures, and bits of frescoed walls.


TOURS FROM ROME TO OSTIA ANTICA:


24. Christian Catacombs
Tourists from around the globe embark on a captivating journey to Rome's renowned Christian Catacombs, including the Catacombs of San Callisto and Catacombs of Saint Sebastian, among others.
These ancient burial sites, hailing from the early Christian era, offer a unique perspective on the history of early Christianity. As early Christians rejected pagan cremation, they created elaborate underground cemeteries to address space and cost. These catacombs feature labyrinthine tunnels with rows of burial niches. Bodies were placed in niches, covered with gravestones bearing names and Christian symbols.
Roman law prohibited burials within the city, so catacombs were located outside the city walls - which is why they are located on the outskirts of Rome accessible by car or public transportation.
As Christian persecutions ended in 313 CE after Roman Emperor Constantine legalized Christianity, catacombs served as cemeteries until the 5th century. Barbarian invasions in the 8th century led to looting, and the remaining relics were transferred to city churches. Some catacombs were abandoned and forgotten for centuries.
While navigating the dimly lit tunnels and chambers with a group guided tour included in the admission tickets, visitors encounter elaborately adorned tombs, delicate frescoes, and crypts that vividly recount the stories of the faithful departed.
Exploring the Christian Catacombs is not only a testament to Rome's enduring spiritual heritage but also an opportunity to immerse oneself in the profound religious history that profoundly influenced both the city and the Western world.
Rome has over sixty catacombs, among which the following catacombs are accessible to the public:
Catacombs of San Callisto (Via Appia Antica, 126): These catacombs extend over 20 kilometers and served as the final resting place for 16 pontiffs and numerous Christian martyrs
Catacombs of San Sebastiano (Via Appia Antica, 136): Named after the Christian martyr San Sebastiano, these catacombs stretch over 12 kilometers.
Catacombs of Priscilla (Via Salaria, 430): Known for their historical frescoes, including early depictions of the Virgin Mary.
Catacombs of Sant'Agnese (Via Nomentana, 349): Sant'Agnese, a Christian martyr, finds her final resting place here.
Catacombs of Domitilla (Via delle Sette Chiese, 280): Discovered in 1593, these catacombs stretch for more than 15 kilometers and were named after Vespasian's granddaughter.


Thank you for reading our travel blog Top 24 Things to See and Do in Rome in 2024 (and any time you visit Rome!) We hope we've inspired you to see more of Rome than just a handful of must-see sites and spend more time exploring our city.

If you are in Rome for a short time and wish to make the most of it, we offer private tours in Italy to allow you to see MORE of Rome in LESS time, comfortably, and effortlessly.
Our private Rome tours by car are ideal for travelers who wish to explore Rome in luxurious comfort, families with small children, senior travelers, and travelers with mobility concerns. We can also reserve private licensed tour guides for in-depth personalized private tours of Rome's most noteworthy sites where a private guide is beneficial: the Vatican, Colosseum, Roman Forum, Ostia Antica, and more!

We invite you to browse our Rome City Tours collection, as well as Day Tours from Rome to the Countryside, Tuscany, Umbria, and Amalfi Coast, and allow us to show you the best way to experience Italy!

Thank you for choosing Stefano's RomeCabs, we look forward to showing you beautiful places in Rome!
Find us online also on: