Buongiorno and welcome to Stefano's RomeCabs, Rome's top-rated tour company for shore excursions from Civitavecchia.
Cruising along the Mediterranean is an unparalleled experience, filled with the excitement of exploring vibrant cities and serene coastal towns. Yet, most cruisers are unaware that their journey doesn't have to conclude when they disembark from their cruise ship in Civitavecchia on their debarkation day. In fact, the post-cruise options are far more enriching than they might imagine.
Many travelers assume that their only choices post-cruise are to either fly home the same day, missing out on Italy's wonders, or head directly to their Rome hotel, leaving them to figure out what to do with the rest of their day, essentially squandering a valuable opportunity to explore the beauty and history of Italy.
Cruise connoisseurs, however, have discovered a different approach. In this blog, we'll let you in on what savvy cruisers do on disembarkation day in Civitavecchia, and unveil the hidden gems and post-cruise tours from Civitavecchia that allow you to make the most of your Italian adventure after your cruise.
Post-Cruise Tours: How Savvy Cruisers Discover Italy on Disembarkation Day in Civitavecchia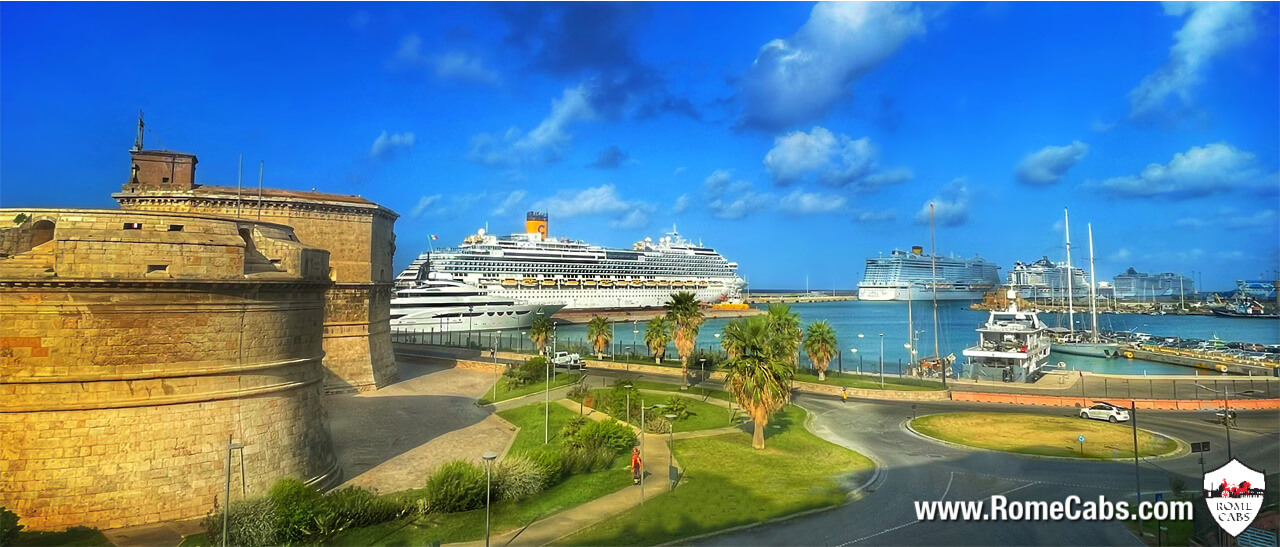 Savvy cruisers are privy to an insider's secret – the adventure continues even after leaving the ship on disembarkation day. Their adventures don't conclude when they disembark from their cruise ship; it's merely the beginning of a new chapter of their dream vacation.
Post-cruise tours from Civitavecchia unveil a world of hidden wonders and captivating regions surrounding the port city of Civitavecchia. Whether you're drawn to Rome's iconic sights, the timeless charm of Tuscany, the tranquility of the Roman countryside, or wine tasting in Umbria, RomeCabs offers a post-cruise adventure waiting to enrich your travel story. It's a chance to savor the true essence of Italy, away from the hurried pace of typical tourist itineraries.
The options are as enticing as they are convenient – imagine being seamlessly picked up next to your ship on the morning of your after-cruise adventure, and then taken directly to your hotel at the conclusion of your tour, eliminating the need for any logistical and transportation concerns. Your luggage will travel with you securely stowed away in your vehicle's luggage compartment, so you can fully immerse yourself in the exploration without any worries.
Don't let the adventure end with your cruise – embrace the opportunities that await beyond the port and unlock the secrets of Italy's diverse regions.
Rome Awaits on Your Debarkation Day
Our after-cruise tours are designed to provide you with a hassle-free experience. As you step off your cruise ship on your disembarkation day in Civitavecchia, your adventure in Rome begins with our fun-filled Panoramic Rome post-cruise tour. Or Tour Rome as Romans Do post-cruise for a taste of la dolce vita.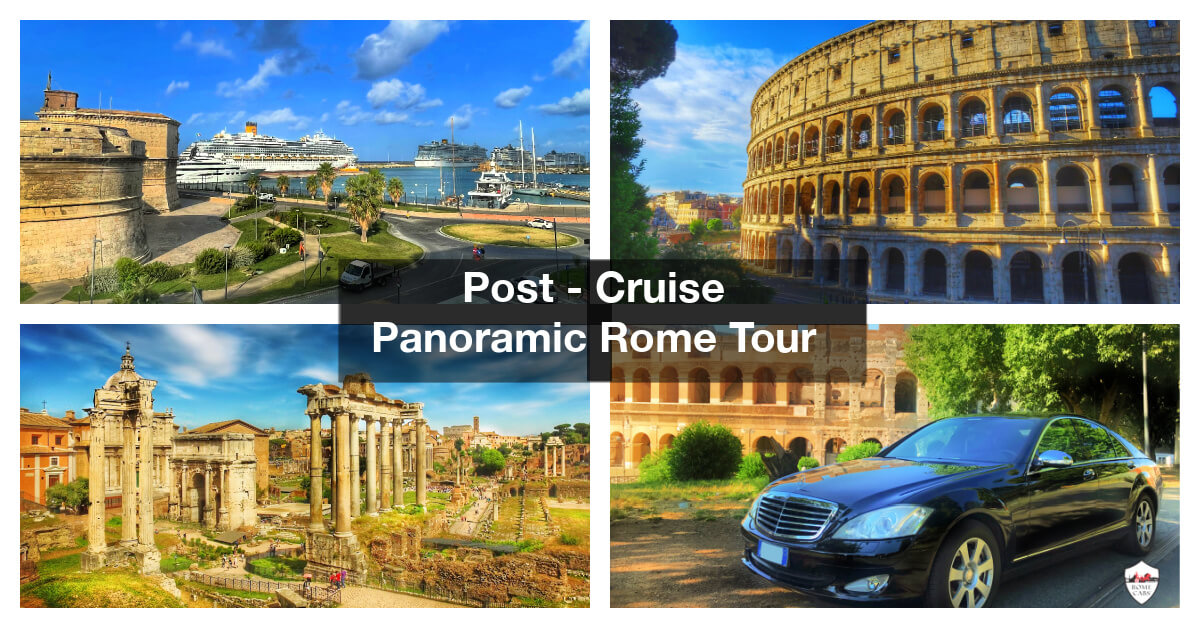 You'll have the opportunity to explore Rome's vibrant squares, iconic Ancient Roman landmarks, and hidden treasures without the stress of dealing with crowds, long lines, or sold-out entrance tickets. This unique experience allows you to fully savor the beauty of Rome at your own pace, ensuring you make the most of your debarkation day.
You won't have to worry about navigating the city or planning your itinerary. Say goodbye to the stress and hassle of public transportation. After a busy cruise, the last thing you need is to navigate the intricacies and logistics of a new city in a foreign country. Your professional RomeCabs English-speaking driver will be at your service, taking you to each iconic site minimizing walking distances, and maximizing your sightseeing opportunities.
Our private post-cruise tours of Rome offer you the convenience of choosing from our preferred itineraries, all carefully crafted to show you MORE of Rome in LESS time, touring in the comfort and privacy of your deluxe vehicle. It's the ideal way to ensure your debarkation day is well spent, as you embark on a stress-free journey to discover the treasures of Rome.

Tuscany Beckons Post-Cruise from Civitavecchia
Tuscany, with its picturesque rolling hills, vineyards, and enchanting villages, offers an enchanting experience for a variety of enthusiasts. Whether you're a wine lover, a history buff, a foodie, or simply seeking the charm of the Italian countryside, Tuscany has something to offer for every passion.
Embark on our Post Cruise Montepulciano and Pienza Tuscany Tour, for the opportunity to explore the captivating hill towns of Montepulciano and Pienza, both celebrated for their timeless beauty and genuine Tuscan allure.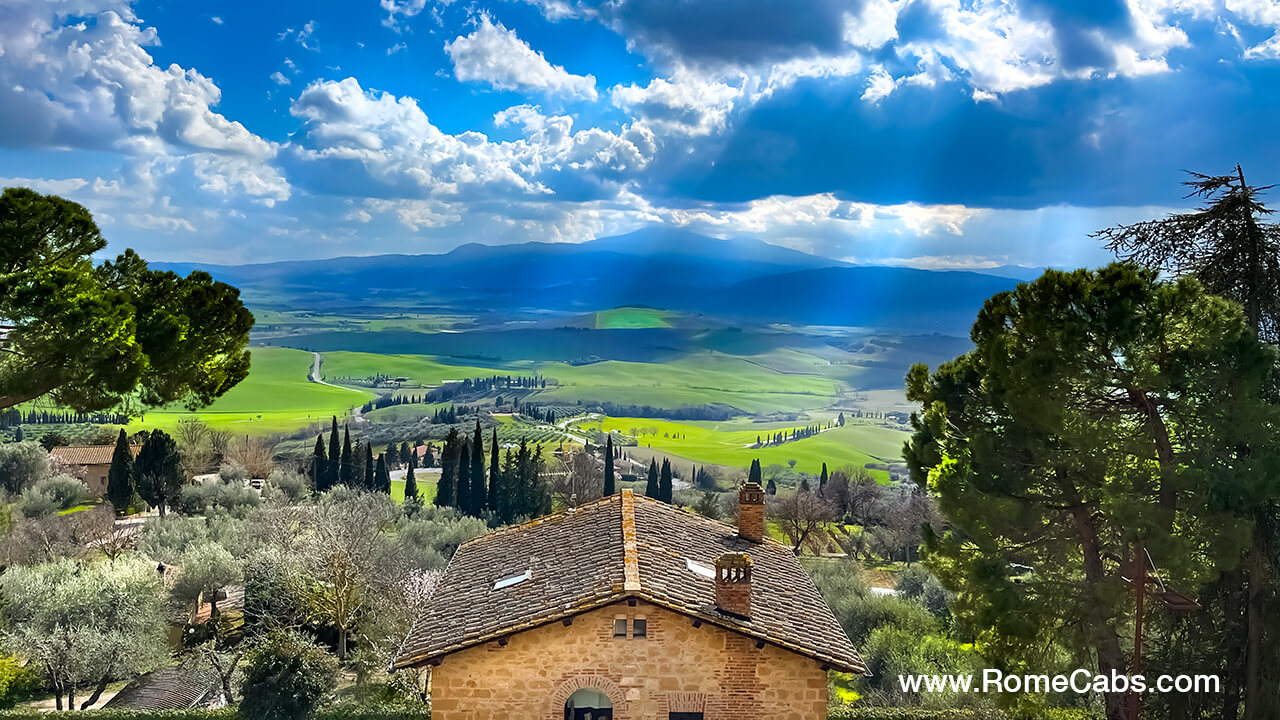 Wander through the charming cobblestone streets, savor the delightful flavors of authentic Italian cuisine, and partake in wine tastings of Vino Nobile di Montepulciano (the Noble Wine of Montepulciano) at local wine shops in Montepulciano.
This tour is a perfect blend of Tuscan magnificence and convenience, assuring you a memorable experience on your disembarkation day from Civitavecchia. Your journey into the heart of Tuscany promises to be an unforgettable part of your Italian adventure.
Find Tranquility & Magic in the Roman Countryside


Escape the city's hustle and bustle by exploring the peaceful Roman countryside post-cruise. Here, ancient Roman ruins, charming villages, and stunning wonders of Tivoli Villas of Hadrian's Villa and Villa d'Este await your discovery. This is where you'll experience the true essence of la dolce vita.
Our Post Cruise Countryside Splendor Tour unveils the captivating countryside adorned with historic castles like Bracciano Castle, medieval villages like Ceri, and the captivating Necropolis of Banditaccia in Cerveteri, the UNESCO World Heritage Site with beautifully preserved Etruscan tombs dating back to 700 BC. It's a splendid journey that delves into the serene countryside, revealing captivating history often missed by hurried travelers.
Our captivating Post Cruise Medieval Magic Countryside Tour transports you to towns and villages like Tuscania, Bracciano Castle and village of Ceri that seem plucked from the pages of King Arthur's storybook.
Immerse yourself in opulent castles, where the echoes of kings, lords, ladies, and knights linger in the air. Witness the architectural brilliance of their time, from grandeur at a distance to captivating ruins up close.
Experience the best of both worlds with our wildly Post Cruise Town and Country Tour, seamlessly blending the magic of the Roman Countryside with the grandeur of Rome. Begin your adventure with a visit to the historic town of Bracciano, home to an impressive medieval/Renaissance Bracciano castle (Castello Orsini-Odescalchi) overlooking the pristine volcanic crater Lake of Bracciano.
Savor Italian flavors during a delightful lunch at a family-owned restaurant in the clifftop village of Ceri. In the afternoon, explore Rome's iconic squares and monuments like Colosseum Square, Spanish Steps, Piazza Navona, and Trevi Fountain, capturing the essence of La Dolce Vita. Your tour concludes with a convenient drop-off at your Rome hotel, making it the perfect way to complete your cruise adventure.
Umbria Wine Tasting Post Cruise from Civitavecchia


Indulge in wine and culture on our Post-Cruise Orvieto Wine Tour. We'll take you to an esteemed family-owned, certified organic winery nestled in serene Umbrian hills, offering elegant, locally produced wines.
After your wine adventure, you'll have free time in Orvieto for lunch and sightseeing, creating the perfect blend of wine appreciation and cultural exploration for your post-cruise Italian adventure.


TIPS to Choose & Book the Best Post-Cruise Tour from Civitavecchia


As you ponder the best way to make the most of your time after your cruise docks in Civitavecchia, take a moment to envision the perfect continuation of your after-cruise adventures and consider your preferences.
Do you envision effortlessly exploring the iconic sites of Rome with the luxury of your private deluxe vehicle and personal driver, ensuring a seamless sightseeing experience with minimal walking?


Are you enticed by the allure of medieval villages, captivating castles, pristine lakes, Renaissance gardens, and ancient wonders waiting to be discovered in the Roman Countryside call to you?


Tuscany, with its rolling landscapes and charming villages, could be your ideal post-cruise destination. Or picture yourself indulging in a serene wine-tasting experience amid the rolling hills of Umbria.


Once you've decided how you'd like to spend your post-cruise day, booking your tour in advance is the key to a well-organized, stress-free experience, allowing you to fully immerse yourself in Italy's splendor and culture without any hassle.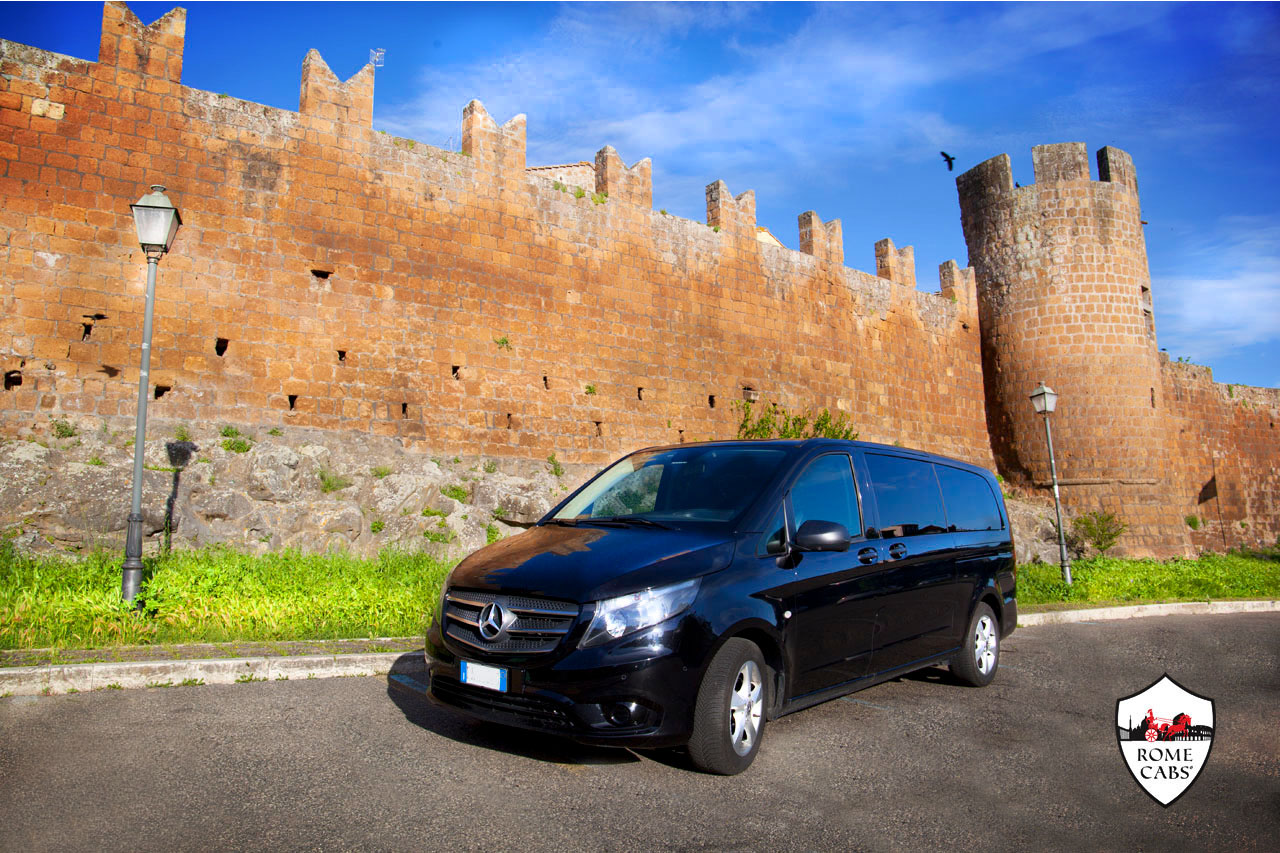 Remember, adventures that unfold after your cruise can be as exciting as the cruise itself. Whether you choose to explore Rome, Tuscany, the Roman countryside, or Umbria, you're embarking on an enriching journey through the heart of Italy.
Many of your fellow cruisers might not yet be privy to the hidden gems awaiting them in these enchanting post-cruise destinations. Therefore, consider sharing your savvy post-cruise insights with them and ignite their curiosity, ensuring they, too, can relish the wonders that await on their disembarkation day in Civitavecchia.
Thank you for reading our travel blog and for choosing Stefano's RomeCabs as your post-cruise tour provider on your disembarkation day in Civitavecchia!


* Find us online also on: