Buogniorno and welcome to Stefano's RomeCabs, Rome's top-rated tour company for private tours from Rome.

Day trips from Rome offer exciting opportunities to discover hidden treasures in the surrounding areas such as the Roman Countryside, Umbria, and even Tuscany.

Will you be staying in Rome and wish to explore more of Italy without worrying about transportation logistics or staying at different hotels? Would you prefer a day trip without big groups with the freedom to travel between different sites only when you're ready?

Private day tours from Rome are the ideal option to explore top Italian destinations with the freedom to choose your tour date, tour at your own pace, and enjoy a higher level of flexibility and personal attention from your driver.



Where can you go on day trips from Rome?



Many unmissable towns and places of interest are within driving distance making them possible on day trips from Rome. If you wish to explore Italy from Rome you can easily visit the Roman countryside, Umbria, Tuscany, and the Amalfi Coast region.


ROME COUNTRYSIDE - the Roman countryside is a treasure trove of unspoiled medieval towns and villages, fairytale castles, and fascinating ancient places vestiges of the bygone Etruscan civilization that are UNESCO World Heritage Sites. The Roman countryside is also closest to Rome for the shortest driving distance.


UMBRIA - The region of Umbria is further north of the Roman countryside with remarkable hilltop towns like Orvieto and Assisi, and excellent locally produced wines.


TUSCANY - Famous for its timeless landscapes and charming hill towns, southern Tuscany is a popular day trip destination from Rome for both sightseeing and winetasting.


AMALFI COAST - The southern region of Italy boasts iconic seaside resort towns like Positano on the Amalfi Coast, Sorrento on the Sorrentine peninsula, and beautifully preserved remains of the ancient Roman cities of Pompeii and Herculaneum.

We created many exciting and fun-filled day trips from Rome to all these popular regions of Italy, maximizing your sightseeing opportunities comfortably and easily.

Here are the most popular day trips from Rome to discover hidden treasures in the surrounding areas from the Roman Countryside to the Amalfi Coast.
BEST ROME COUNTRYSIDE TOURS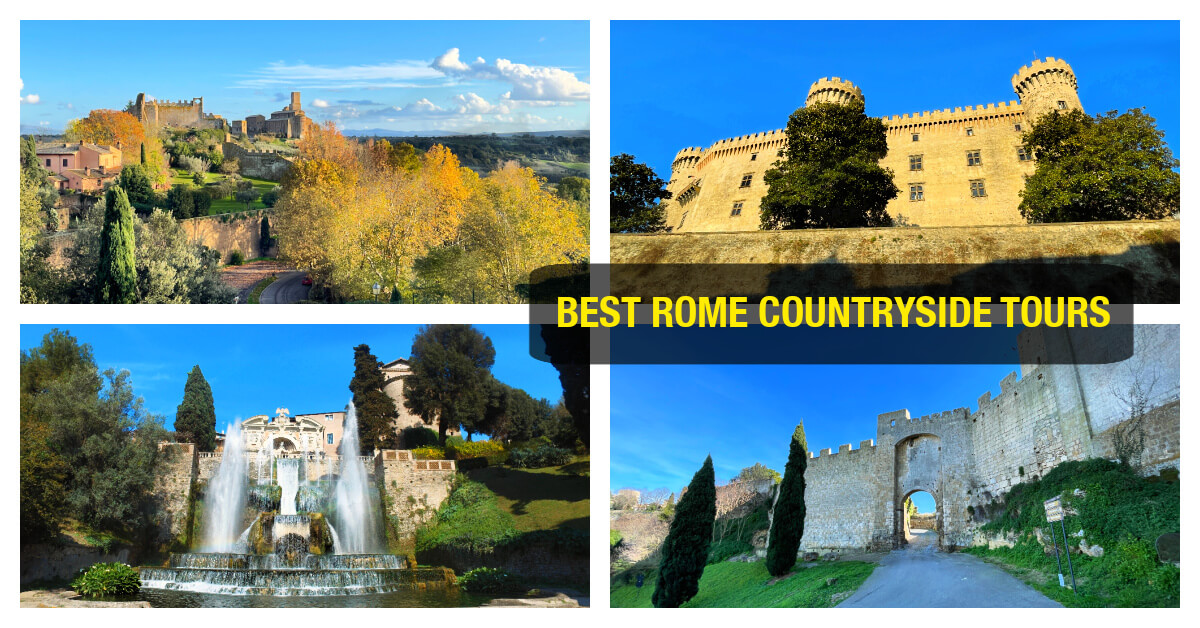 Feel the magical atmosphere on our best-selling Medieval Magic Rome Countryside Tour to captivating medieval towns and villages like Tuscania and Ceri, and the spellbinding Bracciano Castle that overlooks a pristine volcanic crater lake on
Your personal English-speaking driver will pick you up at your hotel in Rome and whisk you off to the bucolic countryside to your first destination, Tuscania.

The captivating medieval town of Tuscania owes its origins to the Etruscans (and possibly also its name, as "Tuscania" is traced from the ancient word for "Etruscans"). Archaeological findings reveal that the ancient Etruscans once settled in the current town of Tuscania thanks to its strategic location close to the sea and major trade routes.

This magnificent town still encircled by its original Medieval fortified walls vaunts two remarkable churches that were built as far back as the 10th century. Crowning Saint Peter's Hill (Colle San Pietro) which in ancient times was an acropolis is the formidable Saint Peter's Basilica a grand Romanesque and Gothic-style church. Below, at the foot of the hill is the Basilica of Santa Maria Maggiore. Both churches are embellished by facades rich in architectural details and theological as well as mythological symbols.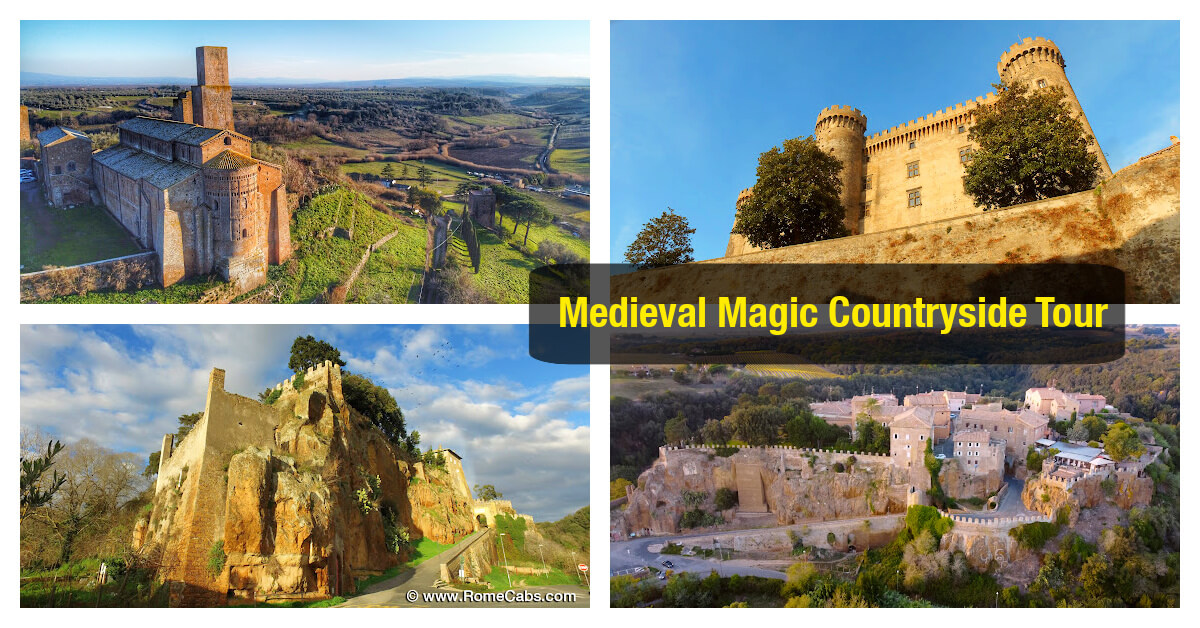 Not to be missed is a stop in the Park of Tower of Lavello on top of the city walls that will reward you with splendid views of the majestic valley below, the churches on Saint Peter's Hill, and the ruins of the Rivellino Castle. After a stroll along the cobblestoned streets of Tuscania, you will journey to your next destination, the medieval village of Ceri.

As you approach this clifftop hamlet that was once a Medieval fortress with crenelated walls, Ceri appears to rise out of the cliff upon which it was strategically built to add another level of protection against invaders in the middle ages.

Only one narrow road wide enough for a medium size vehicle connects the main gate below to the village square at the top. As you make your way into this quaint hamlet built of stone you feel as if you've traveled back in time. Ceri is well regarded for the local cuisines cooked up by the village family-owned restaurants that are quite legendary in the region and favored by Italian foodies who flock here on weekends for lunch and dinner.
Visiting Ceri from Rome is an absolute must if you visit the Italian countryside. Following lunch and a stroll through the village, you will be joined by your driver to your final destination on this Medieval magic tour: Bracciano Castle.

Officially named Castello Orsini-Odescalchi, the imposing Medieval-era fortified Bracciano Castle is perfectly situated above the historical town of Bracciano overlooking the volcanic crater Lake Bracciano.

A visit to Bracciano Castle is a must on a Rome Countryside tour. Bracciano Castle is beautifully preserved with original furnishing, wall paintings, and ornate ceilings from the Renaissance era. You will have the opportunity to visit the castle's opulent quarters across two floors that served as home to many of Italy's most illustrious historical figures such as kings, popes, lords, and ladies.
Take a walk along the ramparts above the castle walls where centuries ago the garrison patrolled and defended the castle and discover breathtaking views of the shimmering Lake Bracciano and the surrounding Italian countryside setting. Here are some helpful tips for visiting Bracciano Castle.

The are many wonderful countryside destinations near Rome that you can explore on a day trip. We invite ou to browse through our COUNTRYSIDE TOURS from Rome category on our website and choose your perfect day tour into the Italian countryside.
EXPLORE THE BEST ANCIENT ETRUSCAN SITES FROM ROME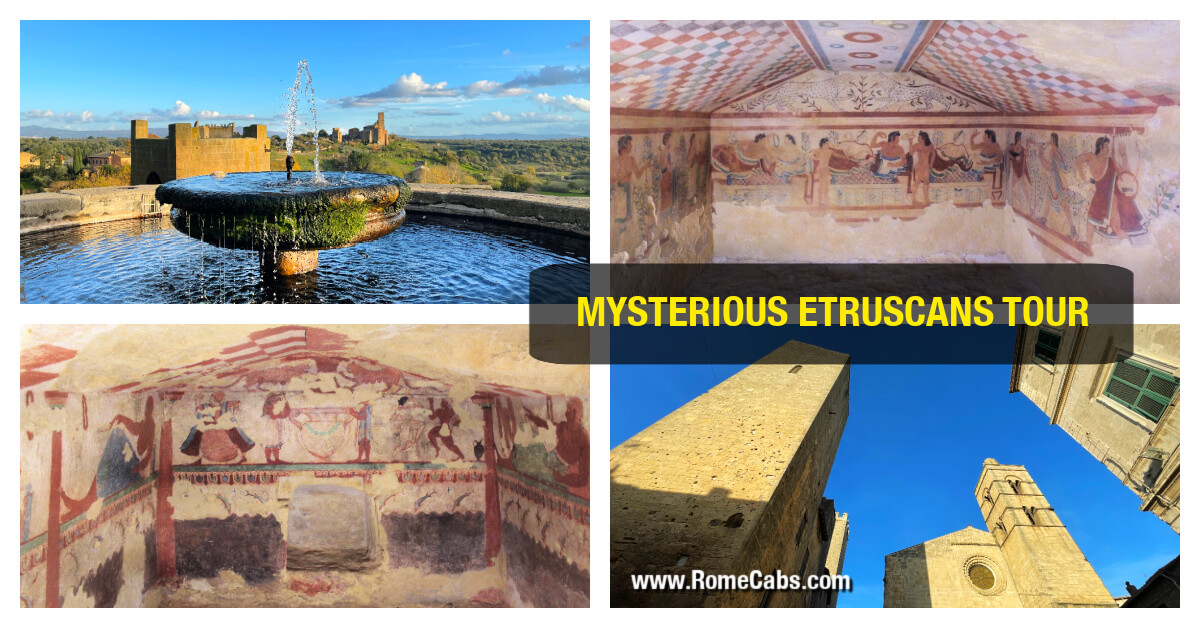 The beguiling Etruscans are overshadowed by the Romans who conquered them and absorbed them into the growing Roman empire. What most people don't know is that much of what made the Romans great, they had the Etruscans to thank for.

The ancient Etruscans were already an advanced civilization when Rome was just a village on a hill. Of Rome's seven legendary kings three were Etruscans, especially the last king Lucius Tarquinius Superbus who was overthrown by the Romans who revolted against the monarchy and created the first republic.

Many things that we consider Roman were actually ancient Etruscan inventions: sewage systems, gladiatorial combats, hydraulic engineering, temple design, religious rituals, arches, winemaking, road building, aqueducts, togas, terracotta, fine jewelry, and more. There are many amazing places to visit on Etruscan tours.

You too can discover the ancient world of the Etruscan and glean many of their secrets on our popular Mysterious Etruscan Tours from Rome with a visit to exceptional Etruscan necropolis and towns that used to be prominent Etruscan citadels.
On our Mysterious Etruscan Countryside Tour, in addition to visiting Tuscania where vestiges of its ancient Etruscan roots are visible throughout the town, you also have the opportunity to visit Tarquinia and explore the underground tombs of the Monterozzi Etruscan Necropolis in Tarquinia that is a UNESCO World Heritage Site. The necropolis vaunts numerous ancient Etruscan frescoes from 2,500 years ago that offers a rare glimpse into the lives of this mysterious ancient civilization.

This ancient city of the dead is unique in the world for its remarkable underground painted tombs. Most of these vibrantly painted tombs date to approximately 500 BC. Today, there are about 12 tombs that are visitable out of more than 200 painted tombs discovered in the necropolis.

The underground painted tombs are sealed and climate-controlled in order to preserve their fragile frescoes. Visitors can view the frescoes behind glass doors and press a light button to temporarily illuminate the interior of the tomb and come face to face with the enigmatic characters depicted in the tombs who seem to greet visiting guests with smiles and celebration.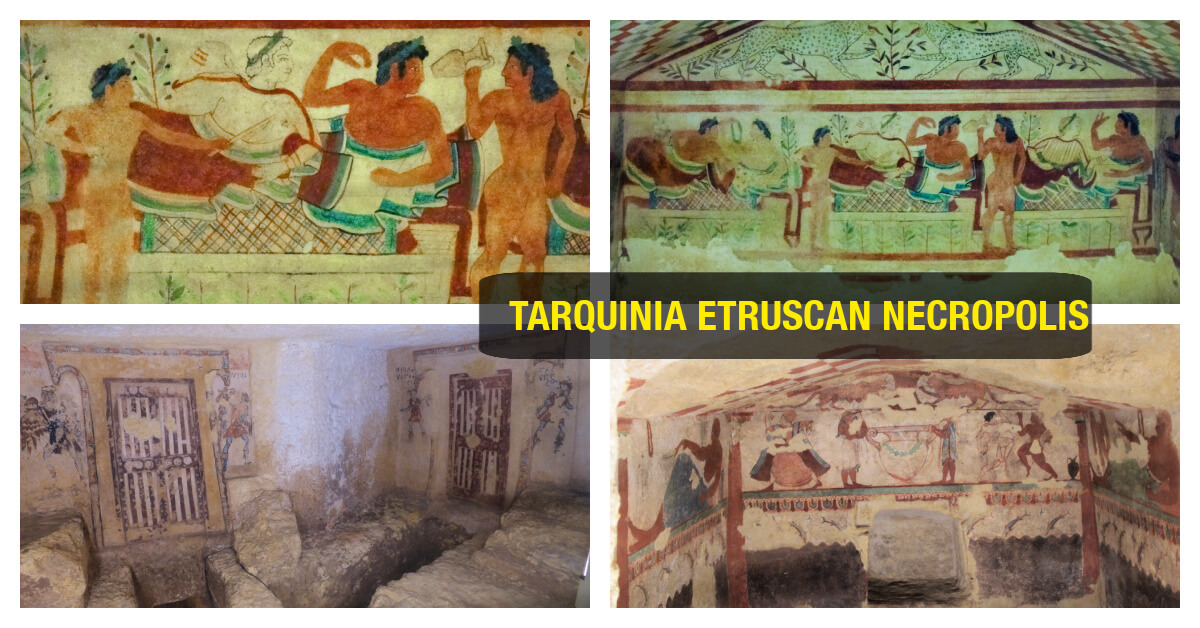 The tomb walls were painted with colorful and lively frescoes depicting the lives of the Etruscans (especially representative of those for whom the tombs were built), as well as religious practices, banquets, sports, hunting, dancing, playing musical instruments, and more. The tombs and frescoes also depict architectural elements and features of real Etruscan homes as they did not survive through time as most Etruscan homes were built of wood and terracotta.
The tombs you will see are always empty of their grave goods. Most of the artifacts uncovered buried in ancient tombs are on display in Etruscan Museums that you can also visit from Rome on Etruscan tours.

Following your exploration of the underground Etruscan tombs, you will also stop in the nearby town of Tarquinia which is still in its medieval and Renaissance splendor. Many of the artifacts discovered in the painted tombs are on display at the National Archaeological Museum of Tarquinia which can be visited to discover the treasures hidden in the tombs.

If exploring ancient tombs evokes your inner Indiana Jones, it is possible to also enjoy a day trip from Rome to Cerveteri to visit the Banditaccia Necropolis, a UNESCO World Heritage Site. Our Countryside Splendor Tour includes visits to Cerveteri Necropolis, Bracciano, and Ceri.

Cerveteri's Etruscan city offers the unique opportunity to explore the many tombs that date back to as far as 2,500 BC. Situated in a park-like setting shaded by characteristic umbrella pines, Banditaccia Etruscan Necropolis in Cerveteri spans 8 centuries that this ancient pre-Roman Etruscan civilization existed from its founding to its conquer by the Romans.
Many tombs are open to visitors to enter and explore their interior. Earlier tombs are round mounds carved from the local rock, and later tombs resemble city blocs with stone-built square structures and roads for processions. As with the Monterozzi Necropolis in Tarquinia, the Banditaccia Necropolis in Cerveteri is unique in the world and merits a visit.
You may also explore the wonders of Ancient Rome and Etruria on our day trip from Rome to Ostia Antica and Cerveteri to visit the ancient Roman city of Ostia Antica that rivals Pompeii and the Etruscan Necropolis in Cerveteri.
DAY TRIPS AND TOURS FROM ROME TO TIVOLI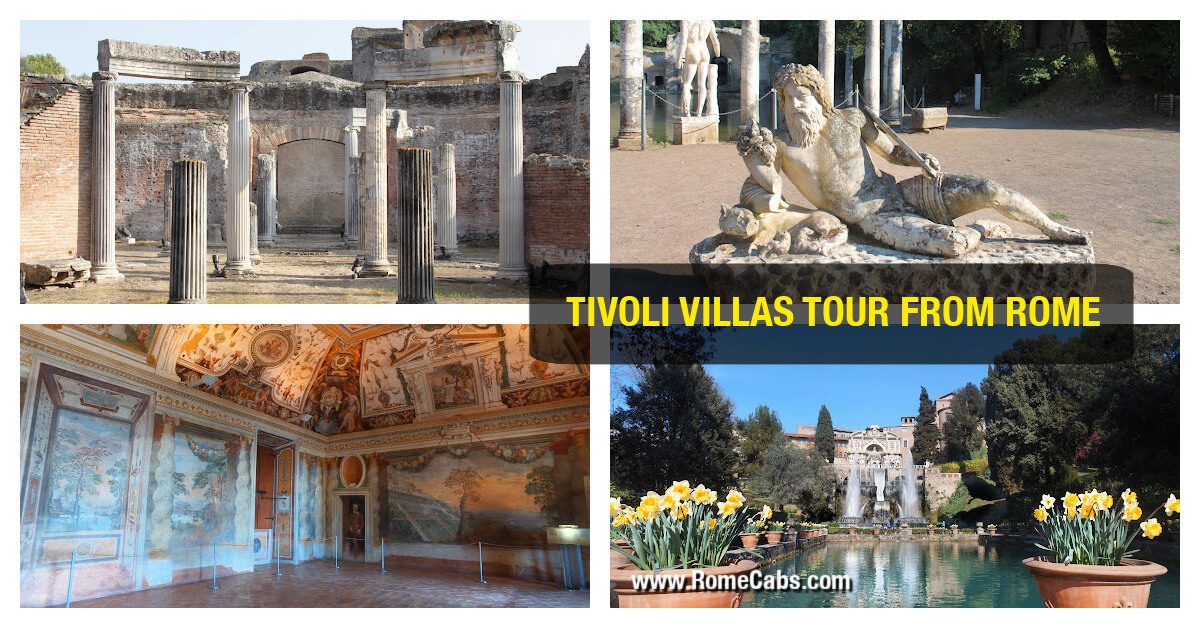 Nature enthusiasts love our day trip from Rome to Tivoli to explore the ancient Roman complex of Hadrian's Villa and the opulent Renaissance villa and gardens of Villa d'Este.

It's possible to visit both Hadrian's Villa and Villa d'Este on a Tivoli tour from Rome due to Tivoli's proximity to Rome. Between visiting the villas, enjoy a stop in the lovely town of Tivoli for lunch and a stroll.

Explore HADRIAN'S VILLA
Hadrian's Villa (Villa Adriana) is a magnificent ancient Roman architectural complex built by Emperor Hadrian to remind him of the monuments and sites he had admired during his travels around the Roman Empire. This vast imperial complex of more than 30 buildings including the imperial palace, baths, theaters, temples, and libraries became so self-sufficient that it is said Emperor Hadrian governed the empire from his residence in Tivoli.

Visit VILLA D'ESTE
Villa d'Este is a Renaissance villa and Italian garden considered one of the most beautiful residences of Renaissance Italy. The sloped manicured gardens include large cascading waterfalls, hundreds of basins, pools, and water jets for a symphony of sounds and displays pleasing to all the senses.
DAY TRIPS FROM ROME TO UMBRIA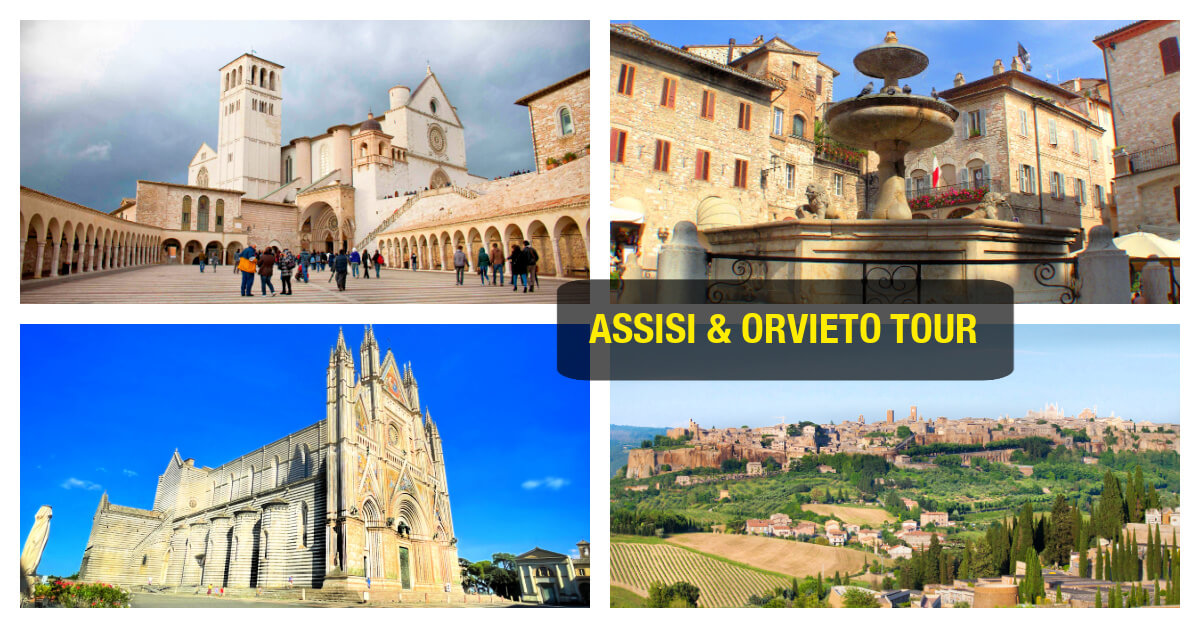 Umbria is an excellent destination to enjoy on day trips from Rome. Umbria's extraordinary natural beauty with picturesque valleys and verdant hills, gorgeous historical hill towns, excellent wines, and culinary delights allows travelers to experience authentic Italy at its best.

You may enjoy a day trip from Rome to Assisi, the birthplace of Saint Francis of Assisi. Explore this picturesque hill town of pink and grey stone medieval buildings, magnificent basilicas dedicated to Saint Francis and Saint Claire, revered monasteries, and charming streets and lanes flanked by thick medieval palaces, inviting shops, cafes, and restaurants.

You may also expand your sightseeing opportunities with a day trip from Rome to Assisi and Orvieto and enjoy the jewels of Umbria!


Built on an isolated outcrop of tufa rock, with grand medieval palazzos and an imposing 13th-century cathedral that rises up toward the sky like a cut-out, the ancient town of Orvieto is stunningly placed on an isolated outcrop of tufa rock appearing as a fantastical floating island surrounded by a verdant sea of hills and valleys.
Orvieto's atmospheric streets are lined with historical palazzi filled with enticing boutiques, cafes, and restaurants that spill out onto the streets for an enjoyable al fresco lunch, and wine shops to enjoy the local Orvieto wines.





Wine lovers would delight in our Wine Tour from Rome to Orvieto with a visit to an esteemed wine estate surrounded by vineyards and olive orchards in the tranquil hills of Umbria for a wine-tasting experience, followed by a visit to Orvieto.
DAY TRIPS FROM ROME TO TUSCANY

Tucany's timeless landscapes and charming hilltops make it one of the most visited regions of Italy. Due to southern Tuscany's proximity to Rome, it's no wonder day trips from Rome to Tuscany are so frequently requested.

Day Trips from Rome to Montepulciano and Pienza are the most popular Tuscany tours with opportunities to explore two of southern Tuscany's most delightful hill towns. Montepulciano is an elegant historic town with grand palazzi, and spacious squares, and world-famous for its local Vino Nobile di Montepulciano wines.

Pienza is regarded as the Renaissance Utopia that boasts one of Italy's most delicious cheeses: Pecorino di Pienza. Foodies and wine lovers alike revel in our Montepulciano and Pienza Tuscany Tour from Rome.

Discover the soul of Tuscany with visits to unspoiled medieval villages and scenic drives on our Valley of Paradise Tuscany Tour Pienza, Monticchiello, and Montalcino, all located in the spellbinding Valley of Orcia (Val d'Orcia) whose mesmerizing beauty graced postcards and films.
Create a memorable Tuscany experience by exploring Tuscany's most enchanting places surrounded by the majestic Val d'Orcia on our Enchanting Tuscany Day Tour from Rome with visits to some of Tuscany's hidden gems like Bagno Vignoni, San Quirico d'Orcia, Pienza, Monticchiello, and more!

If you enjoyed the films Under the Tuscan Sun and Life is Beautiful, you will love our day trip from Rome to Cortona and Arezzo, two of Tuscany's elegant historical towns rich in beauty and culture.
The rustic Maremma region of Tuscany near the sea is the "wild west" of Tuscany, well known for the Italian cowboys called butteri and magnificent medieval towns and ancient places of wonder. Relish a day trip from Rome to Pitigliano and Sovana and uncover these hidden treasures in Tuscany's less touristy region.

Wine lovers will toast an unforgettable sojourn in Tuscany on our Tuscany Wine Tours from Rome to some of Tuscany's famous wine-producing towns Montepulciano and Montalcino, and wine tasting at local wine estates or a fairytale castle in the midst of Tuscany's wine country.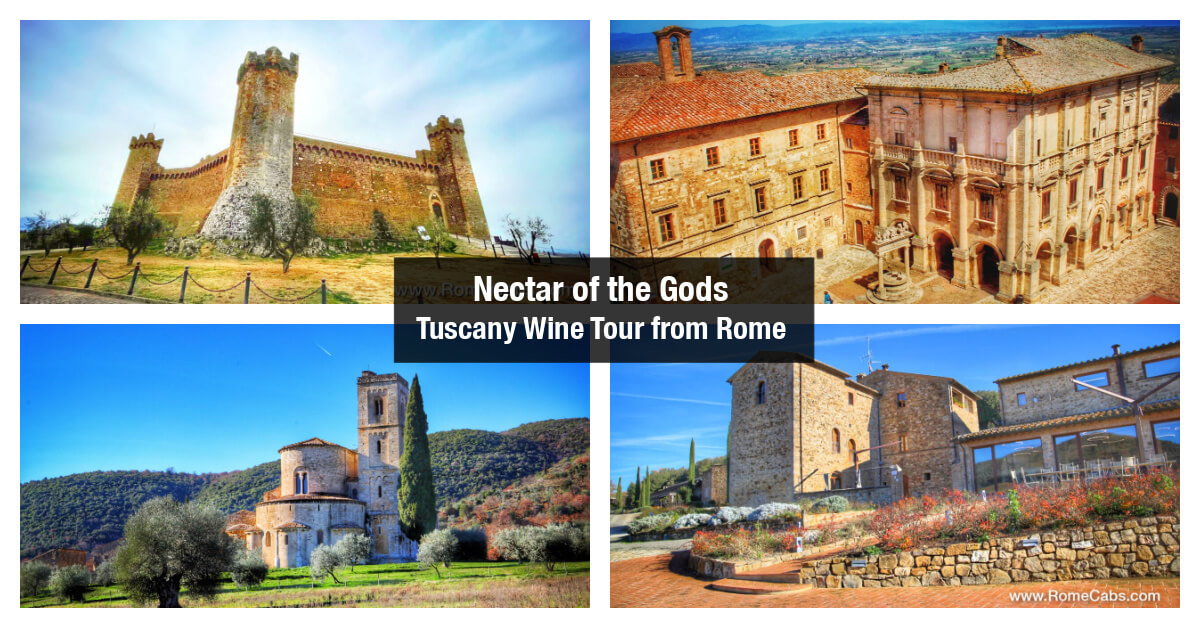 Our most popular Tuscany wine tour from Rome is our Nectar of the Gods Wine Tour to Tuscany with the opportunity to visit both Montepulciano and Montalcino to sample Vino Nobile di Montepulciano and Brunello di Montalcino at various wine shops in town. Afterward, you will stop at the sublime Sant'Antimo Abbey, followed by a visit to a winery estate for a relaxing wine tasting and winery visit.

Guests who love Brunello di Montalcino can enjoy our Brunello Wine Tasting Tour from Rome starting with a visit to a winery near Montalcino for a winery visit with wine tasting, stop at the nearby Sant'Antimo Abbey, and visit Montalcino for lunch, sightseeing, and more wine tasting opportunities at local wine shops in town.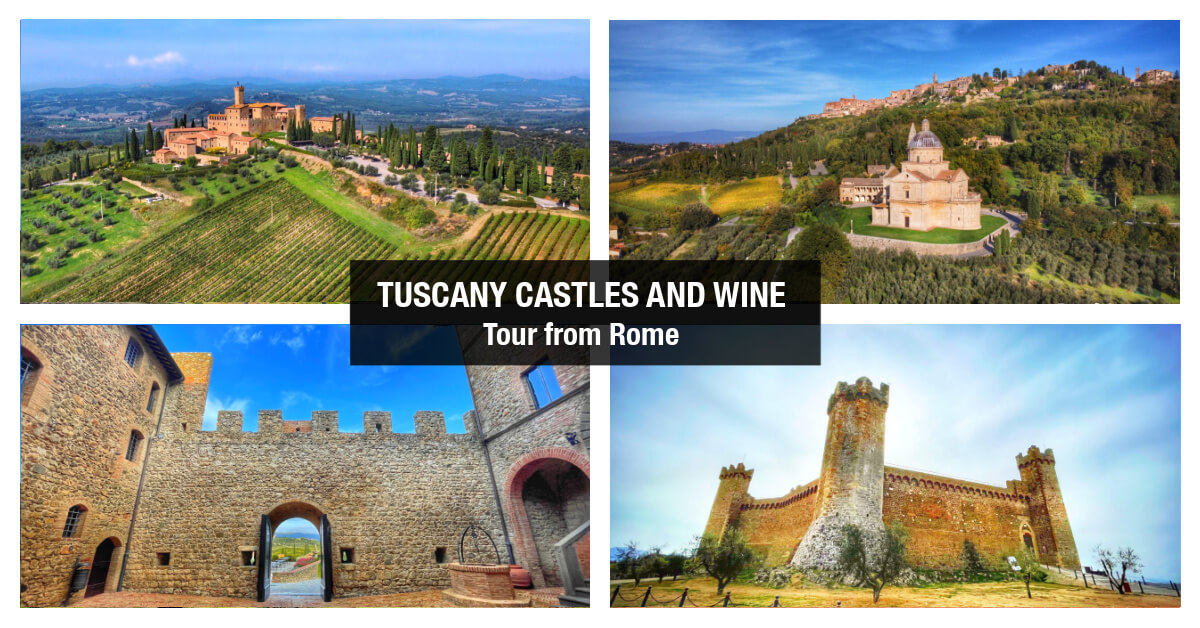 Delight in an opportunity to savor local wines at the elegant wine shop (The Enoteca) at the spellbinding Castello Banfi beautifully surrounded by vineyards and olive groves in the heart of Tuscany's wine country, along with visits to both Montepulciano and Montalcino.
A day tour from Rome to Castello Banfi and surrounding wine-producing towns are a relaxing wine tour that takes you to some of Tuscany's most exquisite places, and it's ideal for families and friends who desire to combine wine tasting with sightseeing.
DAY TRIPS FROM ROME TO AMALFI COAST
No Italy trip is complete without experiencing the pristine Amalfi Coast and all the unmissable towns and locations that surround it. That's why we offer travelers the opportunity to enjoy the delights of southern Italy on a day trip from Rome to Amalfi Coast with visits to Pompeii or Herculaneum, Sorrento, and Positano on the coast of Amalfi.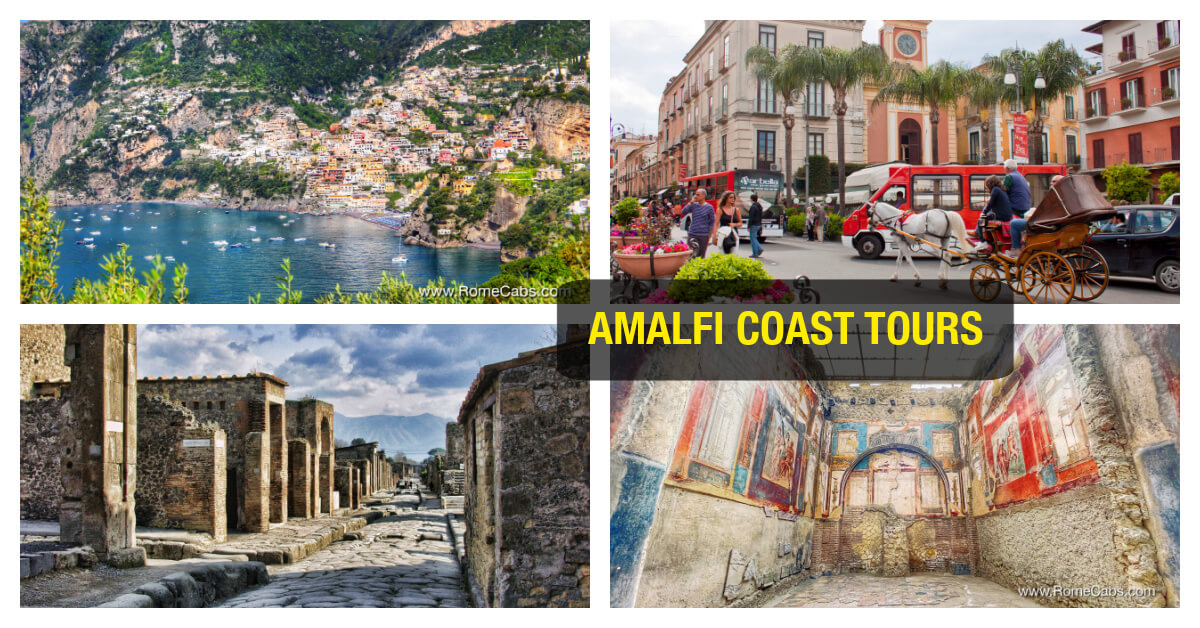 Although the Amalfi Coast is farther from Rome than Umbria or Tuscany, it's quite possible to experience Amalfi Coast from Rome.

On our private Amalfi Coast tours, you can combine a day tour from Rome to Pompeii for a 2-hour exploration through the ruins of this famous ancient Roman city destroyed by Mount Vesuvius' eruption in 79 AD, with Sorrento for lunch and sightseeing, followed by a visit to Positano along the coast of Amalfi.

If you would prefer to visit Herculaneum, you may also book our day tour from Rome to Herculaneum, Sorrento, and Amalfi Coast. Although Herculaneum is smaller than Pompeii, its concentration of well-preserved ancient buildings, frescoes, and mosaics makes exploring Herculaneum an exciting exploration.

If on our Amalfi Coast Tours from Rome you wish to discover Pompeii secrets that you probably did not know or learn more about the history of Herculaneum, we can also book on your behalf a private licensed tour guide for private guided tours of Pompeii and Herculaneum and show you hidden treasures that most tourists are unaware of.


We hope this travel blog has inspired you to plan day trips from Rome and discover hidden treasures in the surrounding areas.

Thank you very much for reading our travel blog and for choosing Stefano's RomeCabs for your tours in Italy!


ALSO READ:
* Find us online also on: